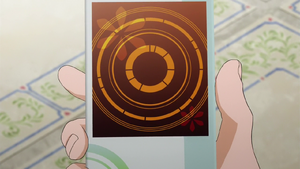 We are now nearly half-way into Railgun T's adaptation of the Dream Ranker Arc and nearing the arc's main dish. As such, the Featured Article this time around is for the trending technology at the heart of the arc's events so far - Indian Poker.
Handmade by combining pieces of various toys based on instructions and designs released online, Indian Poker allows people to experience another's dream and share their own dreams with others. By sleeping while attached to a card dispenser, a person's dream is recorded onto an Indian Poker card. By sleeping with the card placed on one's forehead after peeling off the film, a person can experience the dream recorded on it, reproduced through enclosed aromatic elements and electrical signals stimulating the sleeper's brain.
Aside from experiencing a good dream, Indian Poker can also be used for sleep-learning - through the dreams of people skilled in a particular area, users can acquire skills as they sleep. There are various colors and ranks of card, which can be obtained through exchanges with friends or purchases from traders, with people who can consistently produce great dreams for others being known as Dream Rankers.
Although Indian Poker appears relatively innocuous with fun and interesting potential, the cards have a number of risks and repercussions, which are demonstrated in various incidents arising from their distribution and usage...
Recently featured: Daihaseisai
---
Archives – More featured articles...
Toaru Majutsu no Index News
(September 25, 2020) Railgun T concludes

: With the airing of Episode 25, the events of the Dream Ranker Arc and Toaru Kagaku no Railgun T as a whole have finally reached their conclusion. [new]
(July 24, 2020) Railgun T Resumes

: Episode 16 of Toaru Kagaku no Railgun T airs today, beginning the Dream Ranker Arc after a two month delay.
(July 10, 2020) Chaos on Christmas Day! Genesis Testament Volume 2 is Released

: Touma wakes up to find himself in the hospital. The last thing he remembers is kissing Anna Sprengel of the Rosicrucian magic cabal. Mikoto and Misaki realize Anna is up to something, so they put their differences aside to join forces. The ultimate Level 5 partnership is born!!
More news? Check out this Wiki's News Archives.
Series Three Overhaul Project - Loose Notes (25/09/2020)

These are some loose notes concerning the Series Three Overhaul Project (STOP), as of September 25th 2020.

Currently compili…

Read more >

, Rosicrucian Order and other magical organizations.]] It's been quite some time since the previous post in this side-project, seeing as we've been very busy tackling a prolonged …

Read more >

These are the primary outputs from the attempt to restart the Image Information Survey in September 2020.

Category:Images requiring information ()




Read more >
PV for the upcoming anime adaptation of the Dream Ranker Arc. Toaru Kagaku no Railgun T will resume on July 24, 2020!
With Episode 25 airing today, we've reached the end of the Dream Ranker Arc. How did you find the arc's anime adaptation, out of 10?
With Episode 25, we've also reached the end of Toaru Kagaku no Railgun T. Unfortunate delays aside, how did you find it, out of 10?
With Episode 21 airing today, we are over the half-way point of the Dream Ranker Arc and beginning the second half's main story. How have you found the arc's anime adaptation so far, out of 10?
10: 64
9: 7
8: 4
7: 2
6: 2
5: 2
4: 2
3: 2
2: 2
1: 1
0: 1
Total: 89
---
Archives
...that many of the named Amakusas (pictured) share their names with settlements which have been present in the Kumamoto and Nagasaki Prefectures of Japan?

...that cosplayer Sawai Olivia has often been kicked out of events due to her dangerous recreations of character gimmicks?
...that pilots of the giant HsF-00 supersonic fighters have their bodies frozen at -70 degrees to withstand the high inertial G-forces involved and fly the planes via monitored brain signals?
---
Archives – Suggest a trivia – Clear cache

Community content is available under
CC-BY-SA
unless otherwise noted.