Jurassic World: Dominion Dominates Fandom Wikis - The Loop
Play Sound
Series Three Overhaul Project
This article will be undergoing extensive revision as part of wiki overhaul sub-plan
Operation Interim R
Aleister Crowley, acclaimed as the greatest magician in history and de-facto ruler of the Science Side as Board Chairman of Academy City, has immense power, knowledge and influence at his disposal.
For most of Toaru Majutsu no Index, little was shown to back up the claims surrounding his prowess, with Aleister remaining in the shadows in the Windowless Building, having others or technology carrying out important tasks for him. Only at the climax of World War III, when Aleister personally took action to deal with Fiamma of the Right after he saw too much, were his abilities glimpsed and his true power hinted.[6]
As Aleister became more active in the latter part of Shinyaku Toaru Majutsu no Index, more of his capabilities were shown, with the full extent becoming apparent as the events surrounding his master plan and his past headed towards a climax.
This article covers all of Aleister Crowley's abilities and tools, both Magic and Science, as well as the ones in-between and outside of these categories - the two sides which he split the world into.
Abilities
Aleister is referred to as the greatest magician in history, though little was initially shown to back up this claim, with him always being shown to having others or technology to do important tasks. He is said to have been known for his ability to spiritually knock people to the ground, through the use of imitative magic without preparation.[7][8] However, it has been hinted that Aleister is immune to Teleport attacks through either the use of magic or technology.[9] Furthermore, through the use of technology, Aleister has the apparent ability to sever solid objects, through how much an extent is unknown, though it can be assumed that he can easily sever a man's head if he wanted to.[10]
When talking to the other Magic Gods, or bizarre magicians as he refers to them, he says that he "let" the world's strength handle Othinus, implying that he can handle Othinus on his own. His magic is such that he has enough confidence to attack the magic gods of that realm,[5] and with the Magic God's parameters at hand, he was capable of swapping out the spell they used to enter the world with one which weakened them without them realizing until it had been embedded.[11] His willpower, channeled through Kihara Noukan's Anti-Art Attachment, has been shown to take a strange form which is capable of killing a Magic God.[3]
Aleister's statements indicate that he has possessed a method of separating one's memories from their personality at least since his time with the Golden Dawn.[12] He also possesses ways of calling in the unheard of, using combinations of existing methods, having experimented in summoning a great demon never before seen and not mentioned in any holy text during his time in Egypt, and said to learn this method to break through the common view of the world with something which could be found anywhere.[13][14]
Aleister has experience and knowledge pertaining to yoga and mountain climbing, two of the various methods he has used to measure his limits.[15]
State of Existence
Likely through years of research and discipline, Aleister has achieved a higher form of existence, allowing him to exist in two places at a time, and is referred to as being in a different dimension.[6]
In this state, Aleister's body can be injured, however he cannot be killed as simply as a normal person. After Tsuchimikado Motoharu shot him multiple times, he bled and collapsed like a normal person, but Karasuma Fran sensed a kind of invisible miasma escaping the supposedly lifeless and unmoving corpse with murderous intent and could tell with certainty that he could reboot himself at any time.[12]
Aleister had the potential and opportunity to become a Magic God, however he rejected becoming one and choose to remain "human" instead, taking measures to make sure that he would not become a Magic God.[5][3]
It is later revealed that Aleister has brought forth many possible versions of himself and sealed them all within his body. During various times Aleister has emerged, such as the time with Fiamma, a momentarily branched-off alternative version of himself appeared and disappeared in an instant, in a manner which Aleister compared to the concept of faxing. Following his battle with Kamijou Touma and the subsequent attack by Coronzon, the many possible versions of Aleister were released into the world. Aleister said that this was bound to happen from the moment he left his life support device to deal with the problems resulting from the actions of Kihara Yuiitsu and Karasuma Fran, and even if Touma and Coronzon had not appeared, he would have branched out almost endlessly, creating every version of himself born from the various 'ifs'.[16]
According to Tree Diagram and Reading Thoth 78, the number of options available to Aleister and the number of branches they would lead to are 1,083,092,867. Though Aleister mentioned that once he brought multiple versions of himself into the world it became apparent they would only clash and not be expected to work together if not contained, after being released from being sealed within his single body, the possible versions of himself have displayed a high degree of coordination, speaking and acting together. Many of the alternative versions embody the various impressions left from Aleister's appearance; man, woman, adult, child, saint, sinner, etc, isolated and brought to life.[16] These manifested possibilities formed an army and came to be referred to as Crowley's Hazards.[17]
After being mortally wounded in the final battle with Coronzon aboard the Queen Britannia and with the demise of the Crowley's Hazards, Aleister expected to die for real.[18] However, due to an unexpected combination of the curse of failure he'd brought upon himself, the influence of sparks coming back to Coronzon, and the fact that the contract from the 1909 summoning was not actually annulled, Aleister ended up inhabiting and in control of the physical body which Coronzon had made for herself, with the demon itself left impotent as a face on the back of her hair. While this enabled Aleister to survive and granted him certain knowledge from the Abyss, it also took him outside the category of humanity, which he had previously worked hard to avoid.[18]
Crowley's Hazard
The Crowley's Hazards (クロウリーズ・ハザード, Kurourīzu Hazādo?) are manifested 'what if' possibilities of Aleister Crowley, which he had previously brought forth and subsequently bound to his body. Following the events of December 11th, these alternative Crowleys were released into the world and became a disaster bearing his name.[16][19][17][20]
Some of these parallel Crowleys have relatively normal human appearances but many of the others have inhuman and monstrous forms.[16][17] However, none of them can be said to be truly normal possibilities - they are Aleister Crowley after all.[17] As well as possessing various appearances, the Crowley's Hazards also possess varying abilities. Some of them have mastered magic like the prime Aleister while others have given up on it altogether.[17] Although they have been brought forth through abnormal means and branched out from many "what if" possibilities, their existences will not be negated by the Imagine Breaker.[21]
The prime Aleister is capable of guiding the bizarre Crowleys to a certain extent though unable to fully control them,[21][22] and has no compunctions about killing them and using them to take the recoil from magic.[16][23][21][22] Their deaths act as a blood sacrifice and have the effect of defragging and optimizing the prime Aleister, bringing more power to the surface.[24][25][22]
Some of the manifested Crowleys include:
Type
Location(s) of Appearance
Notes
Young witch
Academy City
Manifested outside the Windowless Building. Held the prime Aleister's consciousness following the attack on his original body by Coronzon.[16][23] Flies on a broom.[16][23]

When inspecting the body for the first time after shifting to it, Aleister guessed that the image was based on Babalon (after considering Kali, Artemis, Cybele, Demeter, Hecate and Aradia), with a wise holy mother following next after the defeat of the hyperbole-loving Beast since an animal couldn't cut it, and also determined that the surface colors visible to the eye were meaningless.[23]

Deceased after being fatally wounded by Coronzon during the attack on the Queen Britannia.[26][18]

'Man'
Academy City
Appeared in the Windowless Building before Coronzon. Undescribed, though trait previously described in pre-diffusion Aleister.[16]
'Woman'
Academy City
Appeared in the Windowless Building before Coronzon. Undescribed, though trait previously described in pre-diffusion Aleister.[16]
'Child'
Academy City
Appeared in the Windowless Building before Coronzon. Undescribed, though trait previously described in pre-diffusion Aleister.[16]
'Adult'
Academy City
Appeared in the Windowless Building before Coronzon. Undescribed, though trait previously described in pre-diffusion Aleister.[16]
'Saint'
Academy City
Appeared in the Windowless Building before Coronzon. Undescribed, though trait previously described in pre-diffusion Aleister.[16]
'Sinner'
Academy City
Appeared in the Windowless Building before Coronzon. Undescribed, though trait previously described in pre-diffusion Aleister.[16]
Weapon-pierced man
Strait of Dover
A bloody monster of a man with countless swords and spears piercing his body.[17]
Hag on broom with faces
Strait of Dover
An old woman riding a wooden broom with several holes resembling human faces.[17]
Winged man with halo
Strait of Dover
A beautiful winged young man with a lovely face and a rainbow halo.[17]
Organ dragon
Strait of Dover
A giant grotesque dragon made of organs with several giant maws resembling carnivorous plants, capable of releasing a thick deluge of liquid (possibly stomach acid) with the force of an industrial water jet.[17]
Tentacle mass
Strait of Dover
A swollen mass of octopus-like tentacles.[17]
Armored dinosaur
Strait of Dover
A carnivorous dinosaur with its muscles forcibly contained by rusted metal armor. Killed by the prime Aleister.[17][21]
Concrete patchwork humanoid
Strait of Dover
Something comically emulating a human form with pieces of concrete patched together.[17]
Unknown large entity
Strait of Dover
Something which looks like it could swallow a large truck or tanker whole.[17]
Multi-armed monk
Strait of Dover
A bald monk in a black tailcoat with multiple arms, looking like a many-armed Buddhist statue, and wielding various staffs. The monk is capable of transforming into a giant octopus, large enough to pick up a semi truck. The octopus's tentacles are thicker than its torso and instead of suckers, they are covered in eyes, noses and mouths with gnashing teeth. Killed by Accelerator.[21]
Beetle
Strait of Dover
Killed by the prime Aleister.[21]
Gas
Strait of Dover
A gaseous entity. Killed by the prime Aleister.[21]
Ball and chain humanoid
Strait of Dover
A humanoid form made from thick chains and round metal balls. Killed by the prime Aleister.[21]
Poison coated dragons
N/A
Evil winged dragons covered in deadly poison. Not seen but described by the prime Aleister during an explanation.[27]
Mold carrying aircraft
N/A
Aircraft filled with a deadly mold. Not seen but described by the prime Aleister during an explanation.[27]
Giant fish with arms
Tokyo Bay
Something like a giant fish with several human-like arms extending from its sides. Corpse seen floating in Tokyo Bay.[28]
Giant clown
England-Londinium Fortress
A clown with super deformed proportions and larger than a broadcast tower.[29]
Clock face and gear humanoid
England-Londinium Fortress
A humanoid made of round clock races and many gears.[29]
Sewn-together giant
England-Londinium Fortress
A giant with thick sewn-together skin, with tiny Crowleys spilling from the tears.[29]
Tree root humanoid
London
A humanoid made of twisted and bent tree roots. Killed by Ra-Zeus.[30]
Alien
London
An alien with an oversized head. Killed by Ra-Zeus.[30]
Concrete cube
London
A concrete cube with body-shaped stains on it. Killed by Ra-Zeus.[30]
Bull-headed tin doll
Bali (en route to Singapore)
An extra-long tin doll with a bull's head on a muscular giant's body. Beached on the coast of Bali, Indonesia, after getting lost en route to Singapore at sea and running into the Tokiwadai group.[31]
Human-faced fish
Bali (en route to Singapore)
Human-faced fish larger than submarines. Beached on the coast of Bali, Indonesia, after getting lost en route to Singapore at sea and running into the Tokiwadai group.[31]
Tentacle collection
Bali (en route to Singapore)
Collections of countless tentacles. Beached on the coast of Bali, Indonesia, after getting lost en route to Singapore at sea and running into the Tokiwadai group.[31]
Flesh Lump
Westminster Abbey
A fat lump of flesh. Killed by the reproduced Golden Dawn.[22]
Many-limbed Creature
Westminster Abbey
A creature with an unnatural number of arms and legs. Killed by the reproduced Golden Dawn.[22]
Giant Metal Insect
Westminster Abbey
A giant metal insect. Killed by the reproduced Golden Dawn.[22]
Creepy Doll
Westminster Abbey
A doll described as falling squarely into the uncanny valley. Killed by the reproduced Golden Dawn.[22]
Spiritual Tripping
Main article: Spiritual Tripping
Aleister's primary combat magic is Spiritual Tripping (霊的蹴たぐり, Reiteki Ketaguri?), a technique used by his teacher Allan Bennett, which involves the users linking themselves to targets and forcing images into their mind in order to manifest illusionary weapons which have the same effects on the target as a real one would have.[32][33][34][35][36]
When using this magic, Aleister forms a gesture relating to the weapon he wishes to use against his target.[32][33][34][36] The visual is used to drive an image into the target's mind and create a foothold to influence their thoughts, having them picture the weapon.[36] Several small numbers scatter from his hand like sparks, then the indicated weapon manifests, though it is only visible to the one who is being targeted.[32][33][34] As noted by Aleister himself, using such exchanges to seal off an opponent's options and guide their thoughts into a dead end is a fundamental part of magical combat,[36] fundamentals being something he places great emphasis on as an expert.[37][36] Aleister's top-rate skill is such that he can instill an image with details which would normally be impossible to tell from a simple gesture (e.g. color, shape, weight, texture, sheen, hardness, follow-ons), even if the image is that of something that the target has never seen before.[36] In order for Spiritual Tripping to be effective, the target has to witness the gestures the user makes and has to be able to 'picture' the image in their mind.[35][36] If the target's perception is distorted, there is a chance that Spiritual Tripping may not function properly.[25]
The illusionary weapons only affect the intended targets and as such, will not affect or be affected by obstacles or surroundings (for example, if a gun is used to shoot a target inside a building from the outside through a window, the physical distance and atmospheric conditions won't change the accuracy of the shot, and the shot will pass through without breaking the window), through the movements of the target as a result of the attack will affect their surroundings as normal.[35][38][34] Even if a Spiritual Tripping attack hits a target with enough destructive power to destroy the world several times over, only they will be affected by it.[36] Though normal obstacles won't impede Spiritual Tripping attacks, it is still possible to intercept them through magical means and Imagine Breaker.[39][38][34]
Rooted in the target's imagination, Spiritual Tripping draws out destructive power from their own mind. As such, it works well with the Blasting Rod, which amplifies magic to ten times what the target imagines it to be.[34][35][36]
Weapons Aleister has manifested using this magic and their associated numbers include:
Aside from the aforementioned weapons, Aleister suggested the forcibly implanted imagination from Spiritual Tripping could be used for surgical tools and methods, such as X-rays, CT scans, MRIs, blood tests, gas chromatography, ultrasound, centrifuges, transmission electron microscopes, polymerase chain reaction DNA tests and a cyclotron particle accelerator.[36]
Archetype Controller
Aleister Crowley has the Archetype Controller (原型制御, Genkei Seigyo (Ākitaipu Kontorōrā)?), allowing him control over archetypes, a psychological concept for a common understanding or sense of values that developed as each member of a race or group dealt with an identical problem in the same way. Somehow Aleister can create, send them out of the world, and even destroy them.[41]
For example, he can change the current archetype of Academy City that could be called as man's worship of science into an archetype that science is heretical. Kihara Noukan states that this power is so great that despite leaving the magic side, he is still the archetype of modern Western magic of the Golden period and are still strongly influenced by him to this day. Kihara Yuiitsu, herself, is the one who refers to Aleister as the "Archetype Controller" and because of that key factor, she sees him as an insurmountable being, with Noukan commenting that fighting him would result in a fate worse than death for them.[41]
The nightmarish culmination of Aleister's work, the Archetype Controller allows him to divide portions of humanity (be it between good and evil, like and dislike, east and west, north and south, capitalist and socialist, or any other from of division) and pit them against each other, twisting definitions to crush the minority. However there are some methods which can apparently counteract its influence. In the case of Tsuchimikado Motoharu, he is a double spy on both the Magic Side and the Science Side; when he attacked Aleister after breaking the promise between them, Aleister could turn him towards one side to rob him of the other, but the first side, magician or esper, would still move to kill.[12] Yuiitsu also considered that if all of humanity were to become Kiharas, as per her plan, they would all be the same and the Archetype Controller wouldn't be able to work on them as before.[42][12]
Aleister apparently made use of the Archetype Controller in order to make Kihara Enshuu hole up inside a prison like it was a luxury hotel while thinking it was her own idea, overturning her murderous schedule and joy of being needed, something which Yuiitsu considered would have normally been incredibly difficult.[43]
Curses
Main article: Curse
Aleister is a proficient user of curses, capable of utilizing a variety of lethal and debilitating curses.[44][45][33] During the destruction of the Golden Dawn, the magicians who survived being struck down by Aleister were said to bear a curse that took away their possibilities for success in life, dooming their choices to end in failure for the rest of their lives.[32][33]
Abracadabra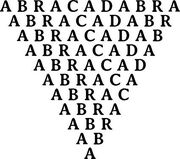 Among the pieces of magic Aleister has created which are viewed as great achievements, there is one based on perhaps the most famous magic phrase in the world, Abracadabra (アブラカダブラ, Abracadabra?). Though it is well known in an occult-mocking context, it is more often included in magic circles and charms than spoken incantations. The effects are that of a curse reversal (呪詛返し, Juso-gaeshi?); when an enemy casts a curse, it will divert or send it back at the enemy. As such it is widely known as a protective charm.[45]
However Aleister makes use of it in a different manner, having found a new interpretation and worked it into his magical system. His usage makes use of the curvature of a curse; a concept arising in many cultures, with examples such as having a doll taking the target's place or the target diverting their enemy's aim by escaping inside a magic circle drawn on the ground. It also uses the countless numbers of existing curses, which are travelling across the world like high-speed wireless internet connections. Similar to how a curved light-reflecting mirror can focus light on a single point, using supposedly harmless sunlight to start fires, the curse reversal is instead used to capture an existing curse, slightly twist it and redirect it onto a target. As he is using someone else's curse, the curse can't be traced back to him and he doesn't need to refine magic power to make use of it.[45]
In the case of curse cast on Misaka Mikoto, the magic circle consists of an upside-down triangle with the letters of Abracadabra arranged in a regular fashion. The true name given to the curse-reversal circle says the following; "I supply lightning for thy death" (汝の死に雷光を与えよ, Nanji no shi ni raikō o ataeyo?).[45] When the curse hit, Mikoto was hit as though struck by lightning, with severe bleeding and convulsions.[44]
Karma
Karma (業, Gō (Karuma)?) is a Magic which Aleister used to prevent the Tsuchimikados and Karasuma Fran from escaping Academy City and guide the group to the Windowless Building.[15]
Karma is carried by a pair of constructs which spawned in the vicinity of a shadowy, cursed magical sword, which was embedded into Tsuchimikado Maika's chest. The constructs initially consist of either a silver handcuff-like ring or a device resembling a bicycle (with a maximum of one of each at a time) which drop down near the sword, then extend chains to form a vaguely humanoid frame which is then filled with a rainbow light in place of flesh. If either is destroyed, another will spawn to take its place, and if one moves out of range of its target and can no longer pursue it, it will vanish to conserve the stock.[15]
For the chain beasts, the gear symbolizes the sun, male and acceleration, while the handcuff viewed as a ring represents the moon, female and stagnation. The two work in symmetry to draw out a non-existent element. As described in Book 4 and Liber 777, the chain symbolic weapon is used to bind wandering thoughts and unlike a fire wand or wind dagger, is not a physical tool but a way for the spell user to gain subconscious control. The cuff's chain is to bind and prevent movement while the gear's chain is to carry force to accelerate movement. Working in tandem to accelerate or stagnate, with the gear moving forward and the cuff opening and closing, they can shift the color schemes pictured in opponents' hearts and disrupt their spells which have a color component.[15] They can also bend the light around their body to conceal things in or behind them.[39]
The concept of karma involves one's own actions inviting the result they will receive. An example of karmic retribution would be killing a person and their child subsequently pursuing you to take revenge. If a chain beast is destroyed, the one who destroyed them bears the karma of doing so. This manifests as a vague haze with the same rainbow coloration, which seeps out of the air and vanishes as it thinly surrounds the perpetrator. The more beasts are destroyed, the more karma is gathered, becoming stronger and thicker, with the negative effects growing more apparent as it snowballs. Even destroying the karma such as with Imagine Breaker will cause one to bear the karma of killing karma.[15]
Thelema
Main article: Thelema
One of Aleister Crowley's key accomplishments is the creation of the religion, school of thought and magical format, known as Thelema (テレマ, Terema?). Heavily influenced by Aleister's desire to find the proper rules and answers that the god who created the world could not,[46] as well as his journey to Egypt and his contact with the entity Aiwass,[47][48][49][13] it is derived from Aleister's research and the secrets he learned from Aiwass, recorded in Thelema's central tennet, the Book of the Law.[47][48] Having devised and conveyed the system, Aleister is a master of its applications and it forms a key part of his plan.[50][12]
A key concept in Thelema is the Aeons; Aeons (時代, Jidai (Aiōn)?), divisions of human history which Aleister named after Egyptian deities,[49][13] and each characterized by certain forms of belief and expression. The three primary Aeons are the Aeon of Isis (イシスの時代, Ishisu no Aiōn?), the time of primitive religions before Christianity's establishment, the Aeon of Osiris (オシリスの時代, Oshirisu no Aiōn?), a period of stagnation during which humanity worshiped a single god during the spread of Christianity, and the Aeon of Horus (ホルスの時代, Horusu no Aiōn?), where it is believed humanity will enter a time of self-realization and self-actualization, achieving a true awakening after the downfall of Christianity.[49] The Aeons influence other aspects of Thelema, such as the Thoth Tarot (トートタロット, Tōto Tarotto?), whose Major Arcana, unlike the Golden-style Tarot which tell the story of the Son of God to draw on part of his power and enter the realm of god with a human body, start at the birth of Christianity and follow it through to its destruction at Armageddon and to the new Aeon arriving afterwards, aimed at destroying the 'closed ceiling' of god's territory and bringing humanity to the next stage above it.[49] Aleister and his plan, as well as Aiwass, are stated to be within the Aeon of Horus.[6][51]
A number of Aleister's displayed capabilities might fall under the field of Thelema, however for most of them this hasn't been verified at present. Methods applied by Aleister which are known to belong to Thelema include:
The methods that he had implemented for the Power Curriculum Program, the use of drugs in adolescents to induce paranormal phenomena, were revealed to be derived from the Temple of Thelema.[50]
The core of the Anti-Art Attachment, an energy transfer device which allows the wielder to access Aleister's power and techniques, which was devised by Aleister, incorporates a number of Thelemic elements, including a curse reversal triangle with 'Abrahadabra'.[50]
Having a strong knowledge of the phases as well as the 'sparks' and 'spray' produced as they collide, Aleister has developed a technique to direct the sparks and spray produced from the phase collisions resulting from his own use of magic, and have them strike opponents.[34] He is also capable of absorbing the spray from that magic recoil into his body, injuring himself but preventing others from being affected by the negative effects.[19]
He was capable of detecting and breaking into the Hidden World of the true Gremlin, which even Magic God Othinus was unable to detect and breach as she manipulated the world's phases.[5] He has also devised a large-scale ceremony in order to destroy the phases through Aiwass's power and position as an angel from the bottommost layer above the Pure World.[34][52]
Modern Western Magic
Having developed the foundation of modern Western magic, Aleister is familiar with its workings and can interfere with any spells constructed based on an understanding made through that filter, neutralizing them or causing them to backfire. This is the primary reason he can fly through magic without fear of being brought down, as the common anti-flight spells were constructed in this format.[40] He is also skilled using modern Western magic, as seen with the use of a city-scale Banner of the West against Coronzon.[17]
Kabbalah
Aleister is experienced in use of both the standard Sephiroth and the inverse Qliphoth, and even built up his own, different third tree from scratch in the Windowless Building.[53][34]
During his initiation into the Golden Dawn in his early 20s, he successfully performed a Telesma summoning ceremony using an alternative arrangement of the GD Tarot based around the Qliphoth.[54] In his final battle with the reproduced Mathers, while using an enhancement based on the pentagrammaton, Aleister made use of the Qliphoth to neutralize the hellfire from his banishment of Uriel which had been redirected at him by Mathers in the form of a pig. causing the flames, which might have rivalled a nuclear weapon in firepower, to burst and the embers to turn into sweet-smelling white flower petals.[55] His experience with the Qliphoth's dangerous knowledge rendered the Qliphah Puzzle 545 unable to control him.[56]
Aside from standard methods of crossing between sephirah, Aleister has also conducted research into alternative methods of passing between them and discovered an abyss between them which could not be passed through even when binding Tarot cards with a path. Looking for another way to cross it, he devised and conducted a summoning experiment in 1909, seeking to become one with this abyss so as to not take spiritual damage while crossing it, though his objective was not achieved and he instead encountered Coronzon.[57][58][16]
Christian Magic
While Aleister generally detests Christianity and its God, he has made use of Christian magic on several occasions,[17] most notably during his final confrontation with the reproduced Mathers, where Aleister took up a Bible from the church where he and Rose were wed, in order to protect it and the formless things residing within it.[59][60][55]
Blood Sacrifices
This section requires expansion
NT18 (GD, Pigeon blood)
Aleister is experienced in the use of blood sacrifices in magic, a sacrifice which he has also referred to his Blood Sign (血の供儀, Chi no Kyōgi?). In the past, a blood sacrifice was used to empower the curse which he used to destroy the Golden Dawn.[40] During the attack on the British Commonwealth by the Crowley's Hazards following their diffusion, the deaths of the Crowley's Hazards were used as a planet-wide blood sacrifice to defrag the prime Aleister and optimize her magical power like a superconductor.[24][25][65][17][Notes 1][66] During this process, a red haze manifested around the prime Aleister which could form a blood red magic circle as a shield capable of deflecting attacks at supersonic speeds and scattering their power, or extend from her palm like a spear to pierce an opponent.[24]
During the struggle against the reproduced Mathers, Aleister made use of a spell primarily based around Babalon (who is omitted from later grimoires but maintains influence in the world), incorporating elements of Isis, Kali, the earth mother and blood sacrifice as well as Aleister's concept of every man and woman being a star. After a while preparing and chanting an incantation at an altitude of 1km, Aleister dived towards the target and her body became a red light as she descended to deliver a scarlet impact.[67][68][Notes 2] Babalon's categorization as one who stands opposite of angels as the Whore of Babylon, although far removed from common examples like Satan or Lucifer, leaves an opening for interference and intervention, such as by Mathers' Belzébuth. The initial dive was intercepted, though the second shot which Aleister transferred and fired out of the A.A.A. sent Mathers flying,[69] though it wasn't enough to deliver a finishing blow.[59][60]
During the events surrounding the Ceremony of Mo Athair, Aleister made use of another Babalon-based blood sacrifice against one of Coronzon's Aethyr Avatars, supported by Kihara Noukan and Misaka Mikoto's Anti-Art Attachments,[70] and later invoked the scarlet power again during the battle with Coronzon,[26][68][Notes 2] though the effects were not seen as it would not have made it in time against the demon's Magick:Flaming Sword (with Lilith using a miracle against it instead).[26]
Other Magic
Aleister is capable of using a flying broom like that of a Witch and one of his alternative possibilities, the prime Aleister following the possibility diffusion and the original body's infestation, makes use of one.[16]
Judging from Mina and Coronzon's comments, Aleister is capable of using the attraction of a great being (such as Aiwass) to distort his life force and achieve a quasi-immortal state, similar to what Westcott once did.[71][16]
Aleister has knowledge of Astrology, having read the stars in order to determine his daughter's name.[72] He also has knowledge of Sex Magic (性魔術, Sei Majutsu?).[73] He is also knowledgeable in the use of oil, candles, sticks, powders, mist and incense, often used in the construction of ceremonial grounds, and made use of a windborne powder to spook a horse in order to get its rider out of harm's way.[25]
Equipment
Magic Items
Blasting Rod
Aleister's signature weapon is his magic staff, the Blasting Rod (衝撃の杖, Shōgeki no Tsue (Burasutingu Rōdo)?, lit. "Cane of Impact"), a spiritual item once wielded by Aleister's teacher, Allan Bennett.[32][34]
The Blasting Rod's true power is to amplify the effects of magic (including power, range and size) to ten times what the target thinks it will be. Additionally, subsequent uses of the magic together with the Blasting Rod will be further amplified due to the target's expectations affecting the basis for the amplification (i.e. if they subsequently imagine it will be 10 times as powerful, it will be 100 times as powerful).[34]
Given the Blasting Rod's connection to a target's imagination, it works well with Spiritual Tripping, Aleister's favored offensive magic and another inheritance from Bennett, which is also rooted in a target's imagination.[34][36]
Aleister is capable of invoking the Blasting Rod's power verbally, even when the staff itself isn't in his hands.[34][71][36][24]
Grimoires
Aleister has produced a number of grimoires, the most notable of which being the Book of the Law, and is familiar with the processes for dealing with them.
Name
Notes
Book 4
[15]
Book of the Law
The most infamous grimoire produced by Aleister Crowley, containing the knowledge conveyed to him by Aiwass in the 1904 summoning, which according to him brought about the end of the Aeon of Osiris and the beginning of the Aeon of Horus. With many false decoding methods built into the grimoire, few in the world (such as Aleister and Aiwass) know the true nature and essence of the book's knowledge.

Being the one who sent the Book of the Law into the world, Aleister knows its book's contents and will not misread them, meaning that he won't be affected by deliberate misreadings into influence his magic.[70] While the original was still in his possession, Aleister made use of it numerous times for bibliomancy.[74]

Liber 777
A grimoire which contains a large correspondence and equivalency table for the many symbols, entities and attributes in the system of Magick.[15][75][76][77]
Moonchild
Stated by Stiyl Magnus to have an angel binding technique, which can be used to establish the summoning of a spirit, capture it, and seal it. It is supposedly used to help with the memory erasure of Index.[78]
Thoth Tarot
A grimoire created from incorporating the 78 cards of the Thoth Tarot into the digital parallel processing device known as the Reading Thoth 78.[79] Forming a grimoire in this way also had the accidental effect of creating a thought entity, which would be given the recreated identity of Mina Mathers.[79][23]
Non-Magic Equipment
Super Sonic Striker
The Super Sonic Striker (極超音速衝撃波圧縮打撃砲, Gokuchōonsoku Shōgekiha Asshuku Dageki-hō (Sūpāsonikkusutoraikā)?, lit. "Hypersonic Shockwave Compression Shock Cannon"), or S.S.S. for short, is a weapon constructed by Aleister using his scientific knowledge and materials found in the Naked Shopping Center in Piccadilly Circus.[80][81]
It resembles a spiky shield, with modified thick pipes in place of the spikes at the front, and a tightly-packed bunch of thick tubes and hoses at the back. These connect to an air compressor and an acetylene gas tank normally used for welding. A grip similar to those of a bicycle's brakes is used to open and close the shield-like collection of pipes. There are also a few knobs.[81]
The weapon detonates a mixture of acetylene, oxygen and hydrogen, and uses the pipes to aim the shockwave in one direction, forcing it out at around Mach 9.8. Tightened together, the shockwave forms a spear, and spread out, it forms a wall. Similar to how artificial diamond dust and impurities are mixed in to increase the cutting power of an industrial cutter using water to slice through thick steel, the barrels are filled with an abrasive made from mechanically grinding down titanium alloy screws to increase damage from the shockwave.[81] Aleister used the weapon against the reproduced Dion Fortune, firing off five shots before tossing the unit out of the window at her, causing the gas tank to explode.[81]
Other
Other scientific tools which Aleister had considered using during the battle with the reproduced Mathers included an ultra-low temperature bondage liquid, a planetary core vibration magma cannon and a magnetosphere compression EM wave cannon.[67] She also made use of micro rocket engines, the size of 500ml bottles, to fly and reach an altitude of 1km.[82][67]
Notes
↑ Aleister's actions in sending the billion or so Crowley's Hazards to invade the British Commonwealth and having them be killed in the conflict as part of a worldwide blood sacrifice to optimize her body, dying the planet red with blood in the process without killing anyone else, are somewhat reminiscent of a paragraph written by the real-life Aleister Crowley in "Magick in Theory and Practice": "There is a Magical operation of maximum importance: the Initiation of a New Aeon. When it becomes necessary to utter a Word, the whole Planet must be bathed in blood. Before man is ready to accept the Law of Thelema, the Great War must be fought. This Bloody Sacrifice is the critical point of the World-Ceremony of the Proclamation of Horus, the Crowned and conquering Child, as Lord of the Aeon." While this paragraph was apparently written in 1911, three years before the outbreak of World War I (also known as the Great War) and the Toaru Aleister did foresee that conflict but focused on his own affairs and let it happen anyway, Aleister did carry out something similar by themselves in this instance.
↑ 2.0 2.1 In the afterword of Shinyaku Toaru Majutsu no Index Volume 22, Kamachi Kazuma refers to the 'scarlet power' as being to do with 'that time of the month', implying that Aleister (then in the body of a young girl) was using internal blood for the blood sacrifice.
References