Alice Anotherbible (アリス=アナザーバイブル, Arisu Anazābaiburu?), usual just called Alice (アリス, Arisu?), is a character introduced in Souyaku Toaru Majutsu no Index.[1]
Etymology
Alice's name is that of the protagonist of Lewis Carroll's famous children's story, Alice's Adventures in Wonderland and its sequel Through the Looking-Glass.
Appearance
Alice is a girl who looks around 12 years old,[2][3] with white skin, long blonde hair and sapphire blue eyes.[2] Her hair has a pair of pointy curls that resemble animal ears.[4] She wears a white apron (with a round white fluffball on the back, perhaps meant as a rabbit tail) over a blue short-sleeved dress, with white tights and black leather shoes.[4]
The other Alice, that emerged from inside her during a talk with Kamijou Touma about her magic, wears a revealing outfit consisting of loosely binding red and black belts, apparently glistening with oil and with metal buckles.[3]
Personality
Anna Sprengel has referred to Alice as bored and Aradia has described everything she says as being downright indecipherable and absurdities, and that when faced with psychedelic nonsense went along with it without questioning any of it.[1] Aradia also described her as pure and innocent but capricious, cruel and violent, such that they could predict what she would do next.[5]
Alice tends to refer to herself as "the girl" or "this girl" (少女, shōjo?).[6]
Background
In reference to Alice herself, her name has been explicitly noted as that of the famous children's story, Alice's Adventures in Wonderland, which Aleister Crowley had suggested as must-read for those wishing to deepen their understanding of magic, claiming it took on a complete new meaning if the reader had sufficient knowledge of Kabbalah, and listing it alongside the Goetia and the Golden Bough.[1]
Alice's full background is unknown, but she is known to both Anna and Aradia, who have described her as though she has experienced Wonderland and events described in the book, including the game of croquet and the trial.[1] According to Alice herself, she has gone on many strange adventures with people in the past, including one who wanted to become a god, one who wanted to be immortal and one who wanted to get back at academia for making fun of him.[3]
Seeking to make use of Alice's power for their own ends, a hidden group of powerful magicians submitted to and caterred for her whims,[5][8] providing her with any toys or entertainment she wanted,[5][8] with their bases determined by her interests.[5] Until recently at the time of December of the current year, Alice had been having fun in a remote island prison she had created (speculated by Aradia to perhaps be the influence of some American drama), and an incident in which she got upset was responsible for water and traces of life on a planet dozens of light-years away, which was subsequently discovered and being talked about by the public around the time that Anna was introduced to the group.[5] The group's current base on December 29th was a cruise ship in a flooded stadium in the middle of a rainforest, with at least one giant yellow duck waddling around.[5]
Chronology
Souyaku Toaru Majutsu no Index
Los Angeles Arc
Main article: Los Angeles Arc
Anna Sprengel and Aradia referred to Alice during their conversation in the aftermath of the events on December 26th.[1]
Post-Handcuffs Arc
Main article: Post-Handcuffs Arc
Influenced by a suggestion from Anna Sprengel, who had secretly approached a bored Alice before Aradia and the other members of the group introduced Anna to her,[8] Alice ran away to Academy City and snuck into Kamijou Touma's home, into his blanket while he slept.[2]
She accompanied him throughout the events of December 29th, referring to him as "teacher" and adding to his problems as he visited Tsukuyomi Komoe for supplementary lessons and the Delivery Go Round for food purchases. When Touma was caught up in the Overhunting crash and the subsequent prisoner escape, Alice used her power to influence the resulting events, but Touma caught on and persuaded her to undo the changes she had made and let him try to resolve things properly.[6]
After the events surrounding the prison train and the battle in the Vanishing Tunnel (both resulting from the events of Operation Handcuffs) were resolved, she was picked up by Anna and returned to the group's base, where the group were dismayed to find that Alice wouldn't use her power in the way that they hoped she would, due to Touma's influence.[8]
Abilities
This section requires expansion
Live Adventures in Wonderland - Elaboration/Example,[3] Alice's world paragraph trim/refining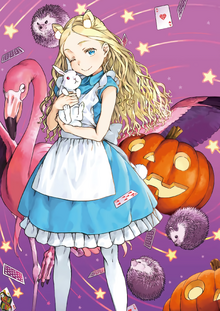 Alice's unique magic, known as Live Adventures in Wonderland (ライブアドベンチャーズインワンダーランド, Raibu Adobenchāzu in Wandārando?), is a Kabbalah-based power that is capable of affecting the entire world.[3][8] By going on an adventure with someone, she can link together different ideas, laws and definitions, innocently using her magic to build bridges between them, regardless of pre-existing connections and flawed premises, to find new meanings, create new paths, and influence reality.[3][8]
The world as influenced by Alice's magic, sometimes called Alice's world (アリスの世界, Arisu no Sekai?) or Wonderland (ワンダーランド, Wandārando?),[3][9][10][11] is a storybook one that can be greatly removed from how the real world would normally be.[3][10][11][8] When Touma confronted Alice on what she had been doing, time appeared to freeze and only the two of them remained facing one another in the space they were in at the time.[3] The frozen landscape outside was greatly changed, with a giant tower above the current location, enormous pumpkins shaped like human faces growing from the ground all over the place and breaking through asphalt, five-point shooting stars drawing trails behind them in the night sky, and incomprehensible ancient characters and diagrams dancing around like neon signs,[3] while Alice tore open and another Alice emerged from within.[3] On being convinced to put things back the way they were and Alice giving a verbal command to immediately cease all modified kabbalah bridge linking within Live Adventures in Wonderland, there was a thunk like a metal lock opening, followed by a light which enveloped Touma, with senses and surroundings fading away, eventually restarting at the time, place and events where Wonderland's effects had previously begun to be applied.[3] Touma had suspected that if he had continued through the optimal world without questioning it, all of the pieces would have intertwined and become real.[3]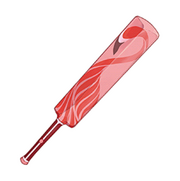 There are a number of entities connected to Wonderland which Alice manifests automatically as a form of psychological defense to deal with any attack or obstacle which she cannot avoid by herself.[12][13][8] This is apparently not out of protecting herself or fear of injury, but because an attack that hits her and obstructs her movement is likely to anger her and lead her to kill the offender without even meaning to or without thinking, so she makes sure to block attacks so that does not happen.[13][8] Initially, this takes the form of a pink flamingo acting as a cricket bat and hedgehogs curled up into balls (the latter of which Alice sometimes uses as a cushion), appearing from her dress.[14][15][16][17][12][18][13][19][8] Beyond the cricket defense is an emaciated, bony, axe-wielding figure, wrapped in a tattered black cloak, that emerges from her shadow, known as the Executioner (処刑人, Shokeijin?).[13] Should an opponent escape the Executioner's blade, they will likely be faced by Alice's own power.[18][13][8]
Character Art Design
Gallery
Trivia
This section requires expansion
Alice in Wonderland in Toaru series, Aleister Crowley and Alice's Adventures in Wonderland
References