We're Getting Mutants in the MCU - The Loop
Play Sound
An Involuntary Movement, better known as AIM (無自覚, Mujikaku (AIM)?, lit. "No Awareness"), is a term used to refer to the phenomena where an esper involuntarily emits an invisible energy field from their body, known as an AIM Diffusion Field (AIM拡散力場, AIM Kakusan Rikiba?, Yen Press: Involuntary Diffusion Field).[1]
Closely connected to the Personal Reality that is the source of their ability, it is an esper's unconscious interference with reality.[2] Differing between espers and usually having microscopic effects, it can only detected through the use of machines or specialized espers.[1][Notes 1]
Principles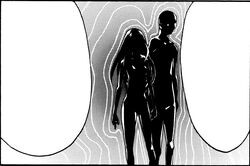 AIM is a weak energy that is unconsciously emitted by espers. Similar to how living beings radiate body heat, this energy emanates from the esper's body into their surroundings, forming what is known as an AIM diffusion field. These fields produce tiny effects on the regions they cover.[1][3]
The form taken by an AIM diffusion field and the effects it creates will differ based on the ability of the esper producing it. For example, pyrokinesists produce heat, telekinesists exert pressure, electromasters release electromagnetic fields, etc.[1][4] The attraction of vampires by Deep Blood is also a likely example of this phenomena.[5]
When the AIM diffusion fields of espers with the same type of ability overlap, an AIM diffusion field resonance can occur, which augments the effects they have on the surrounding area.[6]
As the effects of the AIM diffusion fields are usually microscopic in scale,[1][4] AIM cannot be detected by the five conventional senses. It can only be detected through the use of machines,[1] precision measuring devices[4] or by certain espers,[1] either through resonance or specific abilities.[7][8] However in some cases under normal circumstances, certain secondary effects resulting from the effects of the AIM diffusion fields on their surroundings can be observed. An example of this would be wind turbines turning due to the electromagnetic fields released by Misaka Mikoto.[9][10]
There are a number of espers who have abilities which allow them to sense and even manipulate AIM.[1][8][11][12][13] One notable esper of this kind is Takitsubo Rikou, whose ability AIM Stalker allows her to detect and track the AIM of espers whose AIM diffusion fields she has memorized.[8][14][15][16][17][13][Notes 1][18] She also has the potential to be able to use an esper's AIM diffusion field to manipulate their ability and Personal Reality.[12][19][20][21]
Due to their supernatural origin, the Imagine Breaker can nullify the parts of AIM diffusion fields it touches, and their effects with it.[22][23][24][25] The effects of the Imagine Breaker on the AIM diffusion fields can be used as a way to monitor its power.[24]
Relation to Personal Reality
Personal Realities are irreconcilably connected to AIM, as Personal Realities are the source of esper abilities and all phenomena manifested by espers in the real world.[20] Since an AIM diffusion field is unique to the esper emitting it,[8] it can be assumed that this is due to the esper's Personal Reality.
In cases of RSPK Syndrome, an esper becomes stressed or traumatized to the point of being unable to view reality properly and loses control over their Personal Reality,[26] which then affects the esper's surroundings through their AIM diffusion field in a manner similar to that of a poltergeist (hence the alternative term used to refer to the condition).[27] Additionally, interference to AIM diffusion fields can lead to a simultaneous outbreak of RSPK Syndrome.[27]
The connection between Personal Reality and AIM diffusion fields can be exploited in several ways. Analysis of a person's AIM diffusion field can be used to figure out the nature of their Personal Reality and in turn, investigate their personality and behavioral traits.[2] It is also possible to influence a person's Personal Reality via interference to their AIM diffusion field,[12] and at a certain level, it is apparently possible to modify a Personal Reality through it.[20]
Following on from this, it would be apt to refer to AIM diffusion fields as a conduit through which an esper's Personal Reality affects the real world and manifests their abilities.
Relation to Magic
By themselves, AIM diffusion fields are not usually harmful to magicians. Despite the massive aggregation of AIM diffusion fields in Academy City, magicians are not harmed when they enter the city or use magic within it. Even if they are a hybrid, the presence of AIM by itself will not harm them. However if an esper uses magic (or a magician somehow uses an esper ability), they would suffer injury due to the fact that magic and esper abilities operate through different formats and conflicting laws, leading to a damaging rejection reaction.[28][29][30][22][31][32]
When a major AIM diffusion field aggregation such as the Imaginary Number District is 'brought out' into the world, bringing the different laws along with it and disrupting the existing laws, it produces an effect similar to the aforementioned rejection reaction within the region it covers.[22][33][34][35][36] A pressure is exerted which affects all magicians and magical items within that region.[33][34][36] Magicians within lose control of their magic, leading self-destruction,[22][33][34][36] and magic-based objects and structures would similarly collapse.[22] The Imaginary Number District was developed in order to bring about this phenomena,[22][33] and did so with the manifestation of Fuse Kazakiri.[33][37]
Research and Technology
As AIM is deeply connected to esper abilities and Personal Reality, there are many scientists and researchers, such as Kiyama Harumi, who devote themselves to studying it,[1][5][38][39][40] with numerous theses written on the subject,[5][38] and various facilities dedicated to such studies, like the AIM Analytic Research Center.[41] It is also very important in the Academy City curriculum and is taught to students as early as a student's first year of middle school.[40] Data on espers' AIM diffusion fields are stored in the Bank.[2]
Uses
Due to their connection, AIM diffusion fields are used as a means to investigate espers' Personal Realities, personalities and behavioral traits.[2]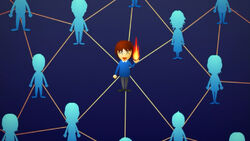 As AIM diffusion fields are a common denominator between espers, it is possible to construct brainwave networks between espers with the same brainwave patterns, such as the Level Upper Network between users of the Level Upper and the Misaka Network between the Sisters.[42][7] As shown in the case of the latter, brainwave networks can be used as a control mechanism to guide the aggregated AIM diffusion fields.[43][35][44][45][46][47]
Since AIM diffusion fields follow the principles of fluid mechanics, it is possible to use them as a medium for a Shading Computer.[48][49] The Shading Computer requires a large amount of a suitable medium, constantly controlled and influenced, and ideally within an isolated container. With one made using AIM diffusion fields, there are several risks and effects.[48] As even the smallest movements of the target fluid are used to perform calculations, it is possible for espers whose AIM diffusion fields are being used to influence the operations of the Shading Computer through that connection, even if they are a Level 0.[48][49][50] Additionally, changes in pressure can flow back and affect the espers involved, potentially altering their state of mind or inputting information into them.[48][49][50] This effect was exploited during the Agitate Halation Project to send 'revelations' and manipulate the target 'heroes.[51][48][52][49] The processing power and medium of an AIM-based Shading Computer is also capable of sustaining an AIM thought being within the diffusion fields.[49][50]
Counters
There have been plans to develop a restraining device to restrict the use of powers by taking advantage of the AIM diffusion fields of espers, though Shirai Kuroko states that the restraining device would be too dangerous since esper powers originate deep within the brain.[53]
There are certain devices which are meant to interfere with AIM diffusion fields in order to disrupt the use of esper abilities within their area of effect.[54][55][56] One example is the AIM Jammer, which emits special electromagnetic waves and diffusively reflects an esper's AIM diffusion field, causing the esper to interfere with their own power.[55] Abilities using complex calculations are essentially prone to disruption from an AIM Jammer, and the danger of losing control and sustaining serious injury increases the more an esper requires such calculations.[54]
STUDY developed a space-based missile weapon, designed to work in conjunction with Janie's Diffusion Ghost, intended to release transmitters for her ability into the atmosphere over Academy City and send it out of control to cause a fissive chain reaction in the AIM diffusion fields in Academy City, as a last resort to kill the city's espers during their Silent Party.[57]
Aggregations
There are a number of effects which occur due to aggregations of AIM diffusion fields.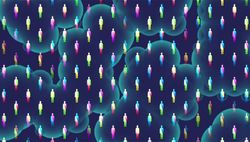 One important phenomena which can occur when AIM diffusion fields gather is AIM Diffusion Field Resonance. It involves espers in close proximity and with the same type of AIM diffusion field resonating with each other, which causes the effects of the AIM diffusion fields to become more prominent.[6] Normally, this phenomena is relatively harmless and can be used by certain espers to detect others with the same ability in the vicinity.[7] However if an overloaded esper is involved, it can cause an outbreak of RSPK Syndrome.[6]
However the prime example of an AIM diffusion field aggregation is the Imaginary Number District–Five Elements Institution, a separate realm existing in the same location as Academy City, formed from the AIM diffusion fields of the 2.3 million espers residing there.[58][59][35] The Imaginary Number District plays a key role in Aleister Crowley's plans,[22][23] being a means which can be used to achieve his intermediary and ultimate goals.[22][59][33][60][45][47][61]
AIM-based Entities
Another important aspect of AIM Diffusion Field aggregations is the capacity to create and maintain certain AIM-based entities.
One type are beings which are sometimes referred to as Artificial Angels (人工天使, Jinkō Tenshi?), due to displaying similarities to conventional angels. These include traits such as a core,[62][63][45] halos and wings,[64][65] as well as residing in another, unseen 'realm' like angels in heaven.[22] Unlike those angels though, these beings don't follow the laws of any religion, instead being formed through the AIM diffusion fields, something falling within the realm of science.[22] Examples of these artificial angels include Kazakiri Hyouka, who was born in the Imaginary Number District and molded by Aleister Crowley,[38][58][22] with the angelic form Fuse Kazakiri,[66][35][64][46][65][67][68] and the AIM Burst, an aggregation of the AIM diffusion fields of the espers connected to the Level Upper Network, after Kiyama Harumi lost control of it.[69][70]
Artificial Angels tend to possess formidable capabilities. The AIM Burst could use the abilities of every esper connected to the Level Upper Network as well as growing and regenerating while connected and with its core intact.[69][63][70] Kazakiri Hyouka exhibited tremendous strength[71] and self-regeneration,[72] and displayed even greater power as Fuse Kazakiri.[73][67]
Another type of AIM-based entity is an AIM thought being. These beings are similar to 'artificial angels' in that they are conscious existences tied to the AIM diffusion fields. They differ from 'artificial angels' in that they lack physical or visible bodies, though they are still capable of communicating.[49][50] An AIM-based Shading Computer is capable of generating and sustaining an AIM thought being within the AIM diffusion fields it uses as a medium,[49][50] and as long as the processor and medium that sustains the thought being exists, it can be revived.[25] The only example seen so far is Yakumi Hisako who became an AIM thought being by having her consciousness transferred to a Shading Computer using Academy City's AIM diffusion fields as a medium, which was also being used for Agitate Halation, with her physical body being devoured by man-eating cockroaches in order to facilitate the transfer. After becoming an existence fixed in the city's AIM diffusion fields, she sought to remove the linchpin in order to facilitate a transfer to a further medium, such as the oceans or the atmosphere.[49]
The most notable AIM-related being is the entity known as Aiwass, an 'angel' from the deepest layer of the world, beyond the phases of religion and magic.[74] Similar to artificial angels such as Fuse Kazakiri, whose purpose was to have it take shape, Aiwass also requires a vast amount of AIM to manifest himself on the 'surface'.[60][61][75] Aiwass's power far exceeds that of Fuse Kazakiri, overwhelming Accelerator and Kamijou Touma in one-sided clashes.[45][76] Due to its immense power and special position as a being from the deepest layer of the world, it forms a key part of Aleister's anti-Magic God countermeasures and holds the potential to destroy the phases.[74]
AIM entities are closely linked to the AIM diffusion fields and usually dwell within them.[46][77] Those with the ability to physically manifest themselves are usually only able to do so within areas covered by the diffusion fields.[46][78] Additionally, their connection with the AIM diffusion fields means that it is possible to influence their form and actions by tampering with those diffusion fields.[79][45]
Being formed from aggregations of AIM diffusion fields, AIM-based entities are vulnerable to Imagine Breaker. Kazakiri Hyouka was aware that she'd be erased if she came into contact with it, and its threat played a key role in the formation of her consciousness in the first place.[22][23] Yakumi Hisako's form as an AIM thought being was destroyed in a single strike and her consciousness only survived due to a secret back-up she prepared on a different medium.[25] The effects of the Imagine Breaker on Aiwass haven't been shown, though it is apparently required to access Aiwass's core, together with Accelerator.[80]
See Also
Notes
↑ 1.0 1.1 Takitsubo Rikou's AIM Stalker allows her to memorize the AIM diffusion field of an esper. One can extrapolate that all AIM diffusion fields are unique to the esper.
References