Jurassic World: Dominion Dominates Fandom Wikis - The Loop
Play Sound
Anna Sprengel (アンナ=シュプレンゲル, An'na Shupurengeru?) is a magician of the Rosicrucian Order, the master of its No. 1 temple in Germany, who was said to have played a role in the foundation of the Golden Dawn and supposedly acted as a point of contact for the Secret Chiefs, though her existence has been considered a dubious one.[1][2][3][4][5]
Appearance
Anna Sprengel has the physical appearance of a ten-year old girl, about 30-40% shorter than Madame Horos when she was possessing Anna's body and with a flat chest.[4][5] She has purple eyes and long reddish-blonde hair which reaches her ankles,[5][6][7] rolled into large ringlet curls and squished flat at the ends into several fried shrimp shapes,[4][5] with rose decorations throughout.[4][6][7] Anna is also capable of assuming an adult form like the one that Madame Horos had used.[8][9]
After being restored to her body, Anna wore the gaudy red dress which Madame Horos had been wearing while using her body (the fabric and design of which Anna did not like), which was now too big for her and had to be held to avoid it falling off.[4][5][10] She was also barefooted, having discarded the shoes as they were now the wrong size for her.[5][10]
Personality
This section requires expansion
NT22Ep, NT22R, GT1, GT2
Anna is a cruel, proud and self-centred individual, who looks down on most other people and things in the world, and is focused on pursuing her own goals and interests, with no regard for whoever or whatever is harmed in the process.[4][11][12]
Given her immense power and her ability to predict outcomes with near certainty, Anna is often bored and finds enjoyment in things which defy her predictions.[13][14] While various things can catch her interest, they usually don't hold it for very long and when she loses interest, she moves on.[11][12] If something actually disappoints her, she is likely to destroy it before moving on.[12]
She is a callous and toxic manipulator who has no compunction about manipulating and harming others for the sake of her own goals,[4][11][12] often setting things up so that her pawns end up destroying themselves.[15][16][17]
From past experiences, with cabals and magicians not truly understanding the meaning of her words and distorting them to suit themselves, Anna believes that no one could understand her and is angered at people thinking that they can.[18] She also believes that exchanges of words only distort the truth and spread corrupted information.[19][18] She hates being interrupted in the middle of an explanation, in at least one case going on a rant and taking out her anger on a nearby object.[20][21]
Anna has been described as clinging to success and victory more than anyone, regardless of what she says, to the point that she cannot maintain herself without them.[18]
Background
This section requires expansion
NT18/21/22/22R revision/expansion
In the past, Anna supposedly helped in the foundation of the Golden Dawn. She was said to have functioned as a point of contact for the Secret Chiefs, much like Aleister Crowley would act as a point of contact for Aiwass, described by him as one of the theories concerning the Secret Chief. However, to most of the world it wasn't certain whether she actually existed or whether her existence was fabricated.[1] In truth, Anna Sprengel was indeed a member of the Rosicrucian Order,[5] master of its No.1 temple (also known as Lichte, Liebe, Leben) in Germany,[5][22] and a priestess who could call on the power of the Secret Chiefs.[5]
A letter which William Wynn Westcott supposed received from her was actually forged by him in order to give prestige to the cabal he helped found.[23][24] Wanting to claim that the cabal was the continuation of an ancient Rosicrucian line, he faked a letter sent to the German cabal (whom he claimed to have two temples) as well as a response from Anna Sprengel authorizing the creation of a British branch (hence the Isis-Urania Temple being called #3), an exchange known as the Sprengel Letters.[25] While he faked the letters, Westcott did actually know Anna Sprengel in some form and was acting as a cloud.[26] Anna Sprengel apparently allowed for her name to be used in the formation of the Golden Dawn on a whim, breaking one of the rules of the Rosicrucian Order in the process.[27][4]
At one time, Anna tried out the iron maiden in Nuremberg but was disappointed.[5] Another time, she consumed a sample of that time's St. Germain, which apparently left a bit more of a tingle on the tongue than the present-day one.[10]
At some point in the late 19th century, Anna Sprengel's body was stolen by the fraud Madame Horos under unknown circumstances.[4] Having been summoned by Anna, Aiwass was to hunt down the fraud and return Anna to her body.[4] While the Golden Dawn was still active, Madame Horos approached Samuel Liddell MacGregor Mathers posing as Anna Sprengel and made off with crucial cabal documents after deceiving him,[2][4] bringing a disaster to the cabal and earning Mathers' hatred.[28]
Chronology
Toaru Majutsu no Index
World War III Arc
Anna is mentioned by Aleister Crowley when he appears to attack Fiamma of the Right in Russia, despite still being in the Windowless Building. Aleister describes her supposed role and dubious existence, saying that his current state is the one that Anna was said to have had.[1]
Shinyaku Toaru Majutsu no Index
Aleister Crowley Arc
Anna Sprengel is mentioned by the recreated Mina Mathers during the visions of Aleister's past shown to Kamijou Touma in the Windowless Building, specifically with regards to the letter forged by Westcott.[23][24]
Coronzon Arc
Anna Sprengel was mentioned during Aleister Crowley's explanation concerning the Isis-Urania Temple during the events involving the reproduced Golden Dawn.[25] The events concerning the Horos deception were also referenced.[28]
During the events surrounding the Ceremony of Mo Athair, Madame Horos appeared before Takitsubo Rikou, still posing as Anna Sprengel.[3] After the ceremony was thwarted, she approached the dying Aleister, but was ambushed by Aiwass who proceeded to restore the real Anna to her body.[4]
Kamijou Arc
After the events in the Irish Sea, Anna and Aiwass travelled to the Tower of London, concealing their presence from the populace, observing and discussing the events which were unfolding at Windsor Castle concerning Kamijou Touma and the manifestation of the One who Purifies God and Slays Demons.[5][10][29]
Souyaku Toaru Majutsu no Index
Christmas Eve Arc
At some point before Christmas Eve, Anna started overseeing the development of R&C Occultics,[30][8] an IT company specializing in magic and distributing magical knowledge over the internet,[31][8] growing in-between the Magic and Science Sides, with the two not able to properly respond to the new development.[31][8]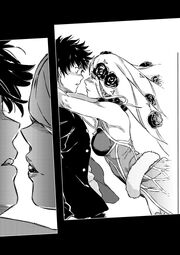 Shortly after midnight on the morning of December 24th, Anna had infiltrated Academy City, though she had not addressed her clothing situation. Filming a group of delinquents attempting to rob an ATM, she was spotted by Kamijou Touma as he was visiting the convenience store and then by the delinquents, leading to Touma carrying her while fleeing from the group. The pursuit was eventually ended by Misaka Mikoto who had escaped from Tokiwadai's strict Christmas oversight and spotted the two. As Touma was having to explain himself, Anna deliberately aggravated the situation with a grin on her face.[32]
In the evening, after Touma's battle with Neoka Norito, who had used magic acquired from R&C Occultics, Anna approached Touma after he returned to the street, alarming Othinus who recognized who she was. After updating the R&C Occultics site, Anna placed a black pill in her mouth and assumed an adult form before moving in towards Touma. Wishing her amnesiac enemy Merry Christmas in a declaration of war, she kissed him and exposed him to the contents of the black pill in her mouth.[8]
Christmas Day Arc
Operation Handcuffs Arc
Anna spent the events of Operation Handcuffs discussing the operation's disastrous turn with the new Board Chairman and taunting him about how much he knew about what he had inherited.[40][41] She was present for his conversation with Valart Signal about the impacts the destruction caused by the operation could have on the city's future, as well as "Vanish".[42]
As Operation Handcuffs concluded, Anna continued to taunt Accelerator, remarking on the peaceful intent he had for the operation and for the members of the Dark Side of Academy City, as well as revealing to him that the Coins of Nicholas randomly distributed by R&C Occultics caused the operation to collapse. She came to the conclusion that though the division between Magic and Science is constructed, the freedom of the latter disrupts the order of the former, though she was noticably intrigued that Hamazura Shiage gave up his coin in the end. Qliphah Puzzle 545 angrily attacked her for this, irritating Anna due to her being interrupted by the artifical demon, and prompting a counterattack from Aiwass. Having concluded her plans in Academy City, she let herself out from the cell and set off towards her next objective.[43]
Los Angeles Arc
Anna was absent from the events in Los Angeles on December 26th, surrounding the joint operation by the Anglican Church and Academy City to destroy R&C Occultics HQ and the disappearance of the city's population caused by Citrinitas in response. However, Melzabeth Grocery had caught her interest with her failed secret rebellion and following Anna's intentions, Citrinitas (whose rank and title she had granted, but unknown to him did not expect much of, using him as a pawn and bait to obtain someone greater) used Melzabeth's image in an attempt to frame her for their crimes in order to break her back into their service and leave her with no place to go besides R&C Occultics.[44]
In the aftermath of these events and the destruction of R&C Occultics (with Aleister gruesomely killing the executives at the HQ ahead of the joint force to send a message to her), Anna was at an unknown location with Aradia. During their conversation, they discussed the sacrificial pawn that the company had been, their acquaintance Alice, and the coming new age, with Aradia remarking on Anna's capriciousness and Anna anticipating crazed masses and poisoned justice after the incident, while also thinking that it was a pity to lose Melzabeth.[45]
Post-Handcuffs Arc
On December 29th, Anna was guided around the Bridge Builders Cabal's base by Aradia, meeting a couple of the group's members while on her way to be introduced to Alice, who Aradia warned her not to anger and whom she also suggested should be a higher priority for Anna to introduce herself to than H.T. Trismegistus. However, they both found Alice was missing, much to Aradia's dismay.[47]
Unbeknownst to Aradia and the rest of the Bridge Builders Cabal, Anna had informed Alice about Touma before being invited into the group, leading Alice to head to Academy City to go on an adventure with Touma, getting involved in the events surrounding the Overhunting and Vanishing Tunnel (the results of the aftermath of Operation Handcuffs).[46] After the incident was resolved, Anna came to Academy City to bring Alice back to the group's base, earning Touma's anger. Upon their return, the group learned that Alice's interest in Touma had swayed her from using her magic to help in their plans, as well as learning of Anna telling Alice about Touma, which had thrown a wrench in their plans.[48]
New Year's Eve Arc
As the Bridge Builders Cabal was split between the Killers and the Rescuers, Anna Sprengel did not take a side and merely watched on. After the last battle between Kamijou Touma and Aradia on December 31st, she was pondering killing Aradia to provoke a change in the boy, when she was confronted by Anna Kingsford, whose preserved body had been retrieved and reanimated by Aleister Crowley. Stricken with terror, her arrogance and abilities crushed, and unable to overcome the disadvantageous connection they had, Anna Sprengel was easily defeated by Anna Kingsford and sealed away into parchment charms in a film can. She was subsequently interrogated by Aleister about Alice Anotherbible and the Bridge Builders Cabal.[22]
Abilities
A magical expert of the Rosicrucian Order and master of its No. 1 temple in Germany, Anna Sprengel is an immensely powerful and knowledgeable magician.[4][5] While not being a Secret Chief herself, Anna is a priestess who can freely contact and draw on the power of these transcendent beings, including Aiwass.[4][5] As a Transcendent of the Bridge Builders Cabal, Anna is said to be powerful enough to rival the regular magic side on her own.[50]
According to Aleister Crowley when he confronted Fiamma at the end of World War III, as a contact point for the Secret Chiefs, Anna was said to have been the same kind of higher existence that he had become at that point (described as existing in a different dimension, beyond just being expressible as 0 or 1, and being able to exist in multiple locations at the same time).[1] Aiwass has referred to Anna as a genius who can rearrange atoms in front of her like it was normal and someone who can see an end result from the beginning like it was normal.[5] After actually encountering her, Aleister referred to her in a message to Tsuchimikado Motoharu as someone who had crossed the Ungrund (or the Abyss).[29]
At her full strength, Anna is apparently powerful enough to destroy Aiwass in his non-incarnated state in a single blow. After being weakened due to Madame Horos squandering much of that power, an arm stab to the gut from her was only able to bring Aiwass to his knees.[4] She can jump on a spiked chair or into an iron maiden without scratching her skin and with only a mild feeling,[5] and consume a sample of the potent St. Germain virus without any ill effects.[10] A drop of her blood can apparently produce unknown miracles.[5][29] In addition to her wealth of knowledge, Anna also has a high degree of foresight, having known the situation which would befall Lilith many years in advance, and while her predictions are not absolute, the end results of events don't often betray her expectations.[4][5][29]
As per the rules of the Rosicrucian Order, Anna is skilled at blending in with her surroundings, able to slip into the damaged Tower of London unnoticed by the many people viewing the damaged exterior through digital devices and the Anglican jailers careful to set up various measures to conceal the interior.[5] Together with Aiwass, Anna has also made use of an invisibility spell based on the symbol of the black egg.[4]
While in the Tower of London, she used a technique derived from the legend of the miniature garden which Christian Rosenkreuz supposedly used to view the world, in order to view the current scene inside Windsor Castle. She made use of a jump rope, with silver paper and plastic film from chocolate boxes attached at set intervals and blue lighting provided by Aiwass. While she was swinging and jumping over the rope, the light was reflected off the pieces attached to it, forming an egg-shaped display area around her. A bluish-white image of Windsor Castle was visible from inside this area (but not from the outside), with people being shown in yellow.[10] She also has knowledge of methods connected to Rosenkreuz's seven-walled tomb and considered using them to restore her lost power.[4]
Anna is capable of creating magical landmines through distortions in the ley lines.[20][14] Utilizing the Sephiroth's correspondence to the human body, she can focus on the channels between the spheres to make her physical blows obstruct the unseen circulation and flow of power through an opponent's body.[34]
Against a reanimated Anna Kingsford, Anna Sprengel's thwarted attempt to kill her involved a spell contained in a glass anti-personnel mine with a glass vial of chemicals in place of a regular fuse. When stepped on or hitting the floor, the vial breaking would cause the chemicals to mix and detonate. For Anna's spell, in the mine, controlling its own microcosm, the aspect of 'summer growth' would be extracted from the four-step cycle and used to stop up the regular cycle of life and death (the boundary of which her target had crossed) to create an environment of endless growth, which would then by linked to the eighth operation, separation. The intended result was a deadly, expanding space which would separate every joint and organ from the victim's body. However, Anna Kingsford suspended the explosive in mid-air and never let it hit the floor.[22]
Pneuma-less Shell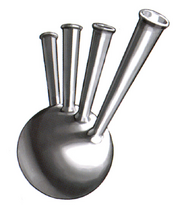 The Pneuma-less Shell (プネウマなき外殻, Puneuma naki Gaikaku?) is a spiritual item, described as a base metal made by intentionally distorting the Philosopher's Egg (哲学者の卵, Tetsugakusha no Tamago?), which Anna uses to add some randomness to her battles, disturbing her own rhythm and reducing her status.[20][33]
It is a two-meter tall metallic sphere, hovering in the air and emitting a dull silver light. There is a wheel at its center and when it is spun, the orb makes a grinding noise similar to gears before opening up in a complex manner to dispense an item.[20] At a snap of her fingers, it can compress itself into the form of a small round flask, no larger than an eyedrop container, with multiple necks like a bagpipe and lined with thin lead foil.[33]
The sphere manifests with the command Incubate (抱卵, Hōran?), causing a shockwave which knocks down objects and individuals in its vicinity. When initially using it, Anna spoke its name, invoking the Philosopher's Egg, Clear Coffin (透明なる棺, Toumei-naru Hitsugi?), and a spell which never strays far, even found hidden in music and painting. Declaring that she did not seek the red stone, she had it show her a distorted result to entertain her with the unforeseen.[20]
Anna is capable of extracting the 'essence' of the produced items, associated with their history and traditions (in explaining this, she gave examples of firsts; e.g. the first projectiles being stones, the first smokescreens being dried grass, the first biological weapons being corpses, and the first blades likely being stone or bone),[20] and applying them to produce potent effects:[20][14]
Item
Essence
Effects
Tree branch
"The world's oldest whip"
By extracting and applying the branch's essence, Anna was able to blow away the nearby snow and tear off the right half of the Anti-Art Attachment's wings, rupturing its twin rocket engines in the process, with a casual swing of the branch.[20]
Rope
"The world's oldest form of bondage"
Drawing out the essence of the old worn rope, Anna was able to apply tremendous pressure and break away a pillar with a light tug after throwing the rope, missing her target and wrapping it around the pillar.[13] It has been said that she could bind a falling asteroid and hold it in place in mid-air.[13]
Sputnik
"The world's oldest orbital launch"
Using the satellite's essence in an attack, Anna raises her hand, causing loose objects in the target area to rise up before tearing the target from the ground and launching it into the sky.[14] Anna attempted to use this against Shokuhou Misaki, but her target unexpectedly falling while attempting to run led to a nearby bus stop sign being launched instead.[14]
Charcoal
"The world's oldest writing tool"
Charcoal was used before papyrus and parchment, being mixed with blood and used to write on cave walls. As the oldest writing tool, it is also where grimoires start from.[14]

Anna can make use of this to turn objects into original grimoires by writing text on them.[14] Animated for autonomous defence by drawing power from the ley lines, they follow her commands.[14] Although impromptu ones, they are still true grimoires and reading their text with have the same harmful effect.[14] Anna can also dispose of her creations by erasing the text, causing the grimoires to fail to establish proper circulation of power absorbed from the ley lines and rupture from within.[33]

The dispensed charcoal on Christmas Day was the size of a fist and had a small indentation which a finger could be stuck into. By doing so, toying with the thick reddish-black substance on her fingertips and moving her hand as if carving something into the world, Anna wrote text on a nearby table, pillar and snowman decoration, animating them as grimoires.[14] By wiping the paint from her fingertips, Anna caused the text to melt away and the makeshift grimoires to collapse.[33]
"Breakers"
During her battle with the combination of Kamijou Touma and St. Germain, Anna made use of Aiwass to form and wield powers in her right hand, matching her opponent's use of a right hand in a case of deception, misdirection and mockery.[35][9] This mimicry is not the same type of power as Imagine Breaker and Anna's right hand is not special in same way, being an application of magic.[9][38] When starting off, Anna ordered Aiwass, who disappeared from her side, with his name and the command "Open the pathway from Gevurah to Hod and reside in my right arm." (ゲプラーよりホドへの進入経路を開放、わが右腕に宿れ, Gepurā yori Hodo e no shin'nyū keiro o kaihō, waga migiude ni yadore?).[35]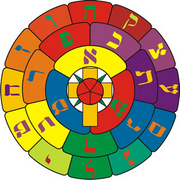 Anna made use of a Hebrew-based rose spell to determine the nature of the power formed within her right hand using the energy of Aiwass.[9][36][37][38] It is based on the symbol of the rose with twenty-two petals, used by both the Rosicrucian Order and the Golden Dawn.[36][4] Each of this rose's petals is associated with one of the 22 Hebrew characters, which fields such as Kabbalah (often used by the Rosen) and Hermeticism say can be used to explain the entire world - with the rose symbol representing the world.[36][51] The petals and letters are divided into three groups; the outer ring has twelve petals associated with the Zodiac constellations and colors, then seven petals associated with the seven metals and their respective planets, and finally three central petals.[36][37] The letters associated with the central three are Shin (ש), Mem (ם) and Aleph (א), representing the elements of fire, water and wind respectively, with the element of earth not present.[36][37]
The possibilities are not limited to the number of petals and the combinations not limited by the three starting characters.[36] With Gematria, characters are assigned numbers and two words with the same number are considered to have the same meaning.[36] For characters and combination with a multiple-digit value, the digits are added together to produce a single-digit number - these can be read simply as they are or read as a sum (e.g. Shin's numerical value is 300, which becomes 3 - this can be 3 (Gimel) or 1+2 (Aleph and Bet)).[36] Depending on how it is broken down, the possibilities are endless,[36] and Anna has well over a million attack options.[37] The initial values of Shin, Mem and Aleph are 1, 40 and 300 respectively.[36][37]
Anna does not use a rose accessory for her spell to switch between powers,[36][38] instead using her left hand and the elemental correspondence of the fingers (from the thumb to the little finger; ether, water, fire, earth and wind).[38] By bending her index (water), middle (fire), and little (wind) fingers, Anna can switch their respective elements (corresponding to the central three petals and letters of the rose) on or off.[38] Using this method, Anna can create whatever Hebrew character she wants in her left palm to control her angel and the power formed within her right hand.[36][38]
Anna initially named these powers to match Imagine Breaker's name (e.g. Structure Breaker, Article Breaker, Escape Breaker (逃亡殺し, Tōbō-goroshi (Esukēpubureikā)?), Shield Breaker (遮断殺し, Shadan-goroshi (Shīrudobureikā)?), Gravity Breaker, etc.[Notes 1]), but gave up on naming them after tiring of the 'Breaker' pattern.[35][9] The powers produced in Anna's right hand in this manner included:
Name
Effects
Structure Breaker (構造殺し

Kōzō-goroshi (Sutorakuchābureikā)

?

)
Through the movements of her hand, Anna can slice through space, regardless of the distance and material in her way. Her touch described as negating the world, it will tear through whatever is in the affected area along with the dimension and space itself.[35][9]
Unnamed
A burning right hand that can burn holes through a cloud of hydrofluorocarbon steam. By placing two fingers against her lips and blowing out like with a whistle, Anna can blow sticky orange flames, reminiscent of a flamethrower or napalm, from her mouth.[9]
Article Breaker (資源殺し

Shigen-goroshi (Ātikurubureikā)

?

)
With a snap of Anna's fingers, bluish-white sparks scatter with an ephemeral flashing. Once this flashing is as bright as a blowtorch, it causes electrical equipment in the vicinity (e.g. LCD signs, lights, air conditioning, train power lines, phones etc) to explode like a cluster bomb.[9]
Gravity Breaker (重力殺し

Jūryoku-goroshi (Gurabitibureikā)

?

)[Notes 1]
By raising a finger and spinning round, Anna gathers nearby objects (e.g. metal trashcans, cleaning robots, street lights, wind turbines etc) into a single large mass, swing it around her as though attached to an invisible chain, building up centrifugal force before flinging it at her target in an attack which uses both supernatural and physical power.[9]
Unnamed
A use of power which was used to deal with flames from a crashed airship, either freezing the area or eliminating the flames and heat.[9]
Unnamed
A swing of Anna's hand causes a gust of wind to blow through.[36]
Unnamed
Anna's use of his power causes a flood of caustic acid spread out like an amoeba.[36]
Unnamed
A swing of the hand with this power causes a bright light to burst out and slam into a target.[36]
Unnamed
Swinging her palm from a distance, Anna causes three explosions in quick succession.[36]
Unnamed
Formed through Mem and Shin (40 + 300) which, with the digits split out separately and summed together, comes out to 7 - the true character extracted being Zayin (Z). This corresponds to the path between Binah and Tiferet (understanding and beauty) on the Sephiroth and the Lovers in Tarot, with the meaning of sword or armor.[37] By using her fingers, Anna can apparently slice through things at a distance, closing two fingers to create a massive invisible maw with her target's head between its jaws.[37]

Anna's use of this power was interrupted when Touma threw a golden decoration in the shape of a Capricorn sign (with the essence of the element of earth, which has no place in the center of the rose) towards her, interfering with her control of her spell and causing a white light comparable to a blowtorch to explosively expand within her grasp, forcing her to grab her wrist with her other hand in a brief attempt to control it.[37][38]

Anna had previously used slicing powers (including Structure Breaker),[35][9] slicing through a power line and an airship, though it is not clear whether those powers and this one were one and the same or different variations.[9]
Character Art Designs
Design Evolution
Gallery
Trivia
According to Kamachi Kazuma, he is focusing on making Anna Sprengel a character who initially appears as a great ruler reigning over everything but is actually full of holes, seeming similar to Leivinia Birdway (young on the outside, perfect on the inside) but actually the opposite. Due to her role in the creation of the Golden Dawn, he wanted to give her an oddly powerful allure which draws people in like a black hole.[52]
Quotes
"I am supposed to be one of the humans who hold out our hands to accept the blessings granted unto us. All I should need to do is look up and receiving the blessings and guidance provided by heaven. …But this world is too small. There is no longer anyone above me, so all I do is float around restlessly like a balloon."[4]
"I learned my lesson with the Golden cabal, so I am sick of being a queen who grants things to others. Sigh. Where can I find a true master who I can subdue with my power and have them provide me with never-before-seen wonders on demand?"[4]
(Observing the developing situation involving Kamijou Touma) ""Good morning, Imagine Breaker...and the One who Purifies God and Slays Demons. What does the world look like to the two of you?"[4]
'"There's no point in going to the trouble of becoming a Secret Chief when you can set up a position for yourself that lets you draw on their power. Those transcendent beings are like credit cards."[5]
"I am sick of being a queen. I want to turn my damp eyes heavenward and hold out my hands to catch the rays shining down from between the clouds. I want someone out there to grant me miracles and blessings I can devour while I enjoy my life. In that sense, I do appreciate a world that keeps on going even when it's attacked and broken."[5]
(To Aiwass) "Let's watch, Aiwass. The One who Purifies God and Slays Demons has appeared. What will he destroy and what will he create within his chrysalis? I hope it will more than surpass my expectations." [10]
(To Kamijou Touma, after losing interest at the apparent result of her "optimization") "It is time to die, you weak soul at the mercy of your own power. Failing to draw my interest counts as an even zero, so that I can forgive. But disappointing me earns a negative score. That warrants death." [19]
External Links
Notes
References