Jurassic World: Dominion Dominates Fandom Wikis - The Loop
Play Sound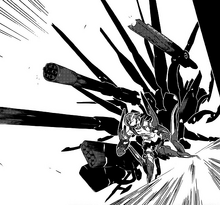 The Anti-Art Attachment (対魔術式駆動鎧, Tai Majutsu-shiki Kudō Yoroi (Anchi Āto Atatchimento)?, lit. "Anti-Magic-Type Powered Suit"), A.A.A. for short, is a Powered Suit developed in Academy City and used by Kihara Noukan. As the name suggests, it is for use against magic,[1] though despite that, the suit has a connection with magic, specifically that of Aleister Crowley.[2][3]
Principles
The Anti-Art Attachment is a powered suit comprised of various parts and components which are assembled around and connected to its user.[1][2] Due to the suit's capabilities and the fact that Kihara Noukan's role is to target beings like Ladylee Tangleroad, Fräulein Kreutune, Aiwass and the Magic Gods, it is likely that it was created and intended for his use alone.[1][4][5][6]
The powered suit can apparently be called upon when needed with its parts being held in containers which are dropped around the user before opening up and automatically arrange itself around them.[1][2] These containers are also quite powerful, easily destroying Molar Tooth, large floating spheres that can block tank shells, during Kihara Noukan's confrontation against Shundou Toshizou in Celestaquarium.[1] More containers can be dropped to add additional components even in the middle of battle.[2]
The components of the suit include things such as arms, weapons of various kinds, ammunition and armor, floating around the body like some pseudo-transforming robot.[1] The unit can move in response to the user's movements and commands,[7][8][9] even after being damaged or dismantled to a certain degree,[10][11] and reconfigure itself to match them.[9] Several components directly equip to the user and in turn connect to others.[2][9] The parts and weapons of the unit can be swapped out depending on the circumstances.[1][12]
The amount of weapons used for this powered suit is described as on "the level of building a fortress",[1] and with a level of firepower capable of making a crater out of a fortress built to withstand the strongest tanks.[9][13] It can weigh more than twenty tons in all, but is capable of flying, in a way which seemingly ignores gravity, using rocket boosters which can propel it at speeds of over Mach 20.[12][5]
Though it makes use of 'bizarre' techniques and may feel as though it is something unexplainable by science wearing the skin of a scientific weapon, the Anti-Art Attachment's basic frame is still that of a science side powered suit, and as such, it can still be manipulated by electromasters, regardless of firewalls and ID.[8][14]
Components
The Anti-Art Attachment's arsenal includes guns, cannons, swords, spears, molecular vibration electromagnetic wave emitters,[1] catapults,[4] lasers[2] and excitation emission rods for them,[15][9] missile pods [15][8][9] with precision-guided missiles, plasma cannons,[2] bunker busting and excavation drills,[15] plasma blades,[8] liquid weapon turrets with acid sprayers, flamethrowers and liquid nitrogen emitters,[1][9] gatling guns, rapid-fire cannons and a large caliber railgun, of the type carried on railways and meant for destroying fortresses.[9] The unit's name is engraved on the sides of some of its components.[8]
Among the unit's arsenal is a tactical armor-piercing drill, made of tungsten steel and running through the entire unit from front to back, dozens of meters long. Achieving speeds using the same electromagnetic acceleration as a railgun or mass driver, it produces immense destructive power through its rotation, being capable of breaking into an underground silo or destroying a military base. The drill's rotation can also be used to transmit extremely high-speed high-frequency vibrations. These vibrations can be used to convey the user's or another's will, and with the unit connected to Aleister Crowley, it can deliver his willpower in a strange form capable of killing a Magic God such as the weakened High Priest.[12][5]
There are also pieces of armor which equip to protect the user, apparently providing a defense such that Kihara Yuiitsu couldn't think of a greater one,[15][16] supporting legs to carry the weapons' weight,[9] as well as rocket boosters to propel the unit.[12][15]
External Link
The Anti-Art Attachment's primary function is more an application of medical technology than military technology. A form of external cyborg attachment, it forms a link between the user and another individual, allowing the user to remotely draw on their power. Noukan makes use of this connection to utilize Aleister Crowley's power and secret techniques, a use requiring an understanding of the world a step outside science.[2] Noukan has been described as not just borrowing Aleister's power, acting similar to an elite soldier infiltrating enemy lines to lock onto an airstrike target with a laser sight.[2] Using this connection, Noukan has been able to create a circular territory which displaces water from his vicinity,[1] and deliver Aleister's willpower in a strange form which can kill Magic Gods, ones whom Aleister truly hates.[5][2] As well as the user drawing on his power and techniques, Aleister himself is capable of using the link to transfer his own magic over to the A.A.A. and forcibly fire it from the weapon remotely.[6][17]
In a scan of the Anti-Art Attachment's operating system, this function of the A.A.A. appears similar to a closed circle, not functioning as a circuit and usually not able to be read properly, with the chance of one being sent elsewhere if the link to the 'outside' is carelessly accessed.[15][18] The core of the energy transfer device contains a reversed triangle, of the kind used for curse reversals, with the words 'Abrahadabra'.[19] The Anti-Art Attachment can be used regardless of whether one has a proper understanding of this function (though it defeats the purpose it was meant for),[20] but using the Anti-Art Attachment can result in this power being used even if the user doesn't intend for it, and as with any other form of magic, will cause a rejection reaction in espers.[21]
At the core of this system is a set of transistors and LSIs, lined up in a shape resembling a good luck charm or magic circle. Current enters one end, loops around within the circuit, and then flows out the other end with no change to the current and voltage. It functions as an antenna to catch the transmissions from the linked individual and convert them into electrical signals to be carried into the machine's circuitry, in a manner similar to mosquito coil and bowl-shaped antennas meant to efficiently pick up electromagnetic waves.[10][22][11]
According to Coronzon, sigils are incorporated into the 'contents' of the A.A.A.'s components,[23] and the weapon is described by Othinus as reeking of Aleister Crowley's form of magic, Magick.[3]
Storage Facilities
Noukan has a hangar for the Anti-Art Attachment in each of the twenty-three School Districts in Academy City.[24] These storage facilities are often disguised as another type of facility, such as a industrial refrigeration warehouse (School District 7),[24][5] a papermaking factory,[15] or an aircraft maintenance bay (School District 23).[7]
As well as the Anti-Art Attachment's components, the hangars also contain ammunition, fuel, power sources and maintenance equipment necessary to support them,[8] as well as ejection containers and large trucks to tow them, in order to transport and deploy the unit. Similar to the suit, the trucks can respond to Noukan's mental instructions.[7]
Misaka Mikoto's Version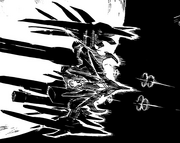 Following her initial encounter with the powered suit,[9] Mikoto had a modified version created for her own use,[25] acquiring a hangar at Tokiwadai Middle School and starting a club in order to maintain it.[26] This Anti-Art Attachment possesses most of the armaments used by the original version. Mikoto has attempted to reconstruct the original's 'black box', but apparently hasn't been able to fully recreate it, though she still experiences similar repercussions.[25]
When flying the A.A.A. at high altitudes and supersonic speeds, Mikoto uses her esper ability to compensate for the lack of a cockpit's protection and life support systems.[27] Making use of how fluids flow from denser areas to less dense ones, Mikoto opens a 'hole' in atmosphere by breaking air down with electricity (which also provides her with oxygen), causing the rushing air to naturally be redirected and preventing damage from friction.[27] She also uses her ability to keep warm through microwaves.[27][28] Using all of these methods simultaneously is exhausting, so she cannot do it for long periods of time, though she can manage a short flight.[27]
Alternative Configurations
Aside from its usual configuration under Mikoto's usage, equipped around her and attached to her back, she also made use of the A.A.A. in two other configurations during her trip to the United Kingdom; a two-seat flight variation[27] and a motorcycle configuration.[28][29][30][Notes 1]
The two-seated flight configuration was used to carry Misaka Mikoto and Shokuhou Misaki from Bali to London. The layout had a fighter jet motif with Mikoto in the front and Misaki in the back. Mikoto was piloting, being capable of flying by herself, but could reduce the burden on herself by letting Misaki handling enemy locations, targeting and hit confirmations as a backup gunner, but not trusting her kinetic vision or reflexes enough for any weapon control. This form of the A.A.A. flew across the world at Mach 6, with a surface targeting speed of Mach 2.5.[27]
The motorcycle configuration was used to catch up to Touma on the roads between London and Edinburgh, while the A.A.A.'s flight capabilities were impaired. In this form, the A.A.A.'s rocket engines are shifted to the back of the unit and the hovering support legs are used to balance it.[28][29][30] Standard features of a motorcycle, such as handlebars, a side mirror and a windscreen are positioned ahead of the front seat.[28][31][29][30] The written designation is located on the rear weapon joint.[29] The rocket engines apparently make it difficult to move the unit around slowly.[30]
Kihara Yuiitsu's Version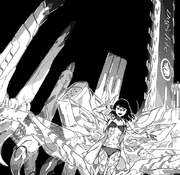 During her battle with the Kamisato Faction below the Windowless Building, Kihara Yuiitsu constructed her own Anti-Art Attachment, devouring the remaining Elements to use as material for the unit. Yuiitsu used a different approach from Noukan, without any help from Aleister, and as such her Anti-Art Attachment isn't connected to Aleister and his power. As Yuiitsu doesn't fully understand the original, she is only reproducing its destructive power.[32] Being constructed from Elements, Yuiitsu's A.A.A. shares some of their traits, such as their ability to blend in with the background and their vulnerability to Imagine Breaker.[33]
Yuiitsu's A.A.A. has a cold yet streamlined and biological appearance, with large portions being translucent.[32] Sharp, crystalline protrusions extending from her back, form a pair of giant wings, with other protrusions resembling eyeballs, claws and fangs.[32][33] Two long, narrow boosters are positioned on the back of the unit and produce a red light when lit.[32] The unit includes a variety of cannons, lasers, anti-air guns, launchers and armor parts. One of its notable weapons is a giant anti-special steel chainsaw, with 'Dog's life' and a golden retriever head logo inscribed on its surface.[32][33] The unit also has a variety of sensors and other features to assist in aiming and diverting impacts.[33]
Chronology
Shinyaku Toaru Majutsu no Index
Mental Out Arc
Kihara Noukan was first seen using the Anti-Art Attachment during his confrontation with Shundou Toshizou at the Celestaquarium, with the containers being dropped through the roof and destroying the Molar Tooth before being deployed for the execution, the killer whale being helpless with the water removed from its surroundings.[1]
St. Germain Arc
During the events instigated by St. Germain at the Dianoid, Noukan selected equipment for the unit in preparation for the upcoming confrontation with the true Gremlin.[7] After Aleister weakened the Magic Gods, Noukan used the unit's catapult to launch the crucified body of Zombie into their midst.[4]
Magic God Invasion Arc
As the High Priest attempted to crash the Arrowhead Comet into Academy City, Kihara Noukan used the unit, equipped with the tactical armor-piercing drill and connected to Aleister, to deliver Aleister's willpower in a form which killed the Magic God. Noukan and the Anti-Art Attachment then destroyed the comet before it could impact the city, meeting it in a collision at over Mach 20.[5]
World Rejecter Arc
That night, Aleister had the Anti-Art Attachment overhauled and prepared for Noukan's battle against Kamisato Kakeru, though he implied in his conversation with Noukan that he wouldn't be able to win with it.[24][2] Later, Noukan used it during the confrontation, but due to its connection with Aleister and his conflicting desires, it proved a valid target for World Rejecter and was subsequently erased by it. Noukan continued to fight without it, but sustained mortal injuries and had to be placed into cold sleep by Kihara Yuiitsu to preserve his life.[2]
Salome Arc
On December 4th, Kihara Yuiitsu brought Kihara Enshuu to help her investigate some of the Anti-Art Attachment's damaged components in order to learn more about Noukan and the enemy which defeated him.[15] When Enshuu mentioned similarities to when she tried to read Kihara Kagun and how it felt like that there was a link to the 'outside' rather than unreadable files within, Yuiitsu realized that Enshuu had been manipulated into isolation to prevent her from decoding this, by Aleister through the use of the Archetype Controller.[15] From the nature of the scars on the Anti-Art Attachment's wreckage, some baring signs of a handprint, Yuiitsu made deductions regarding the nature of the World Rejecter which she used to plot her revenge.[16]
The following night, during Yuiitsu's battle against Kamijou Touma, Salome and Misaka Mikoto, Mikoto was accidentally thrown into one of Noukan's storage facilities and encountered the Anti-Art Attachment, which assembled and reared up, as though appraising her as a potential user. Unable to fully read its systems and recognizing the potential danger,[8] Mikoto was initially reluctant to make use of it but was soon forced to use it in order to save Touma from Yuiitsu. The attack was cushioned by the Windowless Building preventing the damage from spreading across the city, and severely injured Yuiitsu.[9][13][21] Afterwards, the Anti-Art Attachment separated from Mikoto, who after a brief period of joy was puzzled to find herself bleeding. The contact between the two was deemed a threat by Aleister, who considered eliminating her.[21]
Element Arc
Following her initial encounter with the Anti-Art Attachment, Mikoto had a modified version of it created for her own use, acquiring a hangar and starting a school club in order to maintain it.[26][25] She made extensive use of it against the Elements during the city-wide heat wave.[34][35][36] During her battle with the Kamisato Faction below the Windowless Building, Yuiitsu cannibalized her remaining Elements for her own version of the Anti-Art Attachment.[32]
Kamisato Rescue Arc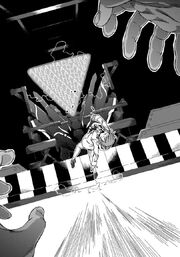 In order to find a way to save Kamisato Kakeru after he was exiled by World Rejecter, Touma, Karasuma Fran and Toyama Luca had Mikoto show them the core of the original Anti-Art Attachment, stored within School District 11. On viewing the core, Luca recognized Thelemic elements within it, that it was magic disguised as science and that the energy transfer device could be modified to accomplish their goal. Mikoto attempted to start it up, but was suddenly struck down by a curse directed at her by Aleister Crowley.[19] The core was later used in the initial attempt to access the 'new world', however it was lost due to an attack from a giant Maya.[37][38]
Aleister Crowley Arc
On December 11th, Mikoto reanalyzed the core of the original A.A.A. together with Shokuhou Misaki.[10][22] After determining that it was connected to someone inside the Windowless Building who was focused on Touma, Mikoto donned the original A.A.A. again and with Misaki's help, managed to penetrate the Windowless Building with the Liquid Proof Railgun.[11][39] When Touma's group was thrown out of the building, Mikoto caught all of them except Touma, who was caught by one of Aleister Crowley's manifested possible selves.[40]
Coronzon Arc
Following the evacuation of Academy City on December 12th, when the students of Tokiwadai Middle School went to the Indonesian island of Bali,[41] Misaka Mikoto and Shokuhou Misaki secretly brought the Anti-Art Attachment along with them, thoroughly reconfigured and disguised as a piece of avant-garde art. After learning of Touma's involvement in the situation in London, they used the A.A.A. to fly there.[27]
Shortly after their arrival above the capital, Mikoto used the A.A.A. to attack reproduced members of the Golden Dawn who were threatening her father before accidentally colliding with the Qliphah Puzzle 545 in mid-air, causing it to stall.[42][27] After the crash landing in Outer London, with the bearings needing repairs before its flight capacity could be restored, the A.A.A. was shifted to a motorcycle configuration in order to chase after Kamijou Touma who was riding with the Female Knight after the royal convoy heading to Scotland.[28] After getting lost on the way, Mikoto and Misaki managed to catch up in time to save Touma after he fell from the royal carriage during a battle with the reproduced Samuel Liddell MacGregor Mathers, somewhere near Heysham.[29] Confirming the rough situation and enemies with Touma, Mikoto fired off a Liquid Proof Railgun at Mathers (to little effect) before helping Touma back onto the carriage.[29] When Aleister's Babalon-based attack from the sky was intercepted, at Touma's urging, Aleister transferred his attack over to the A.A.A. and fired a shot out of it which sent Mathers flying, separating him from the chase and setting the stage for their final confrontation.[6][17]
After the group's arrival at Edinburgh Castle, Mikoto wore the A.A.A. during the meeting with Aleister in the graveyard and it acted to protect the group when Coronzon arrived on a ballistic trajectory, having escaped from the seal in Academy City and used the 'contents' of some of the A.A.A.'s repair parts there to make some wings.[30][23] When Coronzon grievously injured Touma with her Magick: Flaming_Sword, Aleister used the chainsaw and additional functions of Mikoto's A.A.A. via remote control to sever Touma's right arm so the Imagine Breaker would not interfere and then perform a healing spell using her blood.[3]
When Kihara Noukan arrived with Mina Mathers, Heaven Canceller and Lilith Crowley, he brought along his own A.A.A. and when Coronzon made a remote attack against them, Aleister used the two A.A.A.s as amplifiers for a blood sacrifice spell to destroy one of the Aethyr Avatars.[3] Both Mikoto and Noukan made use of their respective A.A.A.s during the attack on the Queen Britannia.[3] In the final stage of the battle, while separated from her body and under threat of erasure from Imagine Breaker, Coronzon used a Secret Call and her knowledge of Aleister's techniques to make a sneak attack from behind through Mikoto's A.A.A., severing Touma's arm again but inadvertently breaking the seal on the entity within, bringing about her defeat in a different way.[3]
Kamijou Arc
Mikoto brought the A.A.A. with her to the celebratory party at Windsor Castle, with the weapon assuming a smaller and less threatening form.[43] When Shokuhou Misaki's power went out of control after the revelation of the second Touma, Mikoto had the A.A.A. throw the original Touma out of the castle to safety before she lost consciousness, being affected through the connection point they had formed so Shokuhou could support her in using the A.A.A.[44]
Later, under the other Touma's coercion, Shokuhou attempted to control the unconscious Mikoto through the connection point, but only managed to activate the A.A.A. which then immediately started attacking the other Touma, having been set to do so by Mikoto before she lost consciousness. Following his cry for help, Shokuhou restored Index's John Pen's Mode in order to stop the A.A.A., but they were subsequently caught in the crossfire as the John's Pen Mode acted on its own directives. The A.A.A. continued to exchange fire with Index under John's Pen Mode while the two Toumas fought, until the victorious original was able to free Index from John's Pen Mode with his recovered Imagine Breaker.[45]
Souyaku Toaru Majutsu no Index
Christmas Day Arc
Mikoto brought her A.A.A. when she and Shokuhou confronted Anna Sprengel in order to obtain a cure for Touma, who was dying from the St. Germain virus that Anna had forced him to ingest. Anna's initial attack tore off the right half of the unit's wings and ruptured its twin rocket engines, causing fuel to leak and ignite. Mikoto was forced to abandon the A.A.A. to escape the resulting explosion and went without it for the rest of the struggle.[46][47]
Operation Handcuffs Arc
Gallery
Trivia
The Mikoto version of the Anti-Art Attachment and its motorcycle configuration was designed by Kasai Shin.[48][49]
Notes
↑

It isn't specifically stated whether the A.A.A. which Mikoto took to the UK was the original, her own modified version or a mix of the two. These alternative configurations are described under the section describing Mikoto's version given the general circumstances and for the sake of convenience.
References