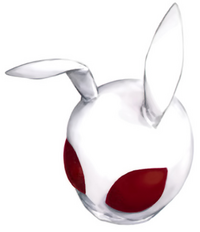 Bunny Grey (ウサギグレイ, Usagi Gurei?) is a British mascot which Karasuma Fran is obsessed with.[1][2][3]
Etymology
Edit
Bunny Grey's name is derived from rabbits and grey aliens.
Appearance
Edit
Bunny Grey has a white rabbit-like head with upward-pointing ears and oval red eyes.[4][5] He looks like a mixture of an alien and a rabbit.[1]
Background
Edit
According to his backstory, Bunny Grey is a mischievous alien who landed after mistaking Stonehenge for a landing sign crop circle left by one of his species' investigators. After landing, he get helps from Know-It-All John (物知りなジョン, Know-It-All John?) and Precocious Mary (おしゃまなマリー, Precocious Mary?), and goes on to have many adventures, including discovering the secrets of Loch Ness and getting preserved in formaldehyde at the British Museum.[2]
There was a CG cartoon about him at some point in the past, in which the characters apparently moved too smoothly, leading people to think their expressions were actually creepy.[2] According to Fran's assertion, Bunny Grey is the honorary citizen of London and based in actual history.[2]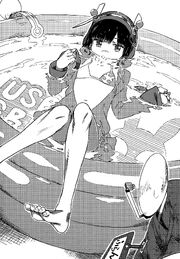 Karasuma Fran has a love for the character and possesses various pieces of his merchandise and items themed after him, including her hoodie, a balloon, band aids and inflatable pool.[6][7][8] Her space station is named Bunny Grey Messenger, a piece of fan art dedicated to him.[5]
Chronology
Edit
Kamisato Rescue Arc
Edit
Main article: Kamisato Rescue Arc
On December 9th, Kamijou Touma used a Bunny Grey costume as a disguise at the Trial shelter, while he and Fran were wanted figures due to the Kamisato Faction manipulating Useful Spider and the Spheres.[1][2] The following day, Fran's love of Bunny Grey was one of the clues which Arimura Ellen used to identify her as a spy from the Anglican Church.[3]
Coronzon Arc
Edit
Main article: Coronzon Arc
References
Edit
Community content is available under
CC-BY-SA
unless otherwise noted.