Cold Sleep (コールドスリープ, Kōrudo Surīpu?) is a method of cryogenically preserving a living subject, freezing them into an inactive state in such a way that they can be revived at a later stage if the proper steps are taken. Not widely recognized as a medical technique, only Academy City's advanced technology and methods have been shown to be capable of successfully accomplishing cold sleep.[1][2][3][4]
Principles
Edit
This section requires expansion
Basic Principles (Freezing/Unfreezing)
Cold sleep is a delicate process which requires careful application of proper freezing and unfreezing methods in order to successfully preserve and revive a subject.[5][6][7][8][9] There are a number of variations on the process, with different substances, devices and methods, some which allow for longer preservation than others.[5]
As the body is 70% water and the volume of water changes between liquid and solid states, if the difference between the expansion and contraction rate inside and outside the cells exceeds a certain level, there is a risk of cellular membranes rupturing during the freezing process. Because of this, a catalyst is used which matches the human body as closely as possible. In the early stage of research, a saline catalyst was used which was unsuitable for long-term storage and risked cellular damage if the subject wasn't revived within a certain time frame. The leading method in the present is a synthetic preservative derived from the structure of egg white.[7]
Finely-controlled speed is necessary during the unfreezing process. Rapid changes increase the risk of cells rupturing but if the unfreezing is too slow, the recovering flesh will be unable to bear cold and get frostbite. The process needs to be slow enough for the cells to survive but fast enough that the subject doesn't freeze to death, with the right level of heat provided in the right quantity.[8]
Another problem connected to the unfreezing process is that the entire body needs to be melted equally and uniformly. If the subject is frozen unevenly, it will produce an effect similar to how fighter pilots constrict their thighs to cut off the flow of blood to their legs so blood can reach their heads even while experiencing high G-forces. Similar to squeezing a bag of water from the outside, it will affect the internal pressure and cause a rise in blood pressure which can put the subject's life at risk. In order to avoid this, an accurate map of the subject's body is required, a detailed scan produced from CT or MRI cross-sectional photos. Following this diagram, heat can be accurately applied to each part evenly.[8]
As cold sleep is not recognized as a medical technique, the freezing and unfreezing processes cannot be legally performed at a hospital. University professors could carry out the procedure but if the subject dies, it would count as a clinical trial or human experiment and they could be charged with professional negligence resulting in death.[6]
Specific Examples
Edit
One apparently early case of cold sleep involves the Beginning Child, Academy City's first esper from half a century before the present day, who was secretly frozen and preserved in cold storage, until she was roused through the application of Mental Stinger.[4] The exact method of freezing and preservation that was used is not known, and how much it had to do with or account for the Beginning Child's ability to modify the environment of her immediate surroundings and the ability's safe zone which protected her from resulting environmental hazards.[10][11][12] According to an image taken in the week before her revival, the frozen Beginning Child was contained within a long, thick plastic bag, described as similar to an IV pack but the size of a sleeping or body bag, sealed with something like a zipper and with several cables and tubes connected to the top of the bag. The ice within the bag made it white and hard to see through, with protrusions pushing out, though the Beginning Child's silhouette was visible.[4]
In the case of Kihara Noukan, who was mortally wounded beyond the capability of Kihara Yuiitsu to save him in time and subsequently placed into cold sleep until a means could be found to save him, a flash-freezing machine at a nearby research facility was used for the freezing process.[1] He was eventually revived and treated by Heaven Canceller, though the exact methods used in the process of unfreezing and saving him are not known.[13]
Cold Sleep Murder Case
Edit
The Cold Sleep Murder Case (コールドスリープ殺人事件, Kōrudosurīpu Satsujin Jiken?) was a crime perpetrated by the serial killer Innai Chigiri, known as Loophole for his exploitation of flaws in the social and legal systems, which involved the use of cold sleep.[3]
In this incident, the culprit abducted a 14 year old girl, Asajimo Saemi, stripped her naked and used cold sleep methods to freeze her in a block of ice, leaving her in a state where she was technically dead but not definitely so.[14][15][5][7] Loophole also left a large vertical wound on her back, from between her shoulder blades down to her tailbone, such that she would start haemorrhaging if anyone tried to unfreeze her normally and die from the blood loss.[7][8] He deliberately used the outdated saline catalyst method, which would harm her body and leave her unable to be revived if she wasn't unfrozen and revived within a certain time frame.[7] The frozen girl was left below a ice skating rink in School District 15 and discovered the following morning.[15]
Transferred to cold storage in the university hospital in School District 2 which her twin sister Asajimo Mebuki attended, multiple problems stood in the way of Saemi's revival.[15][7] While the lab had a heavy-duty grid heater which used far infrared beams to get heat where it needed to be and could be adjusted to the precise structure of a person's body, the thick ice prevented a detailed scan of Saemi's body which would be necessary to adjust the machine.[7][8][9] The device also needed power on the level of a battleship's diesel engine to supply the grill-level heat needed to precisely and stably melt the thick ice.[9] Additionally, even if she was properly unfrozen, the wounded on her back would reopen resulting in mass blood loss, a rapid drop of blood pressure, causing her to go into shock and die, with it being impossible to sew the wound up or provide a transfusion before the unfreezing was completed.[8][9] Because of these problems and the legal accountability should she die in the process, the higher-ups were reluctant to authorize attempts to unfreeze her, despite the time limit.[7]
A solution to the unfreezing problems was eventually found and carried out successfully by Misaka Mikoto and Asajimo Mebuki.[9] While it wasn't possible to perform a scan of Saemi's body through the ice, the twins were fortunately identical to a greater extent than normal identical twins, matching on a genetic and biometric level, such that Mebuki could take the scan in her place to produce the necessary diagram.[7][9] As the strongest Electromaster, Mikoto could satisfy the power requirements.[9] In order to overcome the immediate threat from blood loss, in a method inspired by the use of preservatives based on the egg white which protects a chick in an egg, the ice was submerged in a pool of saline (matched to the 0.9% concentration of the cold sleep preservative and possibly with added impurities to make it like an egg white designed for human use) before being melted, with the saline adjusted precisely to the osmotic pressure of human cells so there wouldn't be a huge difference in blood pressure and she would not go into shock no matter how much blood was lost. Once the ice had melted in the pool and the skin softened up, the wound could be sewn up to stop the bleeding.[9]
In a file on the hypothetical impact of a large-scale blackout on Academy City and the steps needed to be taken for such an event, Kihara Yuiitsu noted the effects on subjects in cold storage, with Yuiitsu having a strict policy of installing secondary freezing systems using chemical coolants rather than electricity.[2] With regards to cold sleep devices, she recommended giving them a thermos-like structure and sealing them in with chemical coolants like liquid nitrogen or helium. She also noted that care needed to be taken in handling them, as exposing them to room temperature while sealed would cause an explosion due to expansion from vaporization, with the thermos-like structure requiring a plug to allow vaporized gases to escape.[2]
Partial freezing technology, similar yet different from proper cold sleep, is used in the HsF-00 and HsB-07 to freeze the bodies of the pilots at -70 degrees Celsius and reinforce them to endure the high inertial Gs, with life support machines carrying out organ functions and the brain's decision-making ability being the only thing left running, with brain signals being read through various methods to fly the aircraft.[16][17]
Background
Edit
At some point in the past, the Beginning Child, the first esper produced by Academy City (over half a century before the present) and the foundation of the Power Curriculum Program, was secretly frozen and preserved, being officially recorded as having gone missing.[4] A year before the start of the series, during Kamijou Touma's third year of middle school, she was awakened by L.S.S.'s Matsuo Ryuusuke using Mitsuari Ayu's Mental Stinger, having previously failed to rouse her using stimulation from artificial specimens he had created as a Biohacker.[4][10]
In the early days of cold sleep research, a saline-based catalyst was used in the process, however this was superseded by other substances, the leading one being a synthetic preservative derived from the structure of egg white.[7]
During her captivity when she was younger, Kihara Enshuu figured out and wrote down a proof of the foundational ideas behind a cold sleep device.[18]
In a file she wrote on a hypothetical disaster scenario involving a large-scale blackout in Academy City, Kihara Yuiitsu included recommendations on the design of cold sleep devices.[2]
Chronology
Edit
Toaru Kagaku no Railgun: Cold Game
Edit
Main article: Toaru Kagaku no Railgun: Cold Game
In the Cold Sleep Murder Case, the serial killer Innai Chigiri, known as Loophole, abducted Asajimo Saemi and froze her in a block of ice, leaving her in a state where she was technically dead but not definitely so, while also leaving a wound which would kill her if she was unfrozen normally and using an outdated method which left a limited time frame for her to be revived.[14][15][5][7] The frozen girl was left below a ice skating rink in School District 15 where she was discovered by customers the following morning,[15] and subsequently transferred to cold storage in a university hospital in School District 2 which her twin sister Asajimo Mebuki attended.[15][7]
In his trial after being apprehended, Loophole and his attorney Tsujinaka Kyouka used the precarious and legally uncertain state of the frozen Asajimo Saemi in order to delay the proceedings[5] and buy time to carry out a scheme to destroy or render the evidence against him unusable,[19][20][21][22][23][24] but Loophole's plan to save himself, which even involved sacrificing his attorney so the thwarted scheme could be passed off as solely her doing,[23][24] ultimately failed when Asajimo Saemi was successfully revived, due to Misaka Mikoto and Asajimo Mebuki's combined efforts.[25]
Shinyaku Toaru Majutsu no Index
Edit
World Rejecter Arc
Edit
Main article: World Rejecter Arc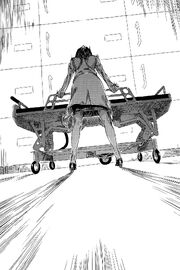 After Kihara Noukan was mortally wounded by Kamisato Kakeru on December 3rd, unable to save him with what she currently had, Kihara Yuiitsu took him to a nearby freezing facility and used a flash-freezing machine to place him into cold sleep until a time when he could be saved.[1]
Coronzon Arc
Edit
Main article: Coronzon Arc
Around the time of the evacuation of Academy City, Heaven Canceller successfully revived and healed the frozen Kihara Noukan.[13]
External Links
Edit
References
Edit
Community content is available under
CC-BY-SA
unless otherwise noted.