Dion Fortune (ダイアン=フォーチュン, Daian Fōchun?) is a posthumous character introduced in Shinyaku Toaru Majutsu no Index. She is the current Archbishop of Church of England and Necessarius.
Etymology
[
]
Dion Fortune's name is derived from the Latin motto "Deo, non Fortuna" (God, not fortune), which was both the family and magical motto of the real-life Dion Fortune (born Violet Mary Firth).
Appearance
[
]
When reproduced, Dion Fortune appears as a short, skinny girl with short red hair, white skin and a small build. She wears frilly white dress with pink accents and the star decorations typical of Golden Dawn members, with exposed arms, and purple leggings and thick soled shoes, without which she be less than 150cm tall. She also wears a frilly collar with a star decoration, frilly cuffs and a hair decoration combining a white flower and a veil. She carries a black box made of a smooth material and about big enough to hold a football.[2][3][4]
Due to her ballerina-style dress with lace and frills, and her hair decoration, her silhouette is described as fluffier than normal, reminiscent of an animal bristling its fur or feathers to look threatening when faced with danger.[2][3]
Personality
[
]
Dion Fortune is shown to think highly of herself, calling herself 'the great Dion Fortune', possessing considerable pride, and hates being pitied.[5][6][7]
She claims not to let the old ways hold her back, citing her efforts on less traditional fronts.[6] She also claims that through the use of her magic, she uses up old and inefficient traditions and rebuilds them into a smarter new spell, despite the randomness of the results.[2]
Fortune is fearful of her benefactor Mina Mathers, having been traumatized by the magical attack Mina unleashed on her after she angered her.[6][8]
Background
[
]
This section requires expansion
NT22 information and tidbits
Dion Fortune was not a member of the original Golden Dawn, but joined its remnants in 1919,[9] under the courteous protection of Mina Mathers.[6]
During her time in the cabal, she compiled grimoires which were beyond what Golden Dawn's defenses could handle, with some magicians in the cabal speculating that their teachings moved beyond what the original ones had covered.[2] Aside from traditional magical activities and writing grimoires, Fortune also contributed to an occult magazine, worked on correspondence education and gave lectures.[6]
At one point, during some turf wars within the cabal, Fortune angered Mina (according to her, being the only one to truly do so)[6][8] and was subjected to a harsh magical attack by her, with her house being surrounded by black cats, her back being sliced open by the cats' claws, and Fortune even seeing phantom black cats the size of tigers. Fortune was considerably traumatized by the attack.[6]
At some point after her death, Dion Fortune was reproduced along with other members of the Golden Dawn by Coronzon, through the application of Tarot-based grimoires, as part of her anti-Crowley countermeasures.[9][10]
Chronology
[
]
Shinyaku Toaru Majutsu no Index
[
]
Aleister Crowley Arc
[
]
When Kamijou Touma was being shown a recreation of Aleister Crowley's past in the Windowless Building, Dion Fortune's name was brought up during the downfall of Golden Dawn.[11]
Coronzon Arc
[
]
During the Crowley's Hazard invasion of the United Kingdom, Fortune was among the reproduced members of the Golden Dawn who confronted Aleister Crowley in the graveyard of Westminster Abbey.[12][13][14] She was accompanied by Arthur Edward Waite and John William Brodie-Innes in pursuit of Aleister's group after their escape, with Waite tracking him to the Naked Shopping Center in Piccadilly Circus.[2] As she was about to attack,[2] she came under fire from Aleister's Super Sonic Striker. Taking a series of shots from the weapon, followed by the thrown unit itself and the explosion of its gas tank, Fortune was temporarily incapacitated[15] and subsequently caught in the bombing from the Lady of the Masquerade Ball's Taphthartharath.[16]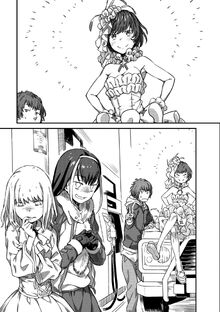 After crawling out of the rubble and collapsing in the street, she rang her bell to call out for her comrades to help her.[3] Annie Horniman and William Wynn Westcott came to pick her up but were delayed by Misaka Tabigake and then Misaka Mikoto in her Anti-Art Attachment.[17] She was instead picked up by Hamazura Shiage's group.[3] As she recovered from the attack, the Magic Gods in the back seat of Hamazura's car quickly amused themselves with her, and belittled her haughty nature by pointing out their status.[5] Moreover, she was also tormented by Aneri whom she deemed as Mina Mathers, recalling the attacks Mina made against her in the past.[6] Dion later showed gratitude to Hamazura by threatening both Annie and Westcott when they intercepted the group with her unpredicatable magic box that will always give an advantageous result for her. This act endeared Hamazura's group to her.[18] However, this did not erase her haughtiness as shown when she met Leivinia Birdway and Lessar as they were heading to Scotland. The two of them were bemused by her appearance as their cabals were successors to the Golden Dawn.[7]
Dion remained with them up until the end of the incident, when she and the other reproduced Golden Dawn members reverted to cards after the flow of power to their grimoire bodies was disrupted by Aleister.[19] Unable to accept her end, Hamazura sought to bring her back,[20][21] even going so far as to assist Coronzon in return for a way to do so.[22][23]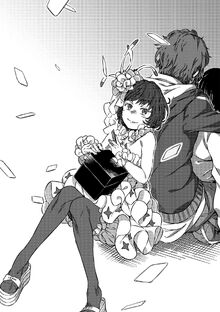 His efforts eventually paid off despite the repercussions of his decision,[23][24][25][26] as he was able to prevent her records from being completely erased by the grimoire's auto-repair function and reactivate the recreation,[23][26] just in time to save himself and Takitsubo Rikou, with the Archetype Processor manifesting first to swallow the crystal ball which Madame Horos had tricked Takitsubo into taking and was targeting Hamazura with.[26]
When Coronzon attempted to use the Honours of Scotland in the Queen Britannia's temple to hijack the UK's magical system and initiate the Ceremony of Mo Athair, Dion Fortune acted to stop her on Hamazura's urging, calling upon the remains of her fellow Golden Dawn recreations and incorporating them into an original spell bearing the cabal's name to block the signal towards Scotland.[27][28][29][30] While the Queen Britannia was sinking in the aftermath of the battle, she advised Hamazura to slip away in the chaos to avoid getting captured and taken to the Tower of London.[31]
Kamijou Arc
[
]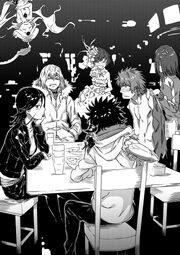 Following the initial incident at Windsor Castle, Fortune, Hamazura Shiage and Takitsubo Rikou met up with Kamijou Touma's group (including First Princess Riméa) and Accelerator's group in a pub in Windsor to discuss the situation concerning the other Touma and to plan their next course of action.[32] Before the meeting started, Hamazura fell victim to some drunkards and ended up stripped down to his boxers.[32] They were subsequently involved in the struggle with the manipulated defenders of Windsor Castle in order to allow Touma to enter the castle and defeat his doppelganger, with Fortune facing and defeating Kanzaki Kaori.[33]
Afterwards, while the rest of the group returned to the recovering Academy City, Fortune remained in the UK and offered her services to Elizard as a new Archbishop for the Anglican Church. After a short consideration, Elizard accepted her proposal with a warning and it was decided that Villian would watch over her. On being asked if she was OK with parting Hamazura after the lengths he went to save her, Fortune responded by pulling out a newly acquired phone, with Aneri installed.[1]
Souyaku Toaru Majutsu no Index
[
]
Los Angeles Arc
[
]
On December 26th, Fortune was involved in the organization of Operation Overlord Revenge, the joint operation between the Anglican Church and Academy City to destroy R&C Occultics,[34] as well as liaising with the US government.[34] During a break in Accelerator's trial, she remotely hijacked Qliphah Puzzle 545 in order to speak with him.[34] After warning him not to let the critically injured Hamazura Shiage die on threat of war, she spoke with him about both the operation and his plan to ensure a place in the world for the Sisters.[34]
Abilities
[
]
Rather than planned and calculated spells, Dion Fortune specializes in randomized magic.[2][5] She claims to use up old and inefficient traditions to rebuild them as a smarter new spell, but she actually doesn't know what kind of magic will result from her method.[2] The grimoires she compiled were apparently beyond what the defenses of the Golden Dawn remnants could handle and some cabal magicians speculated their teachings might have moved beyond what the original ones covered.[2][35]
Fortune utilizes this magic through her Archetype Processor (自己情報無限循環霊装, Jiko Jōhō Mugen Junkan Reisō (Ākitaipu Purosessā)?, lit., "Spiritual Item for Infinite Self-Circulation of Information"), the black box that she carries with her (which can also float above her hand).[2][5] After inserting an item of magic, such as a rose cross medal, into the box and closing the lid as if to chew it up,[2] she speaks the command; "Translate, simplify, and create anew!!".[2] The spell is transformed and corrupted within the box,[5] such that when the box is opened, even she cannot predict what kind of magic will come out.[2] In addition to transforming her own magic,[2] it can also be used to swallow, scramble and distort the forms of enemy spells and items, such that they can't be used in their intended fashion.[26]
Effects produced with the black box and a rose cross medal include:
A mass of flames spewing from the box, used like a booster to propel with thrust or alter trajectory,[2][15] and was also raised like hammer.[2]
Something like translucent umbrella, used to deflect a shockwave spear.[15]
An unknown attack, accompanied by light and causing something to spiral around the center of the target's chest, capable of deflecting a wax seal attack from the reproduced Westcott amplified by Annie Horniman.[18]
Rather than the stage play ceremonies and groupwork to construct a single piece of magic associated with the Golden Dawn, Fortune tends towards adlibbed oddities,[2] not making plans,[2] only using what she happens to draw from her box and usually not relying on a single spell.[15] The unpredictability from the random phenomena (which not even Waite's cards can fully predict) is Fortune's greatest weapon, intended to bring down enemy strategy and tactics, ruining calculations and plans made in advance through unexpected actions, and bringing chaos to the battlefield.[2] While Fortune has found victory using her method in the past,[2] it is bad against beings beyond a certain threshold of power, who cannot be defeated with nothing more than luck and the use of probability instead of ingenuity.[5]
During the events surrounding the Ceremony of Mo Athair, the reproduced Dion Fortune made use of the cards which were the remains of her fellow Golden Dawn recreations in an original spell, invoked in English and bearing the cabal's full name; the Hermetic Order of the Golden Dawn. With the cards forming a vortex visible from space, this spell was able to stop Coronzon's attempt to hijack the UK's magical system with the Honours of Scotland, blocking the signal sent to Scotland through the ley lines.[27][28][29][30]
According to the reproduced Fortune, she is also a good spirit medium.[6][8]
Aside from the black box and a worn rose cross medal,[2] the reproduced Dion Fortune also carried a bell on a string which was apparently meant to act as a signal.[3][36]
Character Art Design
[
]
Design Evolution
[
]
Gallery
[
]
Quotes
[
]
This section requires expansion
NT21&22 - In-volume
Trivia
[
]
Dion Fortune (born Violet Mary Firth) was a British occultist and novelist who was involved in the Golden Dawn successor organization, Alpha et Omega. She later co-founded the Fraternity of the Inner Light, which eventually led to conflict with Alpha et Omega's leader, Moina Mathers, and her being removed from the group. She made allegations that she came under spiritual attack from Mathers around this time, being assaulted by real and etheric cats.
External Links
[
]
References
[
]
[

]
Necessarius

Archbishop and Head of Necessarius
Dion Fortune
Main Members
Index Librorum Prohibitorum
Stiyl Magnus
Tsuchimikado Motoharu
Sherry Cromwell
Orsola Aquinas

Theodosia Electra
Tsuchimikado Touzu
Tsuchimikado Bishu
Freadia Strikers
Torquay Shadowmint
Marie Spearhead
Mallybath Blackball
Jane Elves
Ellasone
Tour Guide Girl
Ureapaddy Exica
Sozty Exica
Víðarr Shoes Woman
Nics Everblind
Ange Catacombs
Cutia Virginroad
Isabella Theism
Jeans Shop Owner[U]
Roman Catholic Church London Branch
Agnese Sanctis
Angelene
Lucia
Agata
Caterina
Amakusa-Style Remix of Church
Kanzaki Kaori
Tatemiya Saiji
Itsuwa
Uragami
Ushibuka
Kouyagi
Isahaya
Nomozaki
Tsushima
Former Members
Laura Stuart[D][F]
Richard Brave[D]
Facilities
Aqua Tunnel
Necessarius Underground Labyrinth
Necessarius Women's Dormitory
St. George's Cathedral
Sword Sanctuary