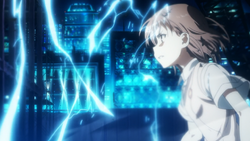 Electromaster
(電撃使い dengeki tsukai?, lit. "Electric Shock User")
, a type of Psychokinesis,
[1]
is the power to generate and manipulate electricity, as well as the general term used to refer to this type of
Esper
. They have also been addressed as "
Energy Generation Power
"
(発電能力 hatsuden nōryoku?)
and "
Energy Generation Series Ability User
"
(発電系能力者 hatsudenkei nōryokusha?)
.
[2]
Aside from generating and manipulating electricity, an Electromaster is said to able to sense all phenomenon related to his/her power. All electric fields from the surrounding nature, along with all magnetic and electromagnetic information are processed subconsciously whether they want to or not. [2] A paper entitled Unique Sensory Perceptions of Electric-type Espers and their Applications ( 発電能力者による特殊知覚とその応用について hatsuden nōryoku-sha ni yoru tokushu chikaku to sono ōyō ni tsuite?) was made on this topic by the former power development director of Nagatenjouki Academy, Jounan Asako.[2]
Known Subtypes
Known Electromasters
References