eternal reality is the second opening theme for the second season of the Toaru Kagaku no Railgun anime series, Toaru Kagaku no Railgun S, and the seventh single by fripSide that was released on August 21, 2013.[1] It was introduced on the 17th episode replacing Sister's noise and was used until the final episode of the season.
Tracklist
Edit
The second opening for Toaru Kagaku no Railgun S was composed and arranged by Satoshi Yaginuma and sung by Yoshino Nanjo under their band name fripSide.
The single release features the full version of the song.
eternal reality – 3:53
Waiting for the moment – 4:27
eternal reality (instrumental) – 1:32
Waiting for the moment(instrumental) – 3:52
Characters
Edit
By order of appearance: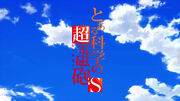 Japanese (TV Version)
English Translation (TV Version)

Kagayaku kibou ga
Kono machi wo kakenukeru kara
Itsudatte shinjirareru nakama to
Te wo tsunaginagara
Kokoro no mama
Shinjuru ashita wo sagashitsuzuketeru

There's always a blinding hope
Rushing through this city
I can always believe in my friends
We'll join our hands together
And follow our hearts
And keep searching for a future we can believe in
Tachitsukusu zattou no naka
Toozakaru kimi wo mitsumeteta
Wakachiau sono taisetsusa
Ima wa wakatteiru kara

Standing in the crowd as it moved around me
I kept watching as you walked away
Now I understand just how important it is
To understand one another

Ikitsumono egao ga kyou wo irodotte
Minna wo tsutsumikomu
Sonna atarimae wo mamoritai

So many smiles make today so bright
Surrounding everyone with warmth
I want to protect this peace forever

Ugokidasu yume wo
Kono sora ni hibikasetara
Yuruginai chikara
Genjitsu wo toraeteyuku
Yowasu uchikaeru
Sonna tsuyosa wo motteta kara
Itsu no hi mo wasurenai yo
Kono kizuna dake dakishimete
If we take our dreams
And make the sky ring full of them
An unshakeable strength
Will take hold of reality
The strength to be weak
Because I had that strength in me
I'll never forget, not for a day
I'll hold this friendship dear
Yume wo hanate
Hokoreru mirai wo uchitsuranuiteku

I'll shoot my dreams from here
And be right on the mark for a future we can take pride in

References
Edit
Community content is available under
CC-BY-SA
unless otherwise noted.