Jurassic World: Dominion Dominates Fandom Wikis - The Loop
Play Sound
The Evacuation of Academy City was an event which occurred on December 12th in the current year of the story timeline.[1][2]
Following Coronzon's attack on Aleister Crowley in the Windowless Building on December 11th,[3] the latter took measures to prevent Academy City from falling into the demon's hands. Shutting down the city and locking its technology with a virus via the Bank, Aleister had the population evacuate to various locations around the world while personally seeking Coronzon's achilles heel in the United Kingdom, aiming to grasp it while the demon was temporarily sealed in Academy City.[1][2]
Background
December Heatwave and 48 Hours to Restore Order
Barely a week before the evacuation, Academy City had been hit by an abnormal heatwave, the result of microwaves emitted from a certain space station, crippling its infrastructure, and was also infested with the Elements, creations of Kihara Yuiitsu.[4] Following the end of the heatwave on the morning of December 9th, Useful Spider carried out repairs to the city in a period referred to as 48 Hours to Restore Order, completed on the morning of December 11th.[5]
Having suffered due to the heatwave and infrastructure breakdown, and having only just recovered, the fear and dangers of a complete infrastructure collapse were fresh in the minds of Academy City's residents.[1][2]
Aleister Crowley and Coronzon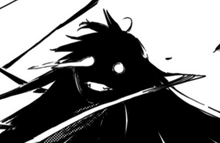 When Aleister Crowley was knocked out by Kamijou Touma following their battle and his attempt to destroy the phases, he was ambushed and stabbed by Coronzon, who had snuck into the Windowless Building and took advantage of the opportunity, using the Sword of Damocles. Revealing herself to Aleister, Coronzon mocked Aleister with claims of having possessed his daughter Lola before infesting Aleister's mortally wounded body. However, her plans to toy with Academy City using the Board Chairman's corpse were cut short when it was revealed that Aleister had previously bound over a billion alternative possibilities of himself to his body, which had now diffused and manifested across the world, and were now attacking the British Commonwealth.[3]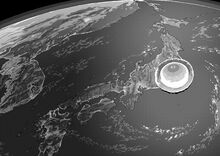 Having shifted his main consciousness to one of his alternative selves outside the Windowless Building, Aleister launched the Windowless Building into space to temporarily remove Coronzon and buy some time to act. The reproduced Mina Mathers and then Aiwass prevented the demon from escaping before the ship cleared the atmosphere,[6] with the latter fighting her as the Windowless Building headed out towards deep space.[7][8][9] Lacking an avatar, Aiwass was eventually defeated but ensured that Coronzon would be shifted into the 'new world' by relativistic effects on the return journey. After crashing the Windowless Building into the 'new world' Academy City, Coronzon was set upon by the Magic Gods, who saw a new toy.[10]
At the same time, Coronzon's secondary avatar, a possessed Karasuma Fran under the name A. O. Francisca,[11] attempted to seize the latest iteration of Academy City's Bank, the Processor Suit. A mistake in attempting to use Hamazura Shiage as a decoy with a second suit left A. O. Francisca unable to access the Bank, forcing her to go after Hamazura,[12][13] who had also found and was trying to protect Lilith Crowley, returned to the world through Aiwass's actions.[14][9] Coronzon's influence was eventually excised from Fran by Aleister during a battle in front of Heaven Canceller's Hospital on the morning of December 12th.[15]
Virus
While searching for A.O. Francisca, Aleister had also prepared a potent computer virus as insurance and the Processor Suit, though damaged, was ultimately left in a suitable state for it to be used - transmitting it through the entire Academy City network via the Bank.[16][17][1] This was intended to keep Academy City's scientific knowledge and technology out of Coronzon's hands.[1][18]
According to Aleister, this virus was not something that could be cracked through brute force using a random number table, stating that any mind but hers, human or not, would need 20,000 years to fully eliminate the virus. Aleister felt confident in calling her virus the most brutal wide-scale, as it would bring down the entire network (while Misaka Mikoto's previous cyber-attacks could only break through one targeted barrier).[1][17]
The virus would affect both Academy City itself and the cooperative institutions around the world, sealing its technology and research data, and leaving its next-generation weapons entirely unusable.[1] Aleister left enough leeway for medical and research equipment, and to ensure that astronauts in the city's satellites would not be harmed. He had also built in a failsafe based on field hospital construction techniques which would ensure that the subsequent blackout would not abandon any of the badly injured.[1]
Aleister had a key on a smartphone which she could use to unlock the city and bring it back to full functionality should the need arise, despite the risks.[1]
Chronology
Coronzon's Sealing
Early in the morning on December 12th, Coronzon managed to escape from the 'new world', dragging Nephthys and Niang-Niang along with her. She found herself in front of Heaven Canceller's Hospital and facing Aleister, whose consciousness had shifted to one of his diffused possibilities, a young girl. After revealing how she had sealed Academy City's technology, depriving the demon of its prize, Aleister sealed Coronzon temporarily using a city-scale Banner of the West.[1][2]
Evacuation and Journeys
While there was no official announcement and no clue as to the cause of the blackout other than a sudden flash like lightning, the population of Academy City, having only just recovered from the previous infrastructure collapse during the heat wave, quickly recognized the situation they were in and wasted little time in beginning an evacuation of the city.[2] Numerous adults assisted in coordinating the evacuation, having questions of their own but not letting them show in order to avoid inciting a panic, particular with so many of the students being espers.[2] In addition to buses, trucks and dump trucks were also used to carry people out. As the technology had been taken out, the usual tracking nanodevices were not injected.[2]
As the city was being evacuated, Aleister Crowley set off to grasp Coronzon's achilles heel, accompanied by Kamijou Touma, Accelerator, Hamazura Shiage, Index Librorum Prohibitorum, Othinus, Karasuma Fran, Takitsubo Rikou, Tsuchimikado Motoharu and Mina Mathers, with Lilith and Sphynx in tow. From Tokyo, they travelled along Southeast Asia and then headed to Egypt. There, Tsuchimikado took his leave, while Aleister left Lilith hidden under the protection of Mina Mathers in an RV in the desert, with Sphynx staying with them. The others subsequently crossed the Mediterranean to Greece, travelled to France and then from Calais, crossed the Strait of Dover to England.[2][19] Heaven Canceller would later travel to Egypt to help give Lilith a physical body, after healing Kihara Noukan, who accompanied him there.[19][20]
Some students were picked up by their families, while others made their own way. Some of the groups within the city remained together, while others went their own ways.[21][22][23] Individuals who couldn't be evacuated through normal procedures were taken out through other means. In the case of the remaining Sisters in the city, they were transported as cargo in a sealed container, heading to one or more of various secret gardens left around the world.[21]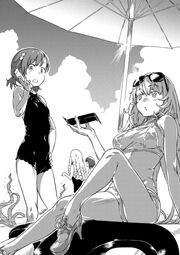 Among the groups that remained together were the students of Tokiwadai Middle School.[23][24] After passing through the city wall into Tokyo, they decided to find a place where they could relax in safety and comfort while also being able to gather information and get a clearer picture about the current chaotic situation, buying a holiday magazine from a convenience store and checking a resort website. After going through a number of possible destinations, including Venice (Italy), the Great Barrier Reef (Australia), Neuschwanstein Castle (Germany), New Caledonia, Iceland and Rio de Janeiro (Brazil),[24] they eventually chose to go to the Indonesian island of Bali.[23][24] En route to Bali by sea, they encountered a group of Crowley's Hazards which may have got lost on the way to Singapore who, being in the middle of the ocean, were subsequently devastated by Misaka Mikoto and eventually washed up on the beaches of Bali.[23] Mikoto and Shokuhou Misaki would later leave other students behind in Bali, flying to London using the Anti-Art Attachment (which they had secretly brought with them, disguised as a piece of modern art), after inadvertently learning about Kamijou Touma's presence there via a phone call from Misaka Tabigake.[25]
Aside from the individuals and groups mentioned above, other evacuees whose movements during the evacuation are known include:
Name
Background
Notes
Yomikawa Aiho
Anti-Skill
A Certain High School (Teacher)
Yomikawa assisted in coordinating the evacuation.[2]
Last Order
Sisters
After parting with Accelerator, she went with Yoshikawa Kikyou and Misaka Worst on a ship bound for Alaska, exiting through Tokyo Bay. The group hoped to see auroras once they arrived,[2][21] but did not see any while they were there.[26]
Yoshikawa Kikyou
Level 6 Shift Project (Former Researcher)
She went with Last Order and Misaka Worst on a ship bound for Alaska, exiting through Tokyo Bay. The group hoped to see auroras once they arrived,[2][21] but did not see any while they were there.[26]
Misaka Worst
Third Season
She went with Yoshikawa Kikyou and Last Order on a ship bound for Alaska, exiting through Tokyo Bay. The group hoped to see auroras once they arrived,[2][21] but did not see any while they were there.[26]
Mugino Shizuri
ITEM
While Hamazura and Takitsubo went with Aleister and Touma's group, Mugino and Kinuhata remained close to Academy City's outer wall, in Tokyo.[22]
Kinuhata Saiai
ITEM
While Hamazura and Takitsubo went with Aleister and Touma's group, Mugino and Kinuhata remained close to Academy City's outer wall, in Tokyo.[22]
Fremea Seivelun
Unnamed elementary school (Student)
Hamazura Brigade
Fremea's exact movements aren't known, however she didn't go with either of the two pairs from ITEM.[22]
Uiharu Kazari
Sakugawa Middle School (Student)
Judgment
Uiharu's family apparently came and picked her up straight away.[23]
Saten Ruiko
Sakugawa Middle School (Student)
Saten's family apparently came and picked her up straight away.[23]
External Effects
Due to the world already being in chaos from the ongoing attack on the 53 countries of the British Commonwealth by the Crowley's Hazards, the effects of Academy City's shutdown and evacuation were less than some residents expected.[21][23] Aside from this, Misaka Tabigake believed that the world's boiling point would soon drop and urged his daughter to get to the nearest embassy as soon as she could.[23]
One side effect of Academy City's sudden shutdown was that the price of artificial mink skyrocketed.[27]
Coronzon's Escape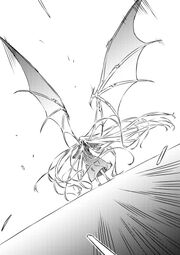 While in London, Aleister encountered reproductions of the Golden Dawn, created by Coronzon as an anti-Crowley measure.[19][28] Facing death at the hands of the reproduced Mathers, Aleister was forced to unlock Academy City's technology and fire a satellite laser to escape from Mathers' grasp.[29] Shortly afterwards, as the blackout ended and power returned to the city, Coronzon escaped from the seal and after fashioning herself a pair of wings from the 'contents' of spare parts from the Anti-Art Attachment, set off for the United Kingdom.[30]
During the attack on the Queen Britannia in an attempt to thwart Coronzon's Ceremony of Mo Athair, Aleister was fatally wounded by the demon.[31][32] Before dying in the aftermath of the battle, Aleister entrusted Accelerator with a phone containing the city's key codes and left him with the full authority of the Board Chairman. Although Aleister's body perished, Aleister unexpectedly ended up in control of the defeated Coronzon's physical body due to a combination of circumstances, but decided to remain hidden in the backstage beyond magic and science, and leave Academy City in the children's hands.[32]
Academy City's Recovery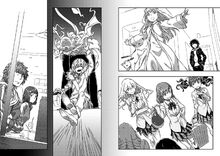 Following the restoration of Academy City's infrastructure and an announcement that the city had recovered, the scattered residents started returning from their various destinations across the world, many through the airport in School District 23. The group which had accompanied Aleister to the UK returned via a royal plane.[26] Perhaps due to apprehension about what might be lurking there, not very many thieves attempted to climb over the wall while the city was empty.[26]
As the city's population was returning, the Board of Directors met in-person, following reports of Board Chairman Aleister's death. Many of them were keen to exploit the opportunity, but also wary as they did not know how the city was reactivated and who now held the key codes. They were subsequently interrupted and answered by the arrival of Accelerator, who revealed his possession of the code list and introduced himself to them as the new Board Chairman.[33]
References