We're Getting Mutants in the MCU - The Loop
Play Sound
FIVE_Over (ファイブオーバー, Faibuōbā?) is a series of experiments and technologies formed by Academy City to replicate and exceed, hence the name, the powers of the 7 Level 5s. Its principles are based off macro engineering technology instead of micro quantum mechanics, Personal Reality, which gives birth to esper powers.[1]
Principles
Main
Modelcase_"RAILGUN"
Appearance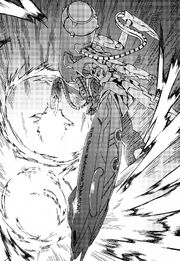 The FIVE_Over Modelcase_"RAILGUN" (ファイブオーバー モデルケース・レールガン, FIVE_Over Modelcase_"RAILGUN"?) powered suit is the most well-known example of the technology. Its appearance is described to be like a five-meter-long praying mantis. It has two arms, two legs, and two sickles that can fold if needed to help it stand up. Translucent wings spread out from the armor. A large cylinder-like thing used to store lots of shells rests on its back. There is also a shield on the front side of each of its front legs, with an artificial weapon placed between those shields, a 3-barrel gatling railgun.[2]
The Five Over's body is apparently derived from a remodelled version of the Type: Mantis.[3]
Abilities
With its name referring to the third strongest of Academy City, its main weapons are 2 3-barrel gatling railguns. It's an powered suit with the replicated power of the third Level 5, and is completely based on the philosophy of "using only technology to create one that exceeds the original".[2] The FIVE_Over can be worn by a human, but was later upgraded by Academy City to be able to operate without any person inside to control it as an unmanned weapon.[4]
The FIVE_Over has two translucent wings that use ultrasonic waves to mix the air around it to create an air flow that has a whirlpool-like effect that creates more buoyancy, allowing it to fly with smaller wings than what would usually be required. Originally, its flight capacity was developed to allow it to avoid standing on the uneven ground caused by its gatling railguns.[2] The FIVE_Over can't compete with supersonic fighters built to fly at high altitudes, as it was made to attack ground targets, so its limit is flying above the ground like an attack helicopter.[4]
The FIVE_Over's gatling railgun is made of three barrels. The barrels can shoot like a gatling gun and fire continously by switching the barrel in use or they can separate from each other and shoot independently, sacrificing rate of fire for accuracy.[2] The gatling railgun can be fired at targets a few kilometers away, but the air friction has a negative effect in accuracy after a 1000 meters.[5] Within its effective range the FIVE_Over is accurate enough to shoot down fighter planes and air-to-surface missiles travelling at Mach 4.[6]
The FIVE_Over also has multiple sensors that can be used to scan the battlefield for enemies and other threats and assess the risk they pose for the suit.[2]
According to the author, the FIVE_Over's gatling railgun is more powerful than Mikoto's Railgun, but if the two were to fight, Mikoto would win due to application. However, the author also states that this outcome isn't absolute, because science and technology will continue to advance.[7]
Modelcase_"MELT_DOWNER"
Appearance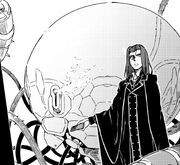 The FIVE_Over Modelcase_"MELT_DOWNER" (ファイブオーバー モデルケース・メルトダウナー, FIVE_Over Modelcase_"MELT_DOWNER"?) is a Powered Suit resembling a transparent jellyfish. It has a dome-shaped body with tentacles spreading out all around its body.[8]
Abilities
Along with the latest model of Modelcase_"RAILGUN", Modelcase_"MELT_DOWNER" was a hybrid weapon that could be manned or remote-controlled. According to Othinus' speculation, she thought that technology came from quantum computers, not particle accelerators. It can also shoot ordinary bullets.[8]
Modelcase_"MENTAL_OUT"
Although it is unknown as to what extent the experiment has progressed, according to Kihara Ransuu there have been experiments to create chemicals secreted in the brain and scatter them on mold to replicate the illusionary powers of Shokuhou Misaki, the 5th Level 5, and is how he based his mold-induced illusions. Chemicals such as the Red Fury 03 and Blue Fear 07 have been used for the replication.[9] However this is not a replication of her powers and is more likely an Outsider variation as it uses a method different from Misaki's power to produce the phenomenon.
Appearance
The FIVE_Over Modelcase_"MENTAL_OUT" (ファイブオーバー モデルケース・メンタルアウト, Faibuōbā Moderukēsu Mentaruauto?) is a Powered Suit resembling a scorpion wasp, its main body is 4m long with six legs and thin wings 8m long when extended. Its abdomen is translucent and filled with anesthetic conducting fluid, meant to contain a human body, and ends with a stinger formed by a tube that extended more than three times the length of its body,[10] resembling a scorpion wasp's ovipositor, which can be used as a weapon.[11]
Abilities
It is a machine which is supposed to recreate and surpass Mental Out using technology. However this particular machine doesn't strictly fit the definition of FIVE_Over as it doesn't contain anything to reproduce an esper ability using technology, instead containing 8000 output devices, with the intention to have Shokuhou Misaki placed inside and her power drawn out forcefully, in order to acquire the sample data to complete and mass-produce it, as well as to crush Shokuhou's mind with her own power. It can be programmed to act automatically.[12]
Outsider
Outsider or OS is a different type of unit from the standard FIVE_Over while it still reproduces a Level 5's power with pure technology, though the OS (Outsider) does not do this through the mainstream method, instead using methods different from the Level 5's power to produce the phenomenon and only resembling it, not replicating it.[13]
OS Modelcase_"ACCELERATOR"
Appearance
The FIVE_Over OS Modelcase_"ACCELERATOR" (ファイブオーバーOS モデルケース・アクセラレータ, FIVE_Over OS Modelcase_"ACCELERATOR"?) is looked like a crab monster larger than a van. The mechanical weapon held out shields that nearly covered its silhouette from the front. A CD-like rainbow sheen moved slimily along its surface because it was covered with something like sea anemones too small to see.[14]
Abilities
OS Modelcase_"ACCELERATOR"'s shields were its main weapon. It could defend itself in the direction of those shields. As the name "OS" (Outsider) suggested, the OS Modelcase_"ACCELERATOR" used a method other than the Level 5's to produce a similar effect. It was unknown how it was able to imitate Accelerator's vector control, but Sisters guessed that it used over a billion group-controlled cylinders thinner than hairs or a distributing electrocontractile gel.[14]
OS Modelcase_"MENTAL_OUT"
Appearance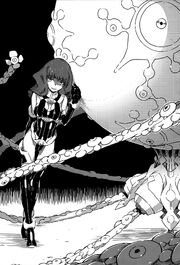 FIVE_Over (Out_Sider) - Modelcase_"MENTAL_OUT" (ファイブオーバーOS, Faibuōbā OS (Autosaidā) Moderukēsu Mentaruauto?): The base unit is a spherical device, taller than a person, with tentacles extending from its bottom half, resembling an artificial octopus. It is constructed from an artificial fat called Designers' Gel which is capable of changing shape.[15] It has numerous large eyeballs on its surface, which roll and blink, perhaps due to the magnetically controlled monitor. Five_Over (Out_Sider). Modelcase_"MENTAL_OUT". is written on the side of its tentacle.[13] The Outsider can also take the shape of a large wearable suit, forming a body that should weigh around 300kg were it real.[16] It consists of a colony of micromachines with similar properties to fat.[17]
Abilities
The magnetically-controlled monitor (磁性制御モニター, Jisei Seigyo Monitā?) that is used by the Outsider primarily consists of colored powdered dust, which is scattered throughout the target area and controlled via magnetism. It is capable of changing in real-time, altering the surroundings around the target to influence them.[18] An example of this would be producing images of insects to induce revulsion and fear, or an eyeball with a gaze that paralyzes those that see it, much like Medusa in Greek Mythology.[16]
It is even capable of creating sound by rubbing together like cricket wings.[16] In this case, magnetically controlled monitor dust is distributed across an area and used to alter the appearance of the target's surroundings, using that twisted information to influence their mental state and memories.[19] However this system requiring a network of multiple viewpoints other than that of the user to perfectly overwrite the surrounding area in real time, which can be used by an enemy to manipulate the Outsider by feeding it with malicious information. The device is still a prototype and has plenty of problems remaining, hence why it hasn't been mass-produced.[20]
Chronology
Shinyaku Toaru Majutsu no Index
Freshmen Arc
Kuroyoru Umidori has the dying Silvercross Alpha placed in it in order to dispatch and automatically pilot the power suit [21]; thanks to this, the FIVE_Over's performance becomes greater than a simple AI-controlled suit. It later pursues Hamazura Shiage, Hattori Hanzou, Kuruwa, and Fremea Seivelun into a building in a coordination attack with other suits from Silvercross's collection.[2]
After creating an elaborate trap and using various objects, Shiage and the others manage to take down the FIVE_Over by damaging the suit to the point where its AI no longer becomes functional. When Kuroyoru attempts to kill Accelerator with thousands of artificial arms, the hijacked FIVE_Over fires at her and destroys practically all of her equipment; Shiage had removed and replaced its control system with the Dragon Rider's suit, which allows him control of the FIVE_Over.[22]
Baggage City Arc
Hints of another FIVE_Over being under development is referenced during this arc, most specifically, Shokuhou Misaki's powers.[9]
During Academy City's suppression of Baggage City, unmanned variations of the Modelcase_"RAILGUN" is deployed en masse and are used as the main ground units against Science Guardian's unmanned powered suits and tanks. With the HsB-07, they show the technological superiority of Academy City. Kamijou Touma later mentions seeing the remains of a few Modelcase_"RAILGUN"s when he was there.[23]
Magic God Othinus Arc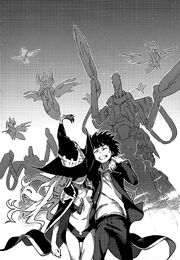 After Touma finished his negotiations with Roberto Katze about what to do with Othinus, several tanks used by the Danish military as part of their diversionary forces for Operation Norse Wind are enveloped in an explosion. After getting his bearings again, he sees the cause of the explosion was of an incoming fleet of around 150[23] FIVE_Over Modelcase_"RAILGUN"s.[24] The unmanned FIVE_Overs then begins a biometric scan for Othinus and Kamijou Touma with instructions to eliminate any and all interference while broadcasting a message of their intentions to those in the surrounding area via speakers from the remaining tanks.[23] As the fleet begins to close in on the fleeing duo the system for the FIVE_Overs is suddenly hacked and had their preparations for the firing sequence interrupted.[5] As a result FIVE_Overs begin falling out of the sky and even crashing into one another, as the area clears up Touma notices that all of the FIVE_Overs covering the snowy plain all had their heads tilted focusing on one fellow machine in particular, the reason for this is revealed to be Misaka Mikoto riding atop the central FIVE_Over, now under her control.[6]
Touma then proceeds to release the FIVE_Overs from her control one by one using the Imagine Breaker forcing her to deal with the now rampant machines. Because of this action not only is she forced to destroy the FIVE_Overs, but machines that might have been freed and ones that might have been in the confusion of the battle dealing with the others as well. Touma, having disappeared in the confusion, reappears on the back of an offline unit she is standing on in order to fight her.[25] After the fight, Mikoto stays behind to hold off the remaining FIVE_Overs that would eventually escape from the control of her hacking.[26]
Mental Out Arc
Mitsuari Ayu made use of the Modelcase_"MENTAL_OUT" and its Outsider version during her plan to take revenge on Shokuhou Misaki.[27][28]
Salome Arc
Kihara Yuiitsu acquired a sample of the Outsider's real-time military camouflage technology and magnetically controlled monitor, using it to disguise herself as Keshouin Asuka in order to get close to Kamisato Kakeru and steal World Rejecter.[29][30]
Souyaku Toaru Majutsu no Index
Christmas Day Arc
During the battle with Anna Sprengel on Christmas Day, Shokuhou Misaki made use of the special suit which Mitsuari Ayu had previously used.[31] She also made use of the two Mental Out-derived Five Overs, built from a full set of spare parts she had previously found, sacrificing the two units to protect herself and Misaka Mikoto and buy some time.[32][33]
Los Angeles Arc
On December 26th, a large number of Five Overs were transported to Los Angeles for Operation Overlord Revenge, the joint Anglican-Academy City counteroffensive against R&C Occultics, including many Railgun and Meltdowner models and at least one OS Accelerator unit. With the joint task force falling victim to Citrinitas and disappearing with the rest of the city's population, many of the units fell victim to enemy hijacking.[34]
Character Art Designs
Design Evolution
See Also
References