final phase is the first opening theme for the third season of the Toaru Kagaku no Railgun anime series, Toaru Kagaku no Railgun T, sung by fripSide. It was used as an ending theme in the first episode of the season and as an opening theme in subsequent episodes until the 15th episode. Its single was released on February 26, 2020.[1]
Tracklist
The first opening for Toaru Kagaku no Railgun T was composed and arranged by Satoshi Yaginuma and sung by Yoshino Nanjo under their band name fripSide.
The single release features the full version of the song.
final phase (4:02)
promenade (5:57)
final phase (instrumental) (4:02)
promenade (instrumental) (5:57)
Characters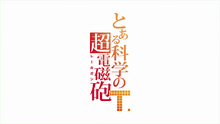 By order of appearance:
Spoilers
Shokuhou Misaki's youth with Kouzaku Mitori and Dolly.
Exterior in the foreground during Kihara Gensei's appearance.
The Level 6 shift attempt on Misaka Mikoto
Shirai Kuroko vs Kouzaku Mitori's Liquid Shadow.
Kamijou Touma and Sogiita Gunha teaming up.
Lyrics
Japanese (TV Version)
English Translation (TV Version)

Sono kodō wa toki o koete
Kowarenai kizuna shinjita
Mamoritai to negatta hibi
Zutto kienai omoi o idaite


The heart beats over time
I believed in unbreakable bonds
The days I wish to protect
Holding onto the feeling that won't go away

Hakanaku mabushiku yasashī
Sono hitomi ga kureta kimochi
Kimi to waraiatta jikan
Kono mune ni yadotta kioku

Illusory dazzling and gentle
Are the feelings those eyes gave me
The time I laugh with you
Are the memories that live in this heart

Kotoba ni dekinai hodo
Kimi o omoitsuzuketa
Nakushita sono itami o
Chikara ni kaete hashiritsuzukete iru

I've been thinking about you so much
That I can't put it into words
I turn the pain I lost into power
And I still keep on running

No one can stop this phase!
Ima issho ni kakugo o kokoro ni kizande
Mamoritai to chikatta kara
Kono te o kimi to tsuyoku musubu
Tomo ni sugosu jikan dake ga
Omoide no subete datta to
Itsu ka kimi ga warau hi made
Kono kizuna o mamoritsuranuite
No one can stop this phase!
Now I engraved my determination into my heart together
Because I swore to protect
I'll hold my hand with you
The only time we spent together
Were all but just memories
Until one day when you laugh
I'll protect our bonds together
Videos
References