Jurassic World: Dominion Dominates Fandom Wikis - The Loop
Play Sound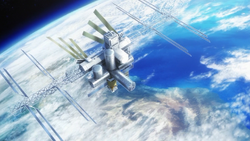 Hikoboshi II (ひこぼしⅡ号, Hikoboshi II-gō?, lit. "Altair II", Yen Press: Altair II) is an Academy City spy satellite, officially referred to as a weather satellite,[1] one of three satellites that Academy City has.[2]
Etymology
Hikoboshi is the Japanese name for Altair, the twelfth brightest star in the night sky and a part of the Summer Triangle together with Vega and Deneb. It and the Orihime 1 (Japanese name for Vega) satellite, which carries the Tree Diagram, may be a reference to Tanabata.
Principles
It can observe Academy City and the surrounding area in excellent detail. It also has a large caliber ground-attack laser installed on it.[1] The satellite monitors the city and can detect people from the outside when they try to infiltrate it, as is the reason why BLOCK tried hacking it as to allow their mercenaries to enter without being detected.[3]
The experimental laser is an optical bombing weapon that uses white light waves. It heats its target up to about 4000 degrees, but white light waves have the power to destroy cell nuclei just like ultraviolet rays, so it can cause cancer quickly. Its range is a 5 meter radius to a 3 kilometer radius. It cannot fire in quick succession and can barely manage one shot in an hour. Also the atmosphere randomly refracts the white light waves, so there is also a slight margin of error in its accuracy.[4]
The 5km long satellite [2] also has a module that allows the satellite to carry out additional experiments. However, it can be also referred to as a satellite as it can separate and navigate on its own. It is only classified as a satellite as to make things easier as far as international treaties are concerned.[5]
Magnetic Debris Cannon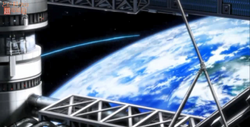 Another weapon installed on the satellite is the HsMDC-01 also known as the Magnetic Debris Cannon (地球旋回加速式磁気照準砲, Chikyū senkai kasoku-shiki jiki shōjun-hō (Magunetikku Deburi Kyanon)?, lit. "Earth-rotation Accelerated Magnetic Sight Cannon") and codenamed Eighth Level Red (八段階目の赤, Hachidankai-me no Aka?).[6] The brainwave patterns of an upper level researcher are required to authorize the weapon's use.[7] The Magnetic Debris Cannon utilizes space debris, sending a large mass into orbit, accelerating it with kinetic energy from the Earth's rotation before altering its orbit via electromagnetism to drop it on the target.[6]
Zero Gravity Biological Impact Laboratory
The Zero Gravity Biological Impact Laboratory (無重力生体影響実験室, Mujūryoku Seitai Eikyō Jikken-shitsu?) is a section of the satellite in which Amano Kaguya resides. It is a spherical space about 20m across with a thick window capable of keeping out cosmic rays and withstanding debris.[2]
Space Save Supply Shoot System
The Space Save Supply Shoot System (軌道上防衛兵站輸送システム, Kidou-jou Bou'ei Heitan Yusou Shisutemu?, lit., "Orbital Defensive Logistics Supply System") or S5, is a terraforming device meant to send a massive amount of water mixed with nutrients to other celestial bodies like the Moon or Mars. This is meant to produce clouds and rain, covering the target with primordial soup. Vibrations are used to alter the molecular bonds of the water to prevent it from assuming a gaseous state until it impacts the surface. The system can also be used to send cargo with the water - this cargo is intended to be the seeds of plants capable of withstanding extreme environments.[2]
As a project only used for developing other planets would be unlikely to receive funding from the higher ups of Academy City, a military use from aiming it at the Earth, something which wasn't originally intended, was put forward as an excuse. When used in this way, the S5 is capable of wiping out a 15km area.[2]
The S5's launch system comprises of a set of several dozen rings 20m across, lined up vertically together.[2]
Chronology
Toaru Kagaku no Railgun
Toaru Kagaku no Railgun (PSP game)
In order to achieve her revenge on the ones she believed to be responsible for Saitou's accident, Aizono Mio orchestrates the kidnapping of Ichizawa Akiko and has a telepath copy her brainwaves.[8] She then uses the copied brainwaves to activate the Magnetic Debris Cannon, intending to use it to kill the parents gathered at a shelter, regardless of the fact that Academy City would also be destroyed.[9] She is later defeated by Misaka Mikoto who convinces her to change her plans. With no time to stop the weapon, the two work together to create a large railgun to counter the shot from the Magnetic Debris Cannon.[10]
Toaru Kagaku no Railgun SS: Uiharu
August 1 of the timeline. A truck carrying Hikoboshi II's module filled with the toxic fuel known as Hydrazine for its rockets is electronically hijacked by an unknown terrorist. After the efforts of its driver Sangaku Youko, Yomikawa Aiho, and Uiharu Kazari, and Anti-Skill, disaster was prevented. Since the module was most likely unharmed in the ordeal, it is likely launched to be installed on Hikoboshi II later on.[5]
Toaru Majutsu no Index
Battle Royale Arc
BLOCK begins their move on October 9,[4] hacking the Virus Isolation Center and spread the viruses through the External Connection Terminals and at the same time hack Hikoboshi II's satellite control center as so they can use the satellite in order to split the forces that would be sent out to deal with it.[1] BLOCK's main goal with the hacking however was to take down the surveillance system that Hikoboshi II satellite had and deliberately spread false information of using it's large caliber ground-attack laser to attack School District 13.[11]
GROUP was contacted about a cracking attempt being carried out against the Center. Due to a attempted assassination of Oyafune Monaka by SCHOOL earlier in the day it was assumed they were behind it. Knowing the damage an Academy City virus would wreak when it is leaked the External Connection Terminals begin shutting down in order to prevent their spread.[12] All of the terminals other the one in School District 13 have been cut-off, forcing GROUP to go the district to stop it themselves.[12] While doing so, they later receive a report of the satellite control center for Hikoboshi II, forcing GROUP to split up responsibilities.[4]
Accelerator goes to School District 23 to destroy the antenna that is for the satellite, while Tsuchimikado Motoharu and Musujime Awaki continue towards School District 13. As he goes to School District 23 still believing that BLOCK is hacking the satellite control center belonging to an aerospace engineering laboratory for the purpose of controlling the satellite, he later gets a call from Unabara Mitsuki, actually Etzali in disguise, revealing on how it is not SCHOOL that is hacking the control center to take control of the satellite but BLOCK. He informs Accelerator that he is disguised as one of BLOCK's members and have infiltrated them. Annoyed, Accelerator asks about the assassination attempt of Oyafune Monaka that SCHOOL carried out, to which Etzali is completely unaware that such an event transpired. Etzali however then tells Accelerator of BLOCK's intentions on hacking the Virus Isolation Center, one of External Connection Terminals and the control center for the satellite as so they can cause a state of confusion on Academy City's network counter-measure team, as well as split the organizations forced to deal with the emergency, such as GROUP. He tells Accelerator that in 20 minutes the satellite would then fall to BLOCK's hands.[4]
Accelerator questions on how School District 23 has yet to temporarily freeze the satellite control center, to which Etzali says that he believes the main reason is that the normal method of freezing it takes over an hour. Here, Accelerator asks what BLOCK is planning to do with Hikoboshi II, to which Etzali, caught in BLOCK'S misinformation, says that it is to used optical weapon on the satellite to attack School District 13, and slowly kill Academy City through the stigma of its destruction, being the district where kindergartens and elementary schools are located. He then asks if Etzali can stop them from where he is, to which he wouldn't have called if he did. He then asks if School District 13 can be evacuated, to which he says that is out of the question as it will cause a panic, and that not all the residents may be gathered for evacuation as it was a holiday.[4]
Accelerator berates Etzali's usefulness, and later tells him that he will have to destroy the antenna that communicates with the satellite. Etzali agrees, and says that he will gather information from his side and pass it on to him when he can.[4] The Professor, leader of MEMBER knowing of BLOCK's intentions, orders Saraku to defend the antenna of the satellite Hikoboshi II as its destruction would cut of Academy City's surveillance and making it vulnerable from outside attacks.[11]
After defeating Saraku and the Anti-Skill responding to the infiltration of the facility where the satellite is kept, Accelerator later succeeds in destroying the antenna inadvertently fulfilling BLOCK's desires.[11] It is likely that communication with the satellite is reestablished after the events of this arc.
Shinyaku Toaru Majutsu no Index
Magic God Othinus Arc
Following the events at Sargasso, Kihara Yuiitsu orders Amano Kaguya to use the S5 against Kamijou Touma and Othinus in Denmark. On receiving a 'package' by SSTO, Kaguya deployed the S5.[2] After the S5 was fired, she observes some of the events that take place afterwards.[13]
Trivia
References