Series Three Overhaul Project
This article will be undergoing extensive revision as part of wiki overhaul sub-plan
Operation Interim
Following the successive events and conflicts he has been involved in since the start of December,[8][4][9][10][11][12][13][14][15][16] culminating in the decisive battle in the United Kingdom which saw long-time masterminds Aleister Crowley and Lola Stuart leave the stage and an unexpected struggle against something from within himself,[17][18] Kamijou Touma has returned to Academy City as a new era has begun.[19]
Unfortunately, having missed much of his studies, Touma is in danger of being held back a year and forced to have supplementary lessons during the Christmas break. His misfortune continues, as in addition to being hampered in trying to avoid repeating a year, Touma gets caught up in new battles connected to the changes in Academy City and the emergence of a new threat, R&C Occultics.[20]
Chronology
Christmas Eve Arc
Main article: Christmas Eve Arc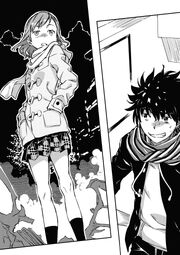 Shortly after midnight on the morning of December 24th, while visiting the local convenience store, Touma spotted a naked girl (actually Anna Sprengel) filming some delinquents robbing an ATM and ended up carrying her while being pursued by the delinquents after they spotted her. The chase ended with an encounter with Misaka Mikoto, who had just escaped from Tokiwadai's strict Christmas oversight.[21]
Later that morning, after having his remote remedial lessons scuppered by a technical failure and not knowing
Tsukuyomi Komoe
's location, Touma decided to spend his
Christmas Eve
in the city, being joined by
Index
and then Mikoto, who ran into him while fleeing from a group of Tokiwadai teachers and students.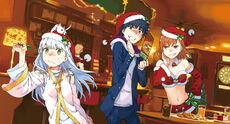 After wondering how to spend the time, they ended up having a game of darts in a bar, with penalties.
[22]
[23]
Following the game's conclusion, the group encountered Misaka 10032 and Last Order, shortly before getting caught up in an attempt to kidnap the latter by individuals seeking to thwart Accelerator's Operation Handcuffs, a plan to eliminate the Dark Side of Academy City. After Touma defeated Maidono Hoshimi and the kidnapping was thwarted, the group learnt of Accelerator's endeavour and decided to face the mastermind behind the resistance, Director Neoka Norito.[23][24]
Arriving in the evening as
Anti-Skill
was about to move in, the group witnessed an explosion at Neoka's home, set off by Neoka himself as part of a ploy to fabricate injuries and blame Anti-Skill to impede their investigation and buy time to destroy evidence. With Mikoto's ability, they scaled the building and got to the roof before Neoka could have himself injured and escape via air ambulance, forcing the director to try to eliminate them himself.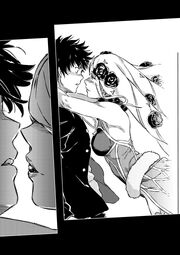 While Neoka initially held the upper hand due to unexpected use of magic acquired from
R&C Occultics
, Touma and Index soon recognized what he was doing, and with
Othinus
's help, Touma was able to turn the tables and managed to defeat Neoka in a final physical clash before collapsing himself due to his accumulated injuries.
[24]
[25]
After the group left the scene and returned to street level, Touma was suddenly approached by Anna Sprengel, the one behind R&C Occultics, who swiftly moved in before the others' eyes and kissed him, exposing him to the contents of a black pill in her mouth.[26]
Christmas Day Arc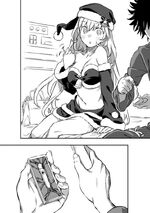 After being force-fed an acute version of
St. Germain
and haemorrhaging,
[28]
Touma was hospitalized and woke up on
Christmas Day
, in the same room as
Aogami Pierce
. Not long afterwards, he encountered
Shokuhou Misaki
and several of the
Sisters
, as well as Index and Mikoto who had come to check up on him, with the usual kind of events. A little later, Touma spoke with
Heaven Canceller
and learned that he had at most two days left to live with the microbes spreading through his body, admitting that he was scared but unaware that Mikoto and Shokuhou were listening in.
His condition continued to deteriorate as the microbes automatically refined magical power inside his body, causing him to suffer the rejection reaction as an esper.
[29]
[30]
After learning from
Othinus
that Anna was en route to the hospital and that Mikoto and Shokuhou had gone to confront her for a cure (and getting angry at Othinus for both letting it happen and not saying anything), Touma attempted to escape from the hospital to face Anna, to prevent the girls from being killed and to prevent the hospital's staff and patients from being caught in the crossfire.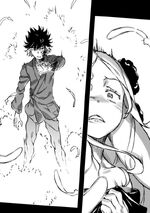 Along the way, he refused offers of help from Maidono Hoshimi and
Aihana Etsu
, knocking out the latter. Around the same time, he managed to convince St. Germain, who had reached the stage where he could reason and communicate, to help him. He arrived at the gate in time to prevent Anna from finishing off Mikoto and Shokuhou. Disappointed in the apparent result of her 'optimization', Anna ordered
Aiwass
to kill him, but Touma was able to fend off the initial attacks with help from St. Germain.
[31]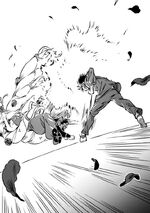 In the subsequent battle, Touma and St. Germain worked together, switching control of Touma's body back and forth between them to utilize their respective abilities and knowledge, while Anna had Aiwass's energy take the form of various powers in her right hand to match her foe. After managing to figure out Anna's spell, interfere with it and knock her out,[32] Touma's body reached its limit and he tried to ensure that St. Germain would be able to survive. However, St. Germain chose to have his microbes converge on Imagine Breaker, sacrificing his current self to save Touma's life.[33]
References
Community content is available under
CC-BY-SA
unless otherwise noted.