masterpiece is the second and the last opening theme music of the Toaru Majutsu no Index anime. It was introduced in episode 17 of the anime replacing PSI-Missing. However, the DVD releases rectified this and instead used Masterpiece beginning episode 15.
Tracklist
Edit
The music and arrangement were done by Maiko Iuchi, who has done all of the soundtracks for the anime series. The lyrics were written and sung by J-pop singer, Mami Kawada who also sang songs for other J.C. Staff anime. This is her 7th single release and was released on February 4, 2009 an entire week after the 17th episode aired.
The single release features the full version of masterpiece, as well as the insert song jellyfish.[1]
"masterpiece" – 4:37
"jellyfish" – 4:26
"masterpiece" -instrumental- – 4:37
"jellyfish" -instrumental- - 4:24
Characters
Edit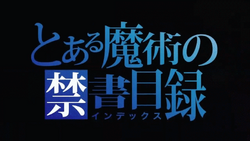 By appearance
Touma battling Sherry and her golem
Japanese
English Translation
toaru nichijou wa parallel world ikusen mo no jikan ni
onaji mono nado nai masutaapiisu de orinasu jikuu e
kakinagutte hakushi no shinario ni pen saki ga kooru
originality mezase! douse kono michi o yuku nda kara
A certain daily life is a parallel world within thousands of timelines.
Let's go to space-time woven by the unique masterpiece.
Scribbling on the white paper, the pen's tip freezes on the scenario.
Aim for originality! because you'll go along this road anyhow.

(shinjite) kakenukete (tooku made)
(kanjiru) daichi o kette (daichi kette)

[Believe] Run through [into the distance]
[Feel it] and kick off the ground! [kick off the ground]
nanika no tame ni kogare, ikiteru kanshoku wa kitto
dare ni mo makenai chikara ni naru
shiawase tte tabun kono shunkan onore ga shiru (When I believed it)
kono kandou o atarashii peeji ni kizamu (I can go to the next stage)
The sensation of living for a reason will certainly
Become power that won't lose to anyone.
This moment is probably when one knows what happiness is; [When I believed it]
I carve this passion into a new page. [I can go to the next stage]
(It's only my thing, 'highest masterpiece!' hoo)
[It's only my thing.'highest masterpiece!' ho~]
kono sekaijuu wa cobweb mienai amime o tadotte
shosen kodoku ja nai network de tsunagaru mirai e
sarakedashite kono chikyuu no zattou ni umoreru mae ni
identity egake! kimi wa kimi de shika nai nda kara
This world follows an invisible mesh of cobwebs;
After all, we're going to a future connected by this network without isolation.
Confess before you get buried in the overcrowding of this world.
Draw your identity! because you can't do without yourself.
(shinjite) tobikoete (kanata made)
(kanjiru) oozora o kakeru (oozora kakeru)
[Believe] Jump over [to the other side]
[Feel it] And soar through the heavens! [soar through the heavens]
sora o miage te hiroge ikiteru sonzaikan wa tada
chiisai hakanai... demo makenai
kanashimi tte tabun asu e mukau gendouryoku (Sadness taught me)
kono kanjou o atarashii peeji ni kizamu (I can go to the next stage)
The presence of living by looking up and broadening the sky is only
Small, fleeting… but it won't lose.
Sadness is probably the power to move on to tomorrow. [Sadness taught me]
I carve this emotion into a new page. [I can go to the next stage]
toaru nichijou wa parallel world ikusen mo no jikan ni
onaji mono nado nai masutaapiisu de orinasu jikuu e
...sou, iku nda kara!
…a certain daily life is a parallel world within thousands of timelines…
…let's go to space-time woven by the unique masterpiece…
Yes, because I can go on!
michi ni mayoi tomadoi ikiteru nanben mo zutto
kotae wa tsukande iru hazu na no ni
shiawase tte angai kantan na basho ni aru
omou ga mama susume
No matter how many times in my life I lose my bearings, always,
I must grab onto the answer.
Unexpectedly, happiness lies in a simple place.
Advance with your own will.
nanika no tame ni kogare, ikiteru kanshoku wa kitto (Please do not tell a lie)
dare ni mo makenai chikara ni naru
shiawase tte tabun kono shunkan onore ga shiru (When I believed it)
kono kandou o atarashii peeji ni kizamu (I can go to the next stage)
The sensation of living for a reason will certainly
Become power that won't lose to anyone.
This moment is probably when one knows what happiness is; [When I believed it]
I carve this passion into a new page. [I can go to the next stage]
(It's only your thing, 'highest masterpiece!')
(It's only my thing, 'highest masterpiece!' hoo)
[It's only my thing.'highest masterpiece!']
[It's only my thing.'highest masterpiece!' ho~]
References
Edit