Series Three Overhaul Project
This article will be undergoing extensive revision as part of wiki overhaul sub-plan
Operation Interim R
This article details Misaka Mikoto's abilities.
Abilities
This section requires expansion
Overhauling in progress
Abilities initial/general section development
Referencing: Cite-marked cases listed as "Select references", "Other references" and similar.
Need to verify and select appropriate references among existing references already on the page and references within the source material ("Select references"), as well as determine if there are additional appropriate references (on-page or not) which could be added besides the ones already placed ("Other references").
Esper Ability
Mikoto is an Electromaster (電撃使い, Dengeki Tsukai (Erekutoro Masutā)?, lit. "Electricity User"), a type of esper capable of generating and manipulating electricity.[4][5] Her own ability is formally known as the Railgun (超電磁砲, Chō-Denjihō (Rērugan)?, lit. "Super Electromagnetic Cannon").[6] She chose the ability name herself, naming it after her famous finishing move.[7] Being the third-ranked Level 5, she is the most powerful Electromaster,[4][5] with a maximum electrical output of 1 billion volts.[4][8]
As an Electromaster, Mikoto is capable of generating and manipulating electricity,[4][5][9] as well as phenomena connected to electricity, including electromagnetism, Lorentz force, and more.[10][9] Being the strongest Electromaster and a Level 5 esper, she has a high degree of power, and she also has a high degree of precise control over that power. As such, she can utilize applications of her ability that weaker Electromasters would not be capable of, with a high degree of versatility.
Mikoto uses her ability in many ways.
Besides simply discharging electricity, she can use magnetism to move objects made of or containing metal in her surroundings (including large amounts of iron sand), easily hack electronic devices and networks, sense and emit electromagnetic waves (utilizing them for a personal radar), and even call down lightning and thunderclouds, as well as firing metal objects at supersonic speeds using Lorentz force (the Railgun that is the source of her epithet and ability name), among other things.
She has demonstrated enough skill and battle knowledge to fight head-on with powerful beings such as a Saint like Brunhild Eiktobel.[11][12][13][14]
Railgun
The Railgun (超電磁砲, Chō-Denjihō (Rērugan)?, lit. "Super Electromagnetic Cannon") is Mikoto's signature technique, the source of her epithet and her ability name.[15][5][4][16][9][7][17]
Operating in a manner similar to its namesake, by forming parallel currents on both sides of her arm with her electricity and utilizing Lorentz force, Mikoto can fire metal objects at three times the speed of sound.[15][4][5][9][18] She primarily uses arcade coins as her projectiles for portability.[15][4][5] According to the System Scan on July 16th of the current year, her Railgun has a muzzle velocity of 1030 m/s (2307.2 mph), a firing rate of 8 shots per minute and a projectile distribution of 18.9mm.[4][5]
The Railgun's primary limiting factor is air resistance and the resulting friction. As the projectile passes through the air at supersonic speeds, the friction causes a loss of kinetic energy and generates heat, building up to levels which cause most projectiles to melt.[15][19] With her typical projectiles, the arcade coins are entirely vaporized after travelling 50 meters.[15][17][20][19] Larger projectiles usually have a longer maximum range and more destructive power.[20]
When Mikoto uses coins for her Railgun, she usually fires them from her thumb, resting on the side of her index finger, sometimes flipping the coin beforehand and launching it when it lands on her thumb.[5][4] For larger projectiles, she often punches them.[20][21][22][23][24][25]
Aside from using different projectiles, Mikoto has also used or referred to several variations of her Railgun:
While using a giant iron sand puppet in her battle with the Doppelganger and its giant debris puppet, Mikoto used the electricity built up within her giant's iron sand body to fire off iron sand bullets from it in a manner similar to her Railgun. These shots were capable of punching through her enemy's debris giant and accurately hitting targets several kilometers away.[26][27][28]
Liquid Proof Railgun (液状被覆超電磁砲

Ekijō Hifuku Chō-Denjihō (Rikiddo Purūfu Rērugan)

?

, lit., "Liquid-Coated Super-Electromagnetic Cannon"): A variation which Mikoto used with support from Shokuhou Misaki while piloting the Anti-Art Attachment.[19] Utilizing the ability to manipulate liquids with fine control which forms the foundation of Mental Out in cojunction with Mikoto's electromagnetic ability, a slight liquid coating is applied to the coin used as a projectile, with a special lattice pattern designed to melt in a specific way, described as requiring precision far greater than the ablative heat shield used to protect a space shuttle during atmospheric re-entry.[19] Where the coin would normally melt due to friction from air resistance, the ablative coating takes away the frictional heat and cools the coin, melting in a specific way to preserve it. As the liquid explosively expands as steam, it accelerates the coin further, resulting in it gaining speed as it flies.[19] With the frictional bottleneck neutralized and additional acceleration beyond the initial launch, the Railgun's normal speed and distance limits are removed, resulting in increased destructive power.[19] The Liquid Proof Railgun is capable of penetrating the Windowless Building's Calculate Fortress, which was capable of withstanding a nuclear blast and an attack by Accelerator fuelled by the planet's rotational energy.[19][29][30][31]
While being annoyed by Misaka Worst, Mikoto threatened to unleash a never-before-seen Rail-Shotgun on her.[32] She has yet to perform such a technique, and apparently it would be a bit difficult due to neighboring electromagnetic fields interfering with each other.[33]
Electricity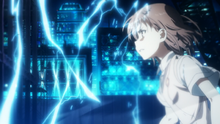 As an Electromaster, Mikoto is capable of generating and manipulating electricity,[4][5][9][18] and being the strongest Electromaster, she can do this on a scale beyond any other such espers in Academy City.[4][5][9][18] Her maximum output is known to be 1 billion volts,[4][34][8] rivaling that of a thermal power station (though apparently not for total amount of power produced in a day),[33] can easily meet power requirements on the level of a battleship's diesel engine,[35] and can even overpower firepower of a cruiser.[36] Her body is immune to the effects of its own electricity, as well as electrocution from external sources.[37]
Mikoto can discharge electricity from her body in order to attack or incapacitate a target, both from direct contact and at a distance.[15][5][37][38][39] She often launches these attacks in a directed form, described as a "lightning spear" (雷撃の槍, Raigeki no Yari?, lit. "Lightning attack spear").[15][40] While she can discharge electricity in any direction from her body,[5][41][24] she usually releases electrical attacks directed from her hands,[42][28][38] or most commonly, launched from her forehead.[15][34][43]
Besides charring a target from electricity directly,[26][42][44][28] Mikoto's stronger electrical attacks can produce sufficient heat to burn targets without directly hitting them,[45][46] as shown when the AIM Burst was roasted despite blocking her electricity with an insulation barrier.[45][46] Her electrical attacks can fry electronics,[47][48] and some are accompanied by a degree of electromagnetic pulse (EMP), with some of her less-controlled discharges (typically released in outbursts of anger) disabling or short-circuiting nearby electrical devices.[49][50][51][47] Mikoto can also safely produce and discharge electricity underwater or partially in water.[52]
Given her level of power, Mikoto is also capable of using her ability to call down real lightning, regardless of the season, with power enough to cause a city-wide blackout.[15][53][54][51][55] Beyond a single lightning strike, she can call down massive thunderclouds with multiple lightning strikes occurring from within.[56][57] She is one of only a few espers capable of this degree of large-scale weather control.[58]
Mikoto's strong electricity can cause electrical breakdown and she has utilized it with the air for a number of purposes.[59][60] When at high altitudes and supersonic speeds without the protection of a cockpit or life support systems (such as when flying the A.A.A.), Mikoto can open a 'hole' in the atmosphere by breaking air down, providing her with oxygen while also causing rushing air to naturally be redirect (as fluids flow from denser to less dense areas), preventing frictional damage.[60] When facing Shundan Kimi, who was countering her electricity with her own apparently electrical attacks, Mikoto used the electrical breakdown of air and the subsequent currents to guide her opponent's attacks, and create an opening for one of her own.[59] In the anime adaptation of World War III's events, a falling Mikoto used her electricity in order to detonate air above the snow-covered ground below her, in order to cushion her descent and land safely,[61] similar to what her clone Misaka Worst did.[62][63]
One side-effect of Mikoto's stronger electrical discharges is the creation of ozone,[64] and she is capable of deliberately creating ozone from oxygen using her power (something which her weaker Sisters have also been shown to be capable of).[65][66][67][68] The composition of air can be altered in a similar way.[69] Mikoto can also create plasma, having done so at least once by ionizing empty cans,[47] and may be able to revert plasma to its original state by putting the separated electrons and cations back together.[70]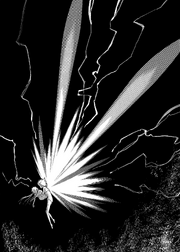 During the Liberal Arts City incident, Mikoto was able to use electricity and the large amount of water vapor in her surroundings for flight.[10][71] As a result of large-scale attacks on the ocean at the time, a large amount of water vapor was present in the surrounding air, and static electricity was present from interactions between the particles, in the right proportions for Mikoto to influence.[10][71] Using formulas similar to the ones used for her iron sand sword, she used the static electricity between the particles to gather and manipulate the water vapor into wings, and used her electrical power to induce electrolysis, obtaining hydrogen and oxygen to use as fuel.[10] This flight method could only be sustained for a short amount of time before the conditions that enabled it passed.[71] The wings are at least strong enough to blow up air-to-air missiles.[71]
In addition to utilizing and manipulating static electricity present in her surroundings,[10] she can use her power to eliminate static electricity from objects.[72]
Mikoto can also use the light produced from the electrical phenomena she creates to blind or distract an enemy's eyes,[47][73][74] such from the flash of a basic electrical discharge,[73][74] or from ionizing empty cans to create plasma.[47]
Electromagnetism
Alongside her electricity, Mikoto can use electromagnetism and at a similar degree of power.[75] At Mikoto's level of power and control, she can manipulate a large number of objects at once,[26][28] and move objects of considerable size and weight.[76][28][26]
She frequently utilizes it to manipulate metallic materials in her surroundings to her advantage, with great versatility. If an object is comprised of a magnetic metal or contains such metallic parts within it, she can affect that object with electromagnetism. Mikoto can also to manipulate electromagnetic fields.
At a basic level, Mikoto can use her magnetism to move objects, to relocate them or place them in the way of an incoming attack or hazard, throw them at a target as a projectile, or hold them in place.[77][78][79][24][73][74][12] She can gather multiple manipulated objects together for various purposes, such as creating a make-shift cage or shield out of scrap metal or debris,[80][38][81][46][82][44] temporarily restoring a destroyed stairway or make such a path from scratch.[83][84] Besides moving or holding, attracting or repelling, objects can also be bent or torn by varying forces on them.[85][86][87][88]
If an enemy is using a metal tool or weapon, she can manipulate its movement to interfere with or completely stop their attacks, as well as magnetize it so that nearby iron objects will attach to it and increase its weight.[12][14] She is capable of keeping a helicopter from taking off,[89] lift and throw an entire train track,[90][91] lifting the floor,[92][84] lift a car,[93] stop a tank moving at over 80 kph,[94] lift the robot Modelcase_"RAILGUN",[77] or stopping a car speeding towards her.[18] Her power and control over electromagnetism is even enough to be able to temporarily support several uprooted and pilled up buildings while preventing the structures and their occupants from being crushed.[76][28][26]
As well as moving objects around her with electromagnetism, Mikoto can also utilize her powers in conjunction with metallic structures in her surroundings in order to enhance her movement capabilities.[95][43][18][96][97] By exploiting the metallic components inside a building's walls and ceilings, she can stick to as well as walk and run on those walls and ceilings.[98][55][38][99][100] By utilizing metallic targets at differing heights,[43][18] often present in an urban environment,[43][18] Mikoto can either scale those heights,[43][96][97] or control her descent from them.[101][98][43] By pulling or pushing between herself and multiple targets along her path with her electromagnetism, Mikoto can cover increased distances and supplement her speed.[102][21][95] She can quickly pull herself towards a large object that she has just launched away from herself for an evasive maneuver, though exceeding the speed of a car when doing this would likely harm her.[25][101] She can carry one or two others during her electromagnetically-assisted movement by similarly dragging a metallic object they are holding onto or are connected to.[82][44][103][104][25]
Besides influencing physical objects, Mikoto has a number of wave-based uses for her electromagnetic powers.[105][60][106] diverting the waves and similar electromagnetic phenomena in her surroundings,[105] or emitting electromagnetic waves herself.[49][107][60][106][108] She can use this to interfere with radar and radar-based weapons (such as guided missiles),[48] and cause powerful electromagnetic pulses (EMP) which, besides disabling machines (with the inadvertant knocking out or short-circuiting of nearby electrical devices often accompanying her angry outbursts),[49][50][51][47][109] can also be used to damage a living target's internal organs.[49]
She is capable of manipulating various types of electromagnetic wave, such as microwaves,
With her ability capable of interfering with electrons and electromagnetic waves, Mikoto is capable of interfering with phenomena produced by other espers that are rooted in electrons and EM waves. This includes bending shots from Mugino Shizuri's Meltdowner (with the 4th-ranked Level 5 capable of deflecting her electricity through similar interference),[110][111][112][113] shot from STUDY's Pseudo Meltdowner (modified to artificially replicate Mugino's Particle-Function Waveform High-Speed Cannon),[21] and likely the laser produced by Yumiya Iruka's Wave Conductor.[114]
Iron Sand
One of Mikoto's most prominent uses of electromagnetism is for the manipulation of iron sand (砂鉄, Satetsu?).[49][115][116] Often gathered in large amounts from her surroundings, Mikoto can utilize the iron sand in a variety of shapes,[49][115][116][48][26][28][24] with the individual particles vibrating at high speed, allowing them to cut through objects in a manner similar to a chainsaw.[49][115][116] The vibrations of the iron sand are strong enough to penetrate or cut through concrete blocks,[117][38] pavement,[118][119] rubble,[120] and metals.[121][77] The small size of the iron sand means that it can be placed or mixed in discretely,[12][122][123][124][125][26][28] and allows it to infiltrate gaps and wounds to cut targets from within.[26][28] The nature of the iron sand constructs means that even if they are disrupted, they can be replenished and regenerated.[115][116][26][28]
Mikoto frequently wields it in the form of an iron sand sword (砂鉄剣, Satetsuken?) or whip sword (鞭のような剣, Muchi no yō na Ken?), a cutting blade which she can lengthen into a whip at will.[115][116] She can also it to pierce and grab onto objects, in a manner similar to a grappling hook.[27][28] Although she often creates a single sword to wield in her hand,[115][116] she is not limited to one,[47] at one time creating eight iron sand whips from a sphere on her back, described as similar to an octopus' tentacles or a spider's legs, allowing her to attack from several directions at the same time.[77][126]
Aside from the whip and the sword, Mikoto also wields the iron sand in bulk,[90][26][48] creating long tendrils (some with the shape of long or giant hands), small tornadoes or huge waves to assault foes.[90][26][127][48] In Russia during World War III, she used iron sand gathered from 200m around her in a wave compared to a tsunami or a giant snake to slice through tanks and armored vehicles of the independent unit with the Opasnosti.[48] During a clash with Sogiita Gunha, she created several hundred drills (which were also electrified) to pierce her enemy.[47] Mikoto has also used the iron sand to form projectiles,[24] being able to create a storm of killer needles that surround an opponent for a 360 degree attack.[12]
By spreading iron sand across the ground, Mikoto can use it to follow the footsteps of an enemy moving at supersonic speeds.[12] Under reduced visual conditions, she has used iron sand and dust to form decoys in the shape of herself or others.[128][25][129] When trapped in a composite oil mix created by Military Oil, she was able to use the vibrations from iron sand she had mixed into it to break down the oil (causing it to lose its characteristics in the process), carrying oxygen and other breathable components of air in it to her mouth.[122] She has also used iron sand to absorb and isolate gasoline on a person's body while making a quick escape with them from an explosion.[130]
During her battle with the Doppelganger, Mikoto used her ability to create a gigantic puppet out of iron sand and dust to match the Doppelganger's own gigantic debris puppet.[26][28] Possessing considerable strength due to its size and mass, the puppet is somewhat fragile due to its fine composition, but its nature as an iron sand construct means it can regenerate and change forms.[26][28] Additionally, the iron sand can infiltrate wounds inflicted to a target and cut it from within.[26][28] The vibrating iron sand particles inside the puppet rub together and build up electricity, making the puppet dangerous to touch.[26][28] The stored electricity can be used to fire an iron sand bullet, in a manner similar to Mikoto's Railgun.[26][28] In the battle with the Doppelganger, an iron sand bullet was able to penetrate the thick armor of the Doppelganger's debris puppet and caused massive damage to it,[26][28] as well as being able to shoot down propelled gas tanks from several kilometers away.[27][28]
During a clash with Kihara Nayuta, Mikoto combined her electricity and iron sand to create a large electric cage to trap her adversary. First, Mikoto creates several hundred iron sand balls around her, which spread around the area before dividing into smaller spinning balls. The balls then start emitting bluish sparks as Mikoto uses them to conduct electricity to cover the gaps between the iron sand balls, forming the cage. Mikoto can freely control the size and shape of this cage, and can repair it and reform it in case it's damaged by controlling iron sand.[47] Mikoto has also used iron sand to form conductive metallic rods for her electricity and similarly run electricity through iron sand constructs (such as piercing drills used in the subsequent clash with Sogiita Gunha).[47]
Hacking
Being able to directly control electricity, Mikoto can hack practically any electronic device and bypass normal electronic security measures with ease.[131][132] Picturing a system in her head and manipulating minute electrical currents in the electronics,[133][134] she can perform precise hacking and control devices without any physical inputs.[135][134] As long as a system relies on electricity, even if it is entirely new and built from scratch, Mikoto is capable of hacking, rewriting and hijacking it, with no programming language that cannot be read and no firewall that cannot be broken.[131][132] While she can understand information on electronic systems with her power to a certain extent,[134][131] she still uses a terminal's screen in order to read various types of information from a computer system she is hacking, such as documents.[136][137][138]
Besides hacking electronic devices and systems in her immediate vicinity, Mikoto can perform hacking remotely, so long as she has a terminal and some form of connection to her target.[139][140][134][141][136][85][86] A prominent example of this was her initial attack on the Level 6 Shift Project facilities, hacking machinery in the facilities over the internet and causing it to malfunction and catch fire or explode, resulting in extensive damage before the communication lines were cut.[142][143] She has also attempted to obtain classified information from the Bank multiple times.[134][141]
Mikoto's usage of this skill in taking control of machines is extensive, from simply bypassing electronic locks,[142][143] forcing vending machines to dispense products and an ATM to dispense a stuck card,[34][144][145][115] to hijacking vehicles and military-level weapons.[146][48][147][131][148][149] She has taken over robots such as Academy City's roving security robots[139][140][150][151] and the guard robots used in prison facilities in moments,[23][25] and similarly seized machines such as the Five Over with little difficulty (in that particular case, the control exerted could be negated by Imagine Breaker).[147][152][77] In at least one case, she reprogrammed robots ahead of time to defend her when she couldn't use her power.[23][153]
When facing cameras, sensors and displays,[139][140][142][79] besides simply causing them not to work properly,[139][140] Mikoto can erase herself from live security footage in real time,[139][140][154][88][135] or have a display show a fabricated image.[155] Before or during an attempt at rewriting, she can scan a target to reveal its structure and obtain details on its operating system.[142][79][131] She can rapidly perform searches and pull data from computer systems,[136][156][138] as well as restore deleted data.[139][140][157][79] She is also capable of stealing information from a credit card's magnetic strip.[158]
Mikoto is accustomed to the difficulty of hacking in Academy City,[159][134] with technology and cyber defenses generally more advanced than the rest of the world (with the city said to be 30 years ahead)[160][5] and a degree of esper countermeasures.[134] She also has a degree of expertise with normal, non-ability hacking, and sometimes uses it in conjunction with her ability (such as for tackling parts with anti-esper security).[134] She was capable of instructing Touma how to get past an electronic lock over the phone, with only a picture of the lock.[161][162]
Sensory and Biological Applications
As an Electromaster, Mikoto is able to sense electric, magnetic, and electromagnetic phenomena.[163][164][145][95][10][165][166][21][138][78][79] However, unlike lower level Electromasters such as her clone Sisters, she is able to see and follow electric and magnetic field lines with her eyes.[163][164][145]
Mikoto is constantly emitting electromagnetic waves and can sense those released waves.[80][38] By emitting faint microwaves in all directions and reading the returning reflected waves, with the same principles as radar,[80][38][106] Mikoto can sense her immediate surroundings as well as objects and individuals within them.[21] In a closed room, this radar enables her to see a three-dimensional image of the room even without the use of her regular sight.[92][84] It also allows her to sense attacks coming from her blind spots,[80][38] as well as enabling her to block, deflect, intercept or evade attacks and hazards without looking in their direction.[45][46][83][84][93][47][167] While the anti-personnel microwave radar generally leaves Mikoto with no blind spots,[39][106] it does have several weaknesses - materials that absorb or dampen EM waves can be used to avoid detection,[39] and, as demonstrated by Misaka 10032, if the waves' frequency is known then they can be negated by sending out reverse phase waves.[106]
During her battle with Kiyama Harumi, Mikoto inadvertently read her memories and saw her past through a connection formed when she grabbed and shocked her at point-blank range.[80][38]
As an Electromaster, Mikoto has a degree of control over bioelectricity and as such, a resistance to the mental manipulation method used by Mental Out and similar abilities.[168] Mikoto's level of power means that she is normally immune to manipulation from Shokuhou Misaki's Level 5 ability,[169][89] [170][19][171][172] with attempts to control her being blocked with nothing more than a short headache.[169][89] This protection comes from both the electromagnetic barrier created by her AIM Diffusion Field,[169][89] and her own subconscious rejection.[170][19][171][172] It is possible for her to reduce her barrier and rejection to create a window for Mental Out to affect her (for example, to allow Shokuhou to share and lessen the burden of the A.A.A.), but opening and closing such a window is not simple or instantaneous.[170][19][171][172][173]
Although the application of her power to help people with muscular dystrophy was a pretext to acquire her DNA map,[1][139][174][140][142][175][176] Mikoto was capable of using her powers to control and move her muscles and nerves when they had been rendered ineffective through the use of an injected drug. The cost of this was that it required her to constantly use her powers on her body, effectively making her a walking stun gun.[41]
Mikoto has also learned from Hokaze Junko how to use the same physical strengthening method which Hokaze uses with her Rampage Dress.[177][39][73][74][178] The method is noted to require really fine control and a single mistake could mean serious injury,[177][39] with Mikoto's power strong enough that she has to be very careful to avoid frying her own nerves or breaking her bones.[39] On one occasion, when she forcibly jumped forward in response to an ambush from behind, Mikoto dislocated her thigh.[39] As well as the whole body, she can limit the areas which are strengthened (such as restricting it to her triceps or legs),[177] and has used it to descend several storeys and cover a moderate distance under the cover of a brief flash.[73][74][178]
Mikoto is also capable of using microwaves for warmth,[60][179] and applying electricity for a massage.[47]
Other
Exterior-forced Misaka Network connection
Main article: Level 6 Shift attempt on Misaka Mikoto
During the Daihaseisai, Kihara Gensei takes over Exterior, shatters the defenses Shokuhou Misaki had set-up for the Sisters against electrical viruses, and infects them with a virus that forcibly connects the Misaka Network with Mikoto.[180] Here, Mikoto receives a tremendous amount of power, and her appearance changes as she continues to grow in power towards Level 6. Her consciousness is also suppressed due to the external influence.[181][182] According to Gensei, at 53% of the way, her mind would be distorted into that of something from a different dimension. At 100% her mind and body would be destroyed as they exceed their limits, taking Academy City with her.[183] According to Misaki, Touma's presence (likely referring to his Imagine Breaker) restrains her growth, while Gensei says that Imagine Breaker acting as a stimulus and Sogiita Gunha with his non-standard power would cause something extraordinary to occur.[184] It is likely the transformations Mikoto goes through is affected by Touma and Gunha's presence.
During the course of Mikoto being forcibly used as a subject to become a Level 6, she transforms a few times, becoming more powerful each time:
Initial Form: Mikoto's initial form upon engulfing the power of the Misaka Network, Mikoto's appearance changes. Her hair becomes swept back, with a few fringes gathering together to form two horn-like appearances on her head. The sclera of her eyes also darken. The most obvious change, however, is the appearance of two ribbon-like objects with diamond shaped objects attached to them that hug around Mikoto's arms. It is likely a mass of compressed energy, as Gunha would later be hit by similar things later.[182]

Described by Gensei as 2% up along the path of a Level 6, already it is powerful enough to create a large electric attack that completely engulfs the already tall Windowless Building and a large area that surrounds the building, though predictably the Windowless Building is unscathed. This attack is referenced as the largest scale lightning strike ever recorded.[181] Other features of her power include creating smaller strikes that resemble beams of energy, manipulating several chunks of metal and iron sand, and seemingly traveling through the strike of her electricity - literally "riding the lightning."[185]

First Transformation: Mikoto transforms even further, and her appearance changes drastically. Her horns begin transforming and hardening, forming an onion-dome shaped structure on her head, at the widest part sits something that looks like an eye. Something revolves around the tapering structure, and at the top sits a sphere, like a miniature Saturn. As for the rest of Mikoto's body, the ribbons from before have begun connecting to her body itself. Her hands and feet have tapered as well and are connected with the ribbons.[183]

Under this form, Mikoto can use those ribbon-like things to attack, which Gunha describes as a compressed mass of energy after hit by it.[183] It is apparently solid enough as Gunha is also pinned down by ribbon-like objects much later. Likely, all of the powers that Mikoto displayed in her previous form is retained here and in a stronger version.

Second Transformation: What Gensei describes as the Opening Stage, this is her final form just before she is turned back to normal. Her hair is swept back, and a complex halo appears over her head: a circle with four points on each direction, and floating at the center of it is something of rectangular shaped, tapering at both ends, with the bottom part being shorter. All of her clothes disappear. Her head down to the area of her collarbones are colored black and dotted by something resembling stars; it's as if it was outer space or the night sky. Her hands and feet have disappeared. Her hand becoming claw-like with ribbon like protrusions, with her legs even more abstract-looking, connecting through the ribbons.[184]

After Kouzaku Mitori seemingly defeats Kuroko, she uses her Mental Out power from Exterior and orders Mikoto to destroy the Windowless Building again. Then the ground where Mikoto is floating on turns black. Mikoto holds out her hand where she forms a large black sphere of energy.[184] Gunha would later describe this as something from another world that cannot be understood.[186] Mikoto would later describe it as something that she called in by her desire to crush and eliminate the parts of Academy City she doesn't like.[186]
Other Skills
Other than her esper powers, Mikoto is generally in good form physically and mentally.
Mikoto is highly intelligent and possesses considerable calculative ability, being a high-ranking Level 5 and a student of the prestigous Tokiwadai Middle School, and was able to answer questions from Touma's high school summer homework with ease.[187][188][189]
She has displayed notable knowledge concerning physics,[190][191][192][193][194][30][195] hacking,[134] electronics,[161][162] business,[166] and engineering,[196] given the phenomena she utilizes through her ability and the necessary calculations concerning them, her use of regular hacking alongside her ability,[134] being able to provide instructions for bypassing an electronic lock over the phone from an image,[161][162] and being able to reverse-engineer and build her own version of the Anti-Art Attachment, from analysis of the original weapon and with support from her newly established club at Tokiwadai.[197][196]
scientific,
While not devoted to athleticism or physical combat,[24] and experience in back-alley fights,[39] as well as a degree of fighting dirty.[24] Mikoto displayed considerable skill in swordsmanship, creating a sword made of iron sand in combat.[115][116][56][28]
she is physically fit and has exhibited a degree of physical self-defense capability
Mikoto has displayed a high degree of marksmanship with her ability, being capable of accurately hitting (or deliberately narrowly missing) precise targets with her lightning spears or Railgun shots, even when both her and the target are in a state of movement.[198][199][56][28][57][200][201][89] She has noted that she is accustomed to the mentality of aiming and shooting, with her Personal Reality apparently focused in that direction.[106] She has displayed accuracy outside of her ability, for example in a game of darts,[106] though proficiency with other forms of marksmanship isn't clear.
Besides her native Japanese, Mikoto is fluent in English, French, Italian and Russian, with the considered potential capacity for a few other languages.[33][202][203] Mikoto can play the violin,[204][205][206] having learned to play it for a year after entering Tokiwadai.[33] She is proficient enough to be selected for a performance at the Tokiwadai Midsummer Festival,[204] and to teach Uiharu Kazari a little.[205][207][206]
Equipment
Anti-Art Attachment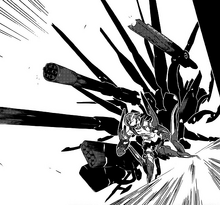 Main article: Anti-Art Attachment
Following her initial encounter with the Anti-Art Attachment,[208] Mikoto had a modified version of the powered suit created for her own use. This Anti-Art Attachment possesses most of the armaments and firepower used by the original version. Mikoto has attempted to reconstruct the original's 'black box,' but apparently hasn't been able to recreate it.[196] She has been experiencing nose bleeds since she began to use the A.A.A.[209][105]
References