Niang-Niang (娘々, Nyannyan?) is a "bizarre magician", a Magic God, who dwells in a territory beyond a certain layer of the world.[2]
Etymology
Edit
In Chinese, the term "Niángniáng" (娘娘) is an old-fashioned and respectful term for "mother." There are a number of Chinese goddesses that are sometimes called 娘娘, including (but not limited to) both Mazu and the Queen Mother of the West, but more commonly designing Songzi Niangniang, a Taoist goddess of fertility.
Appearance
Edit
Niang-Niang wears a short white China dress with very baggy sleeves, a hat and a unique charm attached to her forehead. She has an extremely pale complexion, black hair and green eyes.[3]
Personality
Edit
Not much is known about Niang-Niang, but she is apparently playful in nature, with her often ending with a star character (☆) to indicate this.[2]
Background
Edit
Niang-Niang's past is largely unknown, but she is a Shijie-Xian of ancient China.[3] She voluntarily took her own life to strip away the impurity of a wordly life, becoming a "heretical" Xian.[1]
Chronology
Edit
Shinyaku Toaru Majutsu no Index
Edit
Magic God Othinus Arc
Edit
In that world where distance and time doesn't matter, destiny's hand has moved and allowed Niang-Niang to meet with Nephthys and the High Priest to discuss their plans after the events that have transpired between Othinus and Kamijou Touma. She is apparently mad at Othinus for doing whatever she wanted in the existing world while they are all stuck in there.
Niang-Niang and the others later find Aleister Crowley ripping a hole in the fabric of the realm, which would mean that they could now appear in the existing world. Aleister later attack these "bizarre magicians" after they enrage him, though it is likely this was his purpose from the beginning when he entered the realm.[2]
The battle with the magic gods leaves Aleister's body terribly damaged.[4] However, the attack was all but a ruse to allow Aleister to kill them, switching the spell that Zombie (another magic god) had, which would allow magic gods to go to the world of humans without affecting it by the sheer power of their existences.[5]
St. Germain Arc
Edit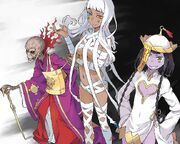 With their Hidden World lost, the High Priest, Nephthys, and Niang-Niang descend into the human world after using Zombie's spell, unaware that Aleister has already played his hand. They arrive just in time as St. Germain begins his antics in the Dianoid.[3] Despite really wanting to interfere, especially since Kamijou Touma is in the the Dianoid as well, they are unable to do so as they are still too powerful to do so and would've likely destroyed the world in the process.[5] Much of their actions is just walking around Academy City and observing the events that are unfolding with regards to St. Germain.
After St. Germain's defeat they are ready to interfere with Touma's development. However, their plans come to a standstill when Aleister Crowley communicates with them. They once again mock him but they are suddenly skewered by stakes through their chests. Shocked that they could be harmed, Aleister Crowley reveals that he had swapped the spell Zombie used to allow them to be in the world without destroying it with his own, allowing them to be vulnerable to him, and declares that he no longer considers them a threat. At that moment, Kihara Noukan catapults the body of Zombie, crucified on a steel cross and wrapped with barbwire, into their midst.[5]
Magic God Invasion Arc
Edit
During the High Priest's rampage through Academy City in pursuit of Kamijou Touma, Niang-Niang and Nephthys approached Touma as he and Misaka Mikoto temporarily stopped on a work ship.[6] After testing to see if Imagine Breaker could return them to their full power, without success and Niang-Niang turning her Pao-Pei on Mikoto in annoyance, the two offer their assistance to help stop the rampaging High Priest.[7] Though Touma rejects their direct involvement, he and Mikoto reluctantly accept their offer of advice and the two Magic Gods give Touma an explanation regarding the nature of the High Priest before leaving.[7][8][9]
After the Arrowhead Comet's destruction and the High Priest's death, Niang-Niang, shocked at something being able to kill a Magic God, intended to wipe out Academy City in order to destroy it. Before she could do so, she was devoured and 'exiled' by Kamisato Kakeru's World Rejecter.[10]
Salome Arc
Edit
Niang-Niang remains exiled, but her likeliness was used in a bluff by Kihara Yuiitsu while fighting Kamijou Touma, Salome and Misaka Mikoto, making use of Sample Shoggoth and an attenuated St. Germain virus to make imitations of the Magic Gods and their magic, to make them think she could draw out the Magic Gods and their power after stealing World Rejecter from Kamisato Kakeru.[11][12]
Kamisato Rescue Arc
Edit
Niang-Niang was present when Kamisato Kakeru was exiled to the 'new world' on December 9th and was among the Magic Gods who beat him up on arrival.[13][14] She and Nephthys later protected him when the other Magic Gods attempted to resume and escalate the punishment, while at the same time talking with him about his issues. Despite the planetary-scale destruction,[1][15] they protected him long enough for a rescue to be carried late on December 10th.[16][17]
Processor Suit Arc
Edit
Niang-Niang was present when Coronzon unknowingly got shifted to the 'new world', giving the Magic Gods a new toy to play with.[18] When the demon managed to escape back to the regular world, Niang-Niang and Nephthys were brought back along with it.[19]
Coronzon Arc
Edit
After the temporary sealing of Coronzon, Nephthys and Niang-Niang ended up joining Hamazura Shiage and Takitsubo Rikou on their car drive to London, after the latter two were separated from Touma and Aleister's group in the Strait of Dover, cheerfully commenting on the events transpiring around them along the way.[20][21][22][23] During the events surrounding the reproduced Golden Dawn, the two enjoyed tormenting Dion Fortune after she was picked up by the group.[24][25][26][27][28][29]
In subsequent events concerning the Ceremony of Mo Athair, Niang-Niang briefly clashed with Coronzon,[30][31][32][33] and later fought Aleister Crowley onboard the Queen Britannia, helping her in return for the fight by making it so that the collateral damage indicated the necessary symbols to access the ship's temple.[34][35]
Abilities
Edit
Being a Magic God, Niang-Niang is powerful enough to risk destroying the world with her mere presence unless precautionary measures are taken.[2][3] Even weakened by Aleister's spell, Niang-Niang is still capable of destroying the world.[6]
Niang-Niang is capable of changing her fingertips into weapons, known as Pao-Pei (宝貝, Hōgai (Paopei)?), read in Chinese as Bǎobèi (meaning "treasure").[6][10] These weapons are not based on religious or historical texts, but are weapons used by sages in an ancient Chinese novel. According to Niang-Niang, there are many similar things lying around and with so many, she wanted a convenient name and category for them.[6] Niang-Niang can produce over a hundred of them, each with a different effect, and they are capable of destroying an entire city.[10]
Weapons and tools among Niang-Niang's Pao-Pei include a sword, spear, axe, staff, crossbow, wind-and-fire wheel, club, net, chain, gun, caltrop, whip, hoop, claw, hammer, arrow, spike, disc, hook, sickle, lance, scissors, halberd, weight, crutch, thorn, fork, ruler, rope, tube, bag, board, saw,[30] and others. As well as traditional weapons, she can also produce modern weapons such as chainsaws. Niang-Niang can also surround her weapons with explosive flames and fire flames from her sleeves with enough strength to act as boosters for the Windowless Building and launch it into space.[1]
In addition to her visible weapons, Niang-Niang also has another less-apparent weapon in the form of 'sparks', the same as the ones resulting from the phase collisions and magic recoil, produced due to the nature of her Pao-Pei.[31][34]
Character Art Design
Edit
According to Haimura, he based Niang-Niang of his generation's Jiangshi: Lei-Lei from the Vampire series, known to the English speakers as Hsien-Ko from the Darkstalkers series.[36]
References
Edit
True Gremlin

High Priest
Nephthys
Niang-Niang
Community content is available under
CC-BY-SA
unless otherwise noted.