Patricia Birdway (パトリシア=バードウェイ, Patorishia Bādowei?) is the younger sister of Leivinia Birdway and is a supporting character through the various Toaru Majutsu no Index novels.
Her appearance is somewhat similar to that of her older sister, as she has short blonde hair and blue eyes. She wears a track suit consisting of a light-blue jersey and spandex slacks, along with a white vest. She also has headphones hanging from her shoulders.
Patricia's personality is the polar opposite of her sister's,[2] much friendlier and lacking any haughtiness. Despite being considered a crybaby at times,[3] Patricia will try to stand up to adversity if someone close to her is in danger.[4][5] She has a bit of complex regarding being "grown up", and tends to deny traits of hers which aren't considered "grown up" by others when they are pointed out, such as being a picky eater and not liking bell peppers,[6] or being adverse to a bath on her own with a bunch of strangers in a Japanese public bathhouse.[7]
Patricia is apparently not involved in the magic side and isn't aware that her sister is the leader of a cabal, believing it to be a club of sorts. She is close to her sister as she knows various things about her.
Having already gained a PhD despite her young age, Patricia works on a number of university-run project and has been sponsored by Academy City or its cooperative institutions to join labs and research ships as a guest researcher. She also has more than twenty published papers and many schools have been looking for a chance to bring her in.[2]
Patricia ends up venturing outside, excited after hearing the Union Jack. Leivinia commands Mark Space to get her back inside.[8]
Shinyaku Toaru Majutsu no Index
[
edit
|
edit source
]
Although not appearing in-person, Leivinia, upon seeing Fremea Seivelun, says that she reminds her of Patricia.[9]
Mark Space and Kamijou Touma contact her in order to find a way to quiet down Leivinia who is bickering with Fremea, and one of the things Patricia says is that her big sister doesn't like spicy things (or panties with bunnies on them); the two add a lot of chili powder to Leivinia's cocktail, which does the trick.[10]
At some point between late November and early December, before December 3rd, Patricia accompanied an Academy City sponsored research team to Antarctica, part of a study of changes in the ocean currents due to changing ice levels at the poles. While there, they encountered a parasite, later named Sample Shoggoth, which infested Patricia's body, consuming all of the fat in her body and taking over its functions, putting her life at risk.[11] Visiting different medical institutions for a way to deal with the parasite, Patricia eventually ended up in Academy City.[11]
Meanwhile, unable to find a solution with her cabal's resources, Leivinia left the Dawn-Colored Sunlight in order to find a way to cure Patricia's condition. She eventually developed a hybrid method based on cannibalization and other elements from Africa, intending to have Patricia consume an organ she was growing inside her to replace the fat she'd lost and drive the parasite out. However due to Patricia's lack of knowledge concerning magic, Leivinia's reluctance to explain and the repercussions of a new organ being grown within the human body, she rejected the method out of fear for her sister's life.[11][2][12][13]
On the night of December 3rd, Patricia and Sample Shoggoth clashed with Leivinia, interrupting a confrontation between Kamijou Touma and Kamisato Kakeru.[14] The two ended up being neutralized by the World Rejecter, with Kakeru ending up taking Patricia and Touma taking Leivinia.[15][16] After coming to at Kakeru's safehouse, Patricia began hissing and scratching at the boy like a wild cat before being calmed and shocked to a stop by Ellen's harassment. After Sample Shoggoth burst out and tried to attack Ellen before being driven back by Kakeru, Patricia explained her situation to the two.[11] Not long afterwards, Claire and Elza arrived at the safehouse and learnt of the situation. Despite Kakeru's efforts to get them to focus on the task of dealing with Patricia's problem, they end up dragging him and Patricia along to a public bath and a restaurant after botching dinner. During this time, Patricia noticed a hidden pain behind Kakeru's smile as he dealt with the girls' antics.[7][6][17]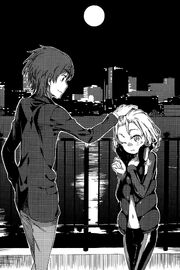 Later in the night, Patricia sneaked away and desperately searched for her sister, knowing that the fruit she was growing was nearing completion and would soon kill her. After growing exhausted, having searched not even a quarter of School District 7 and struggling with the feelings in her heart, Patricia had curled up and begun sobbing when Kakeru made his presence known to her. Coaxing the full details of the sisters' situation out of her, Kakeru confronted her on her lack of a plan and her conflict. He then explained his World Rejecter, demonstrating it on a nearby wind turbine, and offered Patricia the option of the 'salvation' provided by it. Patricia rejected his offer of 'salvation', knowing that that way out wouldn't save Leivinia, but was persuaded to accept Kakeru's help in dealing with her sister.[13]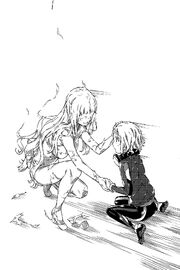 During the Kamisato Faction's attack on the Kamijou Residence, Patricia clashed with her sister again,[18] aiming to crush the fruit she was growing before it could kill her. When Touma figured out an alternative way to save her and broke through the clashing sisters with Kakeru's help, he had Claire begin injecting fat into Patricia via her ability, in order to replace her lost fats and displace Sample Shoggoth. The method initially seemed to be working but the parasite began to lash out, forcing Touma to use his Imagine Breaker to protect Claire, inadvertently disrupting the surgery and killing Sample Shoggoth prematurely.[19] However as Patricia was shriveling up, Nephthys sacrificed herself to save her by converting her own body into fats to replace the ones consumed by the parasite.[20][21]
On the night of December 5th, while Touma was facing Kihara Yuiitsu who was making use of imitations of the Magic Gods via Sample Shoggoth, Patricia groaned in an Academy City hospital.[22]
On December 9th, Patricia saw Touma at Heaven Canceller's Hospital and waved at him from her window.[23] Late on December 10th, Toyama Luca and Karasuma Fran made use of the part of Nephthys which became part of Patricia's body in order to form a connection to the 'new world' and rescue Kamisato Kakeru, though they performed the magic from the neighboring room to avoid actively pulling her into their side of the world.[24]
Toaru Majutsu no Index SS: Stiyl
[
edit
|
edit source
]
In the SS, she is the target of Stiyl's mission, branded as a traitor since she refused to let the U.K. look at her body nor explain her sister.
More scientifically minded than her sister, Patricia is capable enough to have a PhD and be involved in university-run projects despite her young age, as well as having more than twenty published papers to her name.[2]
Patricia's design remains the same since her appearance in the sidestory. Despite being twins with Leivinia, Patricia has a stark difference of design from Leivinia. Haimura also designed Leivinia wearing high-heels to mark her as the elder sister.
Community content is available under
CC-BY-SA
unless otherwise noted.