R&C Occultics (R&Cオカルティクス, R&C Okarutikusu?) (also written as R&C OCCULTICS Co. Ltd[1]) is an IT company specializing in Magic.[2][3][4]
Etymology
[
]
R&C is derived from the Rose and the Cross, which make up the Rose Cross of Rosicrucianism.[5]
Principles
[
]
This section requires expansion
GT1 (Origin/Nature),[3][4] GT2, GT4 (How the group is treated)
The company and its website's development is being guided by its CEO, the legendary Rosicrucian magician Anna Sprengel.[6][4][7][8]
Services and Products
[
]
This section requires expansion
Services, products, sponsorship/indirect
Services and products by R&C Occultics include luck charms, fortune telling, home appraisals connected to cardinal directions and ley lines, witch's potions to dispel bad luck which can be brewed using readily available plants and herbs with a siphon coffee maker, yes/no forms from which an AI can determine problems and the right potion to deal with them, instructions for creating spiritual items using 3D printers, and lecture videos providing training sessions for basic breathing and meditation techniques.[3][4]
Infrastructure
[
]
This section requires expansion
GT4 (HQ, Drone Distribution Network, Online)
Headquarters
[
]
The headquarters of R&C Occultics is located in downtown Los Angeles, in the largest of a group of high-rise buildings.[9][10] It houses R Rose (Rローズ, R Rōzu?), the drone management server controlling their global distribution network.[11][12][13] It is an old-fashioned supercomputer,[11] covering a space larger than a basketball court,[14] and requiring human maintenance, the destruction of which would shut down the global distribution infrastructure.[11]
Although R&C Occultics was a global company not bound by national borders, they did not need an HQ building as an obvious central point, but one was built as without one it would be impossible to tell if they had been defeated, as Anna Sprengel had set up the company to be destroyed from the beginning.[13]
Background
[
]
R&C Occultics appeared on the internet at some point after several large conflicts made hiding magic from the world at large increasingly difficult.[3] A key figure in its development was Anna Sprengel, the legendary Rosicrucian magician who played a role in the foundation of the Golden Dawn, who had recently been restored to her body after Madame Horos had stolen it for over a century.[15][16][4] At the same time as Anna was restored, following the Crowley's Hazard invasion of the British Commonwealth and the attack on the Queen Britannia, Aleister Crowley and Lola Stuart, the two main figures behind the Magic-Science Treaty, were gone.[15][16][17]
Likely beginning as a fortune telling site, R&C Occultics expanded quickly, selling occult services and goods while gathering personal and private information on many people in the name of helping with troubles and testing romantic compatibility. No one knew where a corporation of its size and capital had come from, or in which country its headquarters were located.[3] The Magic Side was unable to stop the IT company as they had no experience with someone loudly announcing existence of magic yet remaining completely hidden, and the Science Side, while controlling the internet, could not properly detect the threat and did nothing about it. With neither side stopping it, R&C Occultics continued to spread and grow in the gaps between them.[3][4]
Chronology
[
]
Souyaku Toaru Majutsu no Index
[
]
Christmas Eve Arc
[
]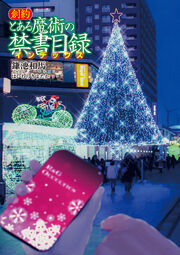 R&C Occultics was trending at the time of Christmas Eve, with Neoka Norito aiding its spread after being alerted to its existence through his automatic investment algorithm, by having his cracking servers make parallel posts to bring it to the top of the trending lists, so that he could utilize its resources while having the ubiquity prevent it from being specifically traced back to him (though Kumokawa Seria still learned of his involvement).[18][2] From the site, Neoka learned how to use a sanctifying vocalization adaptation, which he mistakenly thought of as the 'Minimum Collision Theory'.[17][18]
At the same time, a new fad had been spread in the form of custom donuts with decorations based on a person's birthdate, blood type, and lucky color.[19][2] The spread of an occult-related fad, which would normally not do well in the scientifically-minded Academy City, was apparently a sort of litmus test meant to measure people's hearts and determine whether it was possible for them to be swayed.[2]
After Kamijou Touma's battle with Neoka, while considering the ramifications of the online distribution of magical knowledge, he encountered Anna Sprengel who updated the R&C Occultics homepage, saying that despite trending it still needed her to look after it directly until it really got on track.[4]
Christmas Day Arc
[
]
On Christmas Day, R&C Occultics was continuing to spread, with various incidents occurring around the world due to the magical knowledge it had distributed (including the self-destruction of Anna Sprengel's cooperators).[21][22] The effects were particularly severe in Academy City, where hospitals were overwhelmed with casualties, suffering injuries from the rejection reaction from espers attempting magic (with a Christmas good luck charm ironically prominent among the causes).[23][24][25][26][27][28] During her encounter with Accelerator, Anna referred to R&C Occultics as simply the modern form of her organization.[8]
Operation Handcuffs Arc
[
]
Late on Christmas Day, Coins of Nicholas, wish-granting spiritual items which had been randomly distributed to various people in Academy City earlier in the day (as per Anna's intentions, with a user manual appearing on the official site shortly afterwards),[30][31] in the hands of members of Anti-Skill and the Dark Side of Academy City, greatly distorted the course of Operation Handcuffs, turning it into a slaughter.[29]
Los Angeles Arc
[
]
This section requires expansion
GT4 - Minor expansions/tweaks from TSP, Ch/Pt references
On December 26th, having discovered the company's HQ in Los Angeles, Academy City and the Anglican Church commenced a joint counterattack, Operation Overlord Revenge, to destroy R&C Occultics. In response, one of their agents, Citrinitas (actually Vice President Darris Hewlane, who had betrayed and intended to usurp President Roberto Katze) used magic taught to him by Anna in conjunction with the meteorological control of the Logistic Hornets to make the city's entire population disappear, trapping them in sand while trying to frame Melzabeth Grocery for the crime.[32]
After Touma defeated Citrinitas and rescued the city's trapped population, facing an attack from the Anglican and Academy City forces, executives at R&C Occultics HQ intended to dismantle and transport R Rose out of the building and go into hiding, but they were all gruesomely killed by Aleister Crowley, accompanied by Kihara Noukan, ahead of the joint force and in the process sending a message to the absent Anna Sprengel, who had planned for the company to be destroyed from the beginning.[13]
Trivia
[
]
References
[
]