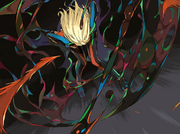 Sample Shoggoth (サンプル=ショゴス, Sanpuru Shogosu?) is an artificial parasitic life-form which infested Patricia Birdway after her research team encountered it in Antarctica.
Etymology
Edit
Shoggoths are protoplasmic monsters featured in H.P. Lovecraft's At the Mountains of Madness and other stories from the Cthulhu Mythos.
Appearance
Edit
Sample Shoggoth appears as a pitch black amorphous mass, resembling an octopus floating in the deep sea, a soft piece of fat cut away with a knife or loose rubber film melted from the inside. Its surface is covered in bubbles with some things, not quite eyeballs or suckers, which blink with a damp yellow or green light that resembles glow-in-the-dark paint.[1]
Principles
Edit
An amorphous mass, the parasite is capable of twisting its body into various shapes, extending, contracting, scattering and moving at speed. It is also capable of sharpening parts of its body to fire like spears.[2][3][4][5] As well as being able to assume any shape, the parasite is capable of altering how its exterior appears, to a certain extent.[6] It also possesses considerable sewing capabilities, and can connect and reattach separated body matter.[7][8][9][10]
The parasite apparently isn't contagious and won't leave its host's body, unless their vitals grow unstable. It dissolves the fat inside the host's body and slips into the empty space, maintaining their human silhouette. It also handles the storage and distribution of nutrients that the fat would have done, effectively holding their life in it's tentacles. Attempting to extract the parasite will cause it to lash out, risking tearing the host's body to pieces. If it was successfully sucked out, the host's body would be left a skin-and-bones shell and they would likely die before they could recover.[11]
Though it usually won't leave it's host completely, the parasite can partially emerge, in order to attack potential threats. Alternatively, it will attempt to move and hide itself should it sense someone looking for it.[2][3] Left alone, it will sometimes gather in one spot on the host's body, forming a protruding bump.[3] The parasite can be forced out of its host's body by replacing the fat in the body that was consumed by the parasite, displacing it.[12]
The parasite is also vulnerable to Imagine Breaker, being of supernatural origin,[13] speculated by Kamisato Kakeru and later confirmed to be discolored Dark Matter.[14][8] It is also affected by World Rejecter.[15][2]
Background
Edit
While carrying out research in Antarctica, Patricia Birdway's team encountered the parasite which infested Patricia's body, putting her life in danger.[2] The incident was apparently engineered in order to set a trap for Kamisato Kakeru.[14]
Visiting different medical institutions for a way to deal with the parasite, Patricia eventually ended up in Academy City.[2] Meanwhile, unable to find a solution with her cabal's methods, Leivinia Birdway left the Dawn-Colored Sunlight in order to find a way to cure Patricia's condition by herself. She eventually developed a hybrid method based on cannibalization and other elements from Africa, intending to have Patricia consume an organ she was growing inside her to replace the fat she'd lost and drive the parasite out. However due to Patricia's lack of knowledge concerning magic, Leivinia's reluctance to explain and the repercussions of a new organ being grown within the human body, she rejected the method out of fear for her sister's life.[2][11][16][4]
Chronology
Edit
World Rejecter Arc
Edit
Main article: World Rejecter Arc
During the initial meeting between Kamijou Touma and Kamisato Kakeru, the two sisters caught the two in the middle of their clash.[1] After dealing with the parasite's attack with World Rejecter, Kakeru sent off a sample of the parasite to Ellen for analysis and took Patricia to his faction's safe-house.[15] The parasite came out briefly while Patricia was at the safe-house but was stopped by Kakeru and went back into hiding.[2]
When the Kamisato Faction attacked the Kamijou Residence and the two sisters clashed again,[12] Kamijou Touma attempted to save Patricia using an alternative method; using Claire's ability to make a plant-based fat which the human body would accept, with a similar structure to the Cannibalization fruit, and use it to replace the lost fat in Patricia body and displace the parasite. As they injected the fat into Patricia, Sample Shoggoth attempted to devour everything around it, forcing Touma to use his Imagine Breaker to protect Claire, disrupting the surgery and eliminating the parasite prematurely.[13] However Patricia was saved from death as Nephthys sacrificed herself to replace the lost parts of her body.[17]
Salome Arc
Edit
Main article: Salome Arc
Following the incident with the Birdway sisters, Kihara Yuiitsu acquired a sample of Sample Shoggoth and brought it to the Griffon Driver for cultivation. She later used it to sever her right hand and connect Kamisato Kakeru's severed right hand in its place in order to acquire World Rejecter.[18][7][8] She made extensive use of its sewing and shape-shifting capabilities during the subsequent battle with Kamijou Touma, Salome and Misaka Mikoto.[19] The parasite's sewing capabilities enabled her to recover after a strike from the Anti-Art Attachment at the conclusion of the battle left her heavily injured.[10]
During her infestation, Patricia developed a habit of placing her fist on her chest, where Sample Shoggoth was gathering and forming a bump, which she disliked, feeling it was somewhat similar to how a certain parasite spreads by manipulating an infested snail into being eaten by a bird.[3]
In Today's Hotpot Party, Ingredients List, following the conflict's conclusion, the remains of Sample Shoggoth and the animal skin dress were put forward as potential ingredients.[20]
References
Edit
Community content is available under
CC-BY-SA
unless otherwise noted.