School District 1 (第一学区, Dai Ichi Gakku?) is a School District near the very center of Academy City. It is bordered by School District 16 to the northwest, School District 4 to the northeast, School District 5 to the southeast, School District 7 to the southwest, and School District 8 to the west.
It is the district where most of the city's administration is located.[1][2][3]
Principles
Edit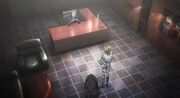 As stated, the School District's focus is to accommodate the administration of Academy City.[1] The district is lined with administrative and judicial facilities and it does not have the sense of livelihood that other, more normal districts had. It has almost no residences or restaurants. In exchange for gathering together all of the functions needed for smoothly operating such a large city, only the bare minimum of functionality for people to live there has been prepared. The extremely mechanical cityscape helps reinforce that image of the district.[4]
The district is the base of the Academy City Board of Directors,[4][5] but not the Chairman, who resides in the Windowless Building in School District 7.
Places of interest
Edit
Office of the Board of Directors
Board of Directors Library (

理事会図書館

?

): A library which contains all books and magazines in Academy City. Uiharu Kazari headed there to read a game magazine.[3]
References
Edit
Community content is available under
CC-BY-SA
unless otherwise noted.