See visionS is the second opening theme for the second season of the Toaru Majutsu no Index anime adapation. It was introduced in the seventeenth episode of the anime.
Tracklist
Kawada Mami composed the lyrics and provided lead vocals; music composition was done by Tomoyuki Nakazawa, as well as arrangement along with Takeshi Ozaki. The proper single release of the song was on February 16, 2011.
The single release features the full version of the opening theme, as well as a remix of PSI-missing, the first opening theme of the Toaru Majutsu no Index anime adaptation.
"See visionS" – 5:26
"Don't interrupt me" – 4:16
"See visionS" -instrumental- – 5:26
"Don't interrupt me" -instrumental- – 4:17
"PSI-missing" -2011 remix- – 4:30
Characters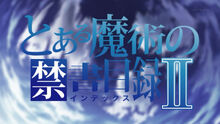 By appearance:
Spoilers
Tsuchimikado Motoharu, Etzali, Musujime Awaki, and Accelerator working together as GROUP
Touma battling Vento of the Front
Mikoto battling members of Hound Dog
Accelerator battling Kihara Amata
Lyrics
Japanese
English Translation
I'm always running after you.
I'm always running after you.
You are my ideal. You are me.
You are my ideal. You are me.
Kore Ijou Tooku made Tobenai Tori ga Ite
Kizu mo nai Rippa na Hane de Aozora o Najitta
There is a bird that cannot fly any farther
It rebuked the blue skies with its flawless wings
Kono Basho mo Waruku nai, Ano Sora wa Takaku nai
Kono Basho mo Yoku wa nai
This place isn't bad
The skies there aren't that high
Karada de Kanjiru sokudo o Osoreteru
Dareni demo Chansu wa Moteru. Sono Saki e Yukenai
It fears that it's body feels
Anyone has a chance, beyond that is impossible
Hontou wa Tobitatenai, Hontou wa Tobitachitai
Ima Kanaeta Negai no Mukou de Kagayaku
The truth is it can't fly, the truth is that it wants to fly
The one waiting to grant that wish
Kimi ga Iru
Is you
Hitomi ni Utsusu, Mirai ni datte
Itsumo Tsuyokute Konna Kimi wa Boku sa
The future reflected in your eyes
Of one always standing strong, is me
Kimi wa mada Mabushii kedo
Onaji kimochi de Kono Te Nobashite
You are still shining
But I reach out with the same feelings
Itsuka Tsukamu Genjitsu no Boku ga
Some day, when I grasp the real me
Kimi ni Au yo
I will meet you
Trivia
Vento of the Front's hair color, which has never been addressed in the light novels so far, is revealed to be blond. This however, can be assumed to be her affinity to the color yellow, which is aligned to the element of wind, which is Vento of the Front's aligned element.
References