Jurassic World: Dominion Dominates Fandom Wikis - The Loop
Play Sound
Necromancer (死霊術師, Nekuromansā?, lit. "Raiser of the Dead") is the second episode of the Toaru Kagaku no Accelerator anime series. It was broadcast on July 19th 2019, and was directed and storyboarded by Kamanaka Nobuharu, and the script written by Sugihara Kenji.
Synopsis
Adapted From
Major Events
Necromancer Esther Rosenthal is pursued by members of DA into Heaven Canceller's Hospital. Ending up in Accelerator's room, she tries to attract his attention without success and is captured by her pursuers. Having reflected sound away while reading, Accelerator initially pays them no heed but goes for answers after seeing that Esther had a photograph of Last Order and gets into a fight with the DA members.
Accelerator fights and destroys DA's Prototype Coffin, which is revealed to hold the corpse of Hitokawa Hasami who attempted suicide three days earlier (failing but then being murdered by DA) and used her Pyrokinesis, strengthened from Level 2 to Level 4.
After encountering Last Order in the corridor, Accelerator meets the escaped Esther in his room and partially chokes her while trying to get answers. Meanwhile, DA member Nishio is disposed of for his failure.
Characters
By order of appearance:
New Characters
Abilities
New Abilities
Locations
New Locations
Trivia
The voice actor for the unnamed boss is Maeda Hiroki.
The voice actors/actresses for the unnamed DA members are Suzuki Ryōta, Kijima Ryuichi, Sugisaki Ryō, Ishikari Yuuki, and Ishi Misa.
The voice actresses for the unnamed 'Breeders' are Hasegawa Ikumi and Shogawa Hitomi.
Referbacks
Yomikawa Aiho refers to her encounter with Accelerator the previous day, during the events of the previous episode.[1]
One of the DA members refers to the events at the end of the previous episode and is seen with wounds inflicted by the dogs reanimated by Esther Rosenthal.[1]
Accelerator is seen reading the same manga volume he was reading in the previous episode.[1]
Cultural References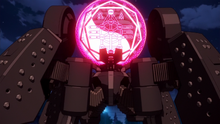 Differences in Adaptation
Animation Trivia
Despite being shown to be completely naked, when Hirumi hugs her brother she is momentarily shown to be wearing what appears to be a pink bra.
Soundtrack
| # | Title | Time | Scene & Notes |
| --- | --- | --- | --- |
| 1 | Unverified Track | | Hitokawa Hasami's failed suicide and murder |
| 2 | Shadow is the Light | | Opening |
| 3 | Unverified Track | | |
| 4 | Unverified Track | | |
| 5 | Unverified Track | | |
| 6 | Unverified Track | | Prototype deployed |
| 7 | Unverified Track | | Eyecatch |
| 8 | Unverified Track | | Accelerator destroys the Coffin |
| 9 | Unverified Track | | |
| 10 | Unverified Track | | |
| 11 | Unverified Track | | Accelerator interrogates Esther |
| 12 | Parole | | Ending |
Unanswered Questions
Quotes
DA Members: "By DA's dogma." (when preparing to enforce their idea of "justice")
References