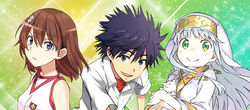 Toaru Kaki no Campaign (とある夏期の限定企画(キャンペーン), Toaru Kaki no Gentei Kikaku?), translated as "A Certain Summer Campaign" was a large promotional event that occurred near the end of August 2013, coinciding with several marketing events for the Toaru Majutsu no Index franchise.
Background
Edit
To celebrate the publication of Shinyaku Toaru Majutsu no Index 8 (9/10 release), and Toaru Kagaku no Railgun 9 (8/27 release), the A Certain Summer Campaign will begin! There will be an event where fans of the Toaru series will get a free trial of the Toaru franchise through "A Certain Summer Magazine", as well as an official character popularity elections. There are a lot of stuff to watch out for!
The site contains promotional ads for various Toaru Majutsu no Index-related merchandise, such as that of the Toaru Kagaku no Accelerator Manga.
Coinciding with this event is the release of a 50-page preview of Shinyaku Toaru Majutsu no Index Light Novel Volume 08 on the Dengeki website.[1]
Toaru Sakuhin no Convention
Edit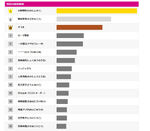 Toaru Sakuhin no Convention (とある作品の大総選挙(コンベンション), Toaru Sakuhin no Dai Sō Senkyo?) was a character poll that was part of the event, featuring nearly every character in the franchise. Normally, the polls would have been topped by Misaka Mikoto due to her sheer popularity, but upon its opening, 2channel Vippers began influencing the polls, and have made automatic voting programs, voting for things such as Gekota, to even Hino Jinsaku.[1] Jinsaku later becomes the first ranked character upon the 103,000 votes. The prize is for the first ranked character is a Haimura-illustrated message card with messages from Kamachi and the other comic creators[2]
The poll continued on until October 10, and the first rank at that time would get the prize.[2] The winner was eventually Misaka Mikoto.
Final results
Edit
Click on the show button to expand table.
103,000 seconds TV ~Magic and Science will save the world~
Edit
It was an event that was done as commemoration for the Index movie Blu-Ray sales, there was a show on Nico-Nico lasting 103,000 seconds (28 hours and 40 minutes). Several voice actors, Kawada Mami and Kurosaki Maon were part of it.[3]
Moreover, a schedule was later released detailing the activities to be done during the event. Here, it was revealed that the event will broadcast selected episodes of Index, Index II, Railgun, and Railgun S, as well as the 22 minute preview of the Toaru Majutsu no Index Movie: Miracle of Endymion. The event also had the main cast.[4]
External Links
Edit
References
Edit
Community content is available under
CC-BY-SA
unless otherwise noted.