Chapter 4
戦いの結末は勝利か否か — Being_Unsettled.
Did the Battle End in Victory or Not? — Being_Unsettled.
With Stiyl's help, Tsuchimikado and Touma trace Oriana's location to a train station in District 7, and they eventually reach her.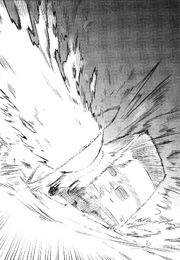 However, Tsuchimikado becomes affected by one of Oriana's spells, so Touma faces Oriana Thomson alone.
Touma endures Oriana's endless streak of randomized elemental spells and defeats Oriana in their first fight, but she escapes. What's alarming was that she did not have the Stab Sword with her in the first place.
Between the lines 3
Edit
Laura Stuart discovers the real identity of the Stab Sword and relays the information to Tsuchimikado and Stiyl. Nonetheless, the plan still stays with pursuing Oriana, although they now know that the magicians plan on using the Apostle's Cross to convert Academy City into Roman Catholic Church domain.
Meanwhile, Touma's parents meet up with Misaka Misuzu and her daughter Mikoto. The Rank 3 Level 5 becomes the topic as her punishment game with Touma is recalled. As the Kamijous invite the Misakas to lunch, they would encounter a blonde girl with a voluptuous figure.
They have no idea that it was the same person who is planning an attack on Academy City.
Adapted To
Edit
Characters
Edit
By order of appearance:
New Characters
Edit
Abilities
Edit
New Abilities
Edit
Locations
Edit
New Locations
Edit
Referbacks
Edit
Cultural References
Edit
Unanswered Questions
Edit
References
Edit
Community content is available under
CC-BY-SA
unless otherwise noted.