Mark Space
マーク=スペース
Mark Space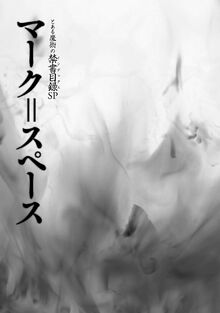 Toaru Majutsu no Index SS: Mark Space is the special story of the Toaru Majutsu no Index series released on Dengeki Bunko, written by the same author of the series, Kamachi Kazuma. It was later included in Toaru Majutsu no Index Light Novel Volume SP.
Synopsis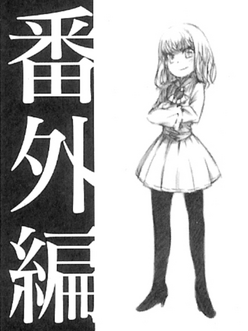 Birdway and Mark Space were in their base in London. Even though it's a base, it's really just a normal apartment that they rented. They tend to spread out all their assets and only use whatever is needed, so as to minimize the loss when they are attacked. This is why they don't have a large central base.
They were sitting at a kotatsu, and Birdway was reading a science magazine. The article that caught Birdway's attention was one about a new oil drilling project in the North Sea, which involves some of Academy City's technology. Also, there were suspicions about the magic cabal called the "Exit of the Evening Dusk" being involved with this project. Furthermore, the Exit of the Evening Dusk is a cabal infamous for using large amounts of resources to complete even the simplest magic, and they plan to use the money from the project to buy children from human trafficking markets, and use those children's vitality to generate magic energy, turning them into vegetables in less than a second. Both the science side and the magic side were unhappy about it for those reasons, and they intended to stop the plan by destroying the large ship heading towards the North Sea that has the ability to detect oil fields and deploy the oil well - the Blue Research.
Interefering in this issue would not give the Dawn-Colored Sunlight any benefits. However, the article also has a picture of the scientists on board that ship, and among them was Patricia Birdway. Patricia has always been a smart kid at school, and this time she was invited to board the ship as a guest researcher. Birdway wanted Mark to rescue Patricia before she gets involved in the attack. However, the higher ups at Academy City and the magic side will definitely sink the ship before it reaches its destination, so Mark must act quick.
Mark Space specializes in Tarots. The Major Arcana can create more power magic, but Mark prefers the Minor Arcana. And among the Minor Arcana, he specializes in the Suit of Swords, corresponding to the element of Air, and those were the only cards he brought. Using the Ace of Swords, Mark was able to sneak on the Blue Research. He had 13 card left that he could use.
Mark found Patricia. But instead of escaping with her immediately, he ended up playing video games with her. He had a hard time thinking of a reason to convice Patricia to leave with him. At first he used the old "you sister is in hospital and she wants to see you" trick, but Patricia knew her sister wouldn't go down so easily.
Then Mark decided to be a bit more extreme. Here is their dialogue:
Mark: Ac...actually, Birdway-sama somehow got her hands on an "Anyone Can Easily Make It Larger Ultra Busty Cream Set". Patricia: And...and then? Did it become larger? Mark: No. It's a misery. Her breasts stayed the same, but the areola became super large. Patricia: Oh no..... Mark: In the end, she even bought a breast enlargement machine from Academy City, put two bowl-shaped items against her chest like vacuum packs, and they mysteriously turned violet in color. It's a disaster. Patricia: Uuuuu...but if it's just that, my super sister can probably do something about it. Mark: Uh!? Fu...furthermore, it would have been better if that kid just gave up and adimitted her defeat but instead she won't admit it and said things like "No, it's bigger. I have definitely leveled up" while having teary eyes, and after some twists and turns her bust size is now over 5 meters and gained 8 more nipples and became like a gattling gun honestly it's pretty disgusting..........huuuuh!?
Immediately after he said that, he sensed a murderous aura and thought if Birdway was using some kind of magic to spy on him. Then Patricia agreed that she should go see her sister. Before, they could leave, Mark saw a mysterious shadowy figure behind Patricia. He lured her attention away then attacked the shadow and it disappeared. It was made from Telesma of the Earth element, which means that it's a magician who tried to attack them. Then Mark used the to Two of Swords to make Patricia unconscious so that she would not see the fight.
The first attack came from the ceiling and Mark dodged it, but he was hit by another attack coming from the side. The attacker appeared. She was a woman with 2 different gloves on each hand. The one on her left hand was shallow pink in color, and the one on her right hand was black and white. She also wore rings with letters carved on it on her left hand. She introduced herself as Wyss Winered. She is not a member of the "Exit of the Evening Dusk". Rather, she was hired as a "Time Loss" to fight magicians like Mark.
Wyss used all kinds of attacks, and not just ones of Earth element. Mark used different methods of attacking and defending using the Three of Swords to the Eight of Swords, but he was always slower than Wyss, and ended up getting beat badly by her. In terms of power, Marks attacks were higher than Wyss's attacks. However, Wyss was always faster, making it impossible for Mark to land a hit. Tarots are supposed to be used in situations where there are enough time to set up the cards, and not in fast-paced close range battles. This is a disadvantage for Mark.
What Wyss was wearing on her hands actually symbolized Solomon's Temple. The two rings that she wore had J and B carved on it, which stands for Jachin and Boaz, representing the two pillars at the entrance of the Temple. All she needed to do is move her fingers so that the rings face the target, then her attacks will go in that direction. This is why she was always faster than Mark.
However, Mark was not defeated. Even though the attacks that he used before were useless against Wyss, he used the Blue Research as a giant table, and those cards were laid out in specific places on the "table" while he was running from Wyss's attacks. With this, he used the last number card (the Ten of Swords) and began summoning the Archangel who ruled over the element of Air. Of course, he didn't actually summon an Archangel. What he summoned was just a fraction of the Archangel's Telesma. Even though it was just a fraction of the real thing, it was enough to win.
Meanwhile, a Cesna was flying over the North Sea, and it dropped some sort of machinery in the ocean. That machinery was called the "Down Waver".
Back on the Blue Research, Wyss was defeated, and section that they were fighting in was destroyed. The Telesma that Mark summoned was stored in the 4 Coat Cards of the Sword. While down, Wyss told Mark that the attack has already started, and thought that Mark was a member of the "Exit of the Evening Dusk". After hearing that, Mark immediately noticed that Wyss was hired by Academy City and the Magic side for the plan to sink the ship, and her job was to make sure that no one leaves it. Also, no other magician came after all that fight, so Mark realized that "Exit of the Evening Dusk" never boarded the ship, and everyone on board were just innocent normal people. The task Birdway gave him was to rescue Patricia, but saving everyone on this ship would also save Patricia, so he decided to save everyone on board from Academy City's attack.
Before he could do anything, Patricia came running to him and notified him of an emergency. A Down Wave was detected in the ocean and was heading towards the ship, and it's too late to dodge. Once it hits, it will pull the ship into the water and crush it as if falling from 70 meters above, and everyone will die. Mark realized that this was Academy City's actual attack to sink the ship. However, the chances of two Down Waves appearing one after another is next to 0, therefore if this one fails, Academy City would not unleash another one to prevent unneeded attention. which means that if Mark somehow finds a way to protect the ship from this attack, they will be safe. He had 4 Coat Cards with an Archangel's Telesma, but since they Telesma was of the Air element, he could not use it to directly control the water. Instead, he thought of another way and saved the ship.
Back in the apartment, Mark was on his knees in front of Birdway. The TV was on, and the news was about the Blue Research mysteriously and miraculously surviving the Down Wave. Even Patricia was interviewed. It turns out that Mark created a large amount of air bubbles at the surface of the water, and the force from all the air bubbles exploding lifted the entire ship up just enough to not be pulled down by the Down Wave.
Needless to say, Birdway was unhappy about all this publicity, and want to punish Mark with what she called the "Love Love Pretty White Bunny Glove with Super Fluffy Ultra Cute Miracle Slaughtering and Meat Mincing Function" which she pulled out from under the kotatsu. Noticing something's not right with that contraption, Mark defended himself by saying that the functionality of the ship was destroyed, and the "Exit of the Evening Dusk" would not be able to use it to gather money to buy children from the Portugal market anymore. However, Birdway told him that the market was already destroyed. Mark complimented Birdway for being such a good person, but Birdway would not admit that it was her who destroyed it. However, she said that the Cute Bunny Glove was a toy she she got from Portugal and wanted to try it out. Mark still resisted, but Birdway brought up the issue about the strange cream set that she supposedly used and how her breasts supposedly became like Gatling guns and were very disgusting. In the end, Mark fell victim to Birdway's cute and fluffy punishment.
What Mark didn't know was that Patricia came in with her handmade apple pie and saw him in a strange pose, and since then considered him to be a person with a pitiable hobby.
Characters
By order of appearance:
Abilities
New Abilities
Trivia
This section requires expansion
Down Waver - Temporary Redirect?
Referbacks
Cultural References
Unanswered Questions
Quotes
References