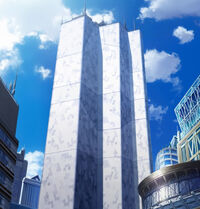 The Featured Article this time around is one which was featured previously six years ago and has been overhauled since that time; the home, stronghold and base-of-operations for Academy City Board Chairman Aleister Crowley - the Windowless Building.
Located around the middle of the city in School District 7, as its name suggests, it lacks windows, ducts and visible entrances, with a teleporter acting as a guide into the building. Inaccessible to the general public and with extensive security around its proximity, the building holds a closed-off environment, blocking external radiation and capable of producing its own oxygen, built from special materials and designed to withstand a nuclear attack.
Within its formidable defenses is the chamber where Aleister resides, along with his life-support system and other tools, connecting to and controlling many of Academy City's core functions and systems, including the Underline monitoring network. The Windowless Building also possesses a number of other special traits and plays a role in various parts of Aleister's Plan, revealed during the course of Shinyaku Toaru Majutsu no Index.
Recently featured: Divine Mixture
---
Archives – More Featured Articles...
(May 8, 2021) Vs R&C Occultics in a Frigid LA!! Genesis Testament Volume 4 is Released

: A joint counterattack by the Anglican Church and Academy City against R&C Occultics's HQ goes awry when the entire population of Los Angeles vanishes without a trace and the empty city is left in a severe cold wave. Touma, Index, Stiyl and Kanzaki are sent in to investigate the disappearances and continue the offensive...!!
(March 9, 2021) Genesis Testament continues in May

: Following on from the tumultuous events of Christmas Day, Volume 4 of Souyaku Toaru Majutsu no Index has been announced and will be released in May 2021.
(December 26, 2020) Jailbreaker Arc, Case Closed

: With the release of Chapter 130 of Toaru Kagaku no Railgun, the Jailbreaker Arc has finally reached its conclusion.
More news? Check out this Wiki's News Archives.
Follow-on from May 22th log (still incomplete at time of writing). Recorded updates made by active contributors within the past two weeks (not fully sorted/verified yet).
(O:)
sweep
Scroll box search amongst
As you've probably noticed, the new Desktop skin (FandomDesktop) is now at the opt-in stage and it is likely going to be switched in before long. However, now that it has reached …
---
More blog posts? Check out this Wiki's Recent Blog Posts.
A quick recap of the Toaru Majutsu no Index anime so far - three seasons in three and a half minutes.
Community content is available under
CC-BY-SA
unless otherwise noted.