Welcome to the Toaru Majutsu no Index Wiki!
Click on the rectangles above to navigate and immerse yourself into the world of Index!
Hello and welcome to the Toaru Majutsu no Index Wiki, the encyclopedia for the Toaru Majutsu no Index series and its spin-offs: Toaru Kagaku no Railgun and Toaru Kagaku no Accelerator. Please feel free to contribute to our site.
Please be aware, before progressing any further, that this site contains heavy SPOILERS.
• Overview • Administrators • Manual of Style • Community Portal • Community Messages • Forums •
Featured Article for the Month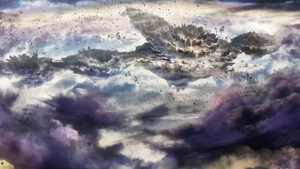 With Toaru Majutsu no Index III just finished, the first post-Index III Featured Article is for a key subject from the World War III Arc: the Star of Bethlehem.
The Star of Bethlehem was a flying fortress and ceremonial ground, created and used by Fiamma of the Right during World War III. Named after and symbolizing the celestial object which heralded the birth of the Son of God and the dawn of a new age, it played a key role in Fiamma's plan to purify and 'save' the world, Project Bethlehem.
Constructed from hundreds of thousands of holy relics and pieces taken from churches and cathedrals across the world, and incorporating techniques from the three major churches of Christianity, the Star of Bethlehem was forty kilometers across, in the rough shape of a cross with the right side twice as long as the others, but with a constantly shifting and regenerating structure.
Ascending several kilometers into the sky, the Star had a crucial role in many stages of Fiamma's plan, including the summoning of Archangel Gabriel, the re-alignment of the distorted elements, and bringing the Holy Right to its full potential...
Recently featured: Anglican Church–Russian Orthodox Church Prewar Conference
---
Archives – More featured articles...
Toaru Majutsu no Index News
(July 12, 2019) Toaru Kagaku no Accelerator begins airing!

: The first episode of Toaru Kagaku no Accelerator aired.
(July 12, 2019) Accelerator Anime Simulcast and Simuldub Schedule Announced

: The anime will be simulcasted worldwide except Asia on Crunchyroll at 10:30am PT. An English dub will premiere on July 26th on Funimation. Source: Anime News Network
(July 10, 2019) New Series of Toaru Majutsu no Index to Begin in 2020!

: The news was revealed at the end of Shinyaku Toaru Majutsu no Index Light Novel Volume 22 Reverse, which is on sale today. In addition Kamachi has two new upcoming light novel series: Sorcery Hacker in August; and Apocalypse Witch in September.
(July 10, 2019) The Final Volume of the New Testament! Volume 22 Reverse is Released

: Kamijou Touma has defeated Coronzon on the thin ice. He receives a very warm welcome during the celebration at England's Windsor Castle. Index, Misaka, and Shokuhou are also there... See New Testament through to the end!
(July 4, 2019) Toaru Majutsu no Index: IF Mobile Game released!

: Toaru Majutsu no Index: Imaginary Fest was published by Square Enix and is now available for Japanese accounts on the App Store for Apple users and Google Play for Android users.
More news? Check out this Wiki's News Archives.
Follow-on from July 20th log (still incomplete at time of writing). Recorded updates made by active contributors within the past couple of weeks.

Recent Actions: To be compiled and…

Read more >
The OP for the Toaru Kagaku no Accelerator anime.
The anime adaptation of Toaru Kagaku no Accelerator has begun. Though the main story truly begins with Episode 2, what did you think of Episode 1, out of 10?
The anime adaptation of Toaru Kagaku no Accelerator begins next month. How much are you looking forward to it out of 10?
10: 48
9: 3
8: 2
7: 4
6: 1
5: 3
4: 0
3: 2
2: 0
1: 0
0: 3
Total: 66
---
Archives

Community content is available under
CC-BY-SA
unless otherwise noted.