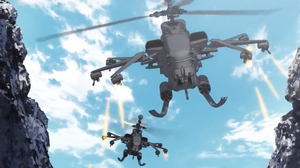 The Featured Article this time is about the HsAFH-11, also known as the Six Wings due to their distinctive design features, an unmanned Academy City attack helicopter, used by the city's air defense unit.
A state-of-the-art unmanned weapon, each costing 24-25 billion Yen, the Six Wings are deployed on command from Academy City's Air Superiority Preservation Control Center and have a top speed of Mach 2.5, assisted by rocket engines when in transit. When the craft switches into attack mode, the wings split into three (hence Six Wings), with each wing having joints that allow them to move like human arms and aim their weapon at difficult angles.
Aside from machine guns mounted on the wings, the Six Wings also have frontal missile launchers and countermeasures which can cause missiles to explode at a distance. They also use Flame Crash, frictional bullets that heat up to 2500 degrees in flight and burn out internal circuitry and fuel after piercing armor.
The Six Wings have been deployed multiple times during the series, with one notable instance being during BLOCK's rebellion on October 9th, decimating the hired mercenaries the group were bringing into the city.
Recently featured: Cannibalization
---
Archives – More Featured Articles...
Follow-on from September 3rd log (still incomplete at time of writing). Recorded updates made by active contributors within the past two weeks (not fully sorted/verified yet).
(I:…
This log contains raw data from various wiki operations from the time around September 15th 2021, for review and reference purposes among other things, as further processing work …

Existing Image Assembly:
Assembling collection of any relevant images already on the wiki in gallery, regarding human body and organs
Assembling collection of any relevant images al…
---
More blog posts? Check out this Wiki's Recent Blog Posts.
A quick recap of the Toaru Majutsu no Index anime so far - three seasons in three and a half minutes.